Scotlanders | Mini Adventures
---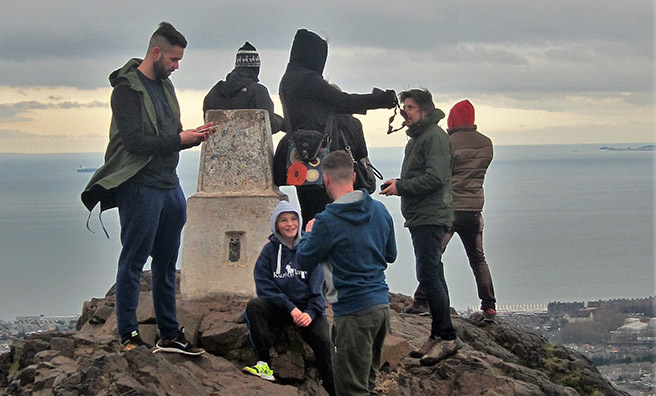 For Dougie from the Scotlanders, every weekend is a chance to go exploring
Hello again. It's been a few weeks since your favourite traveller blogged for you.
Hope you all had a wonderful Christmas and New year. Santa was very kind to me and I got a new camera, which I am slowly but surely getting the hang of! With a title like Great Travel Images, my visitors expect a high standard from my website. Really the whole idea of the site is to show you what to snap on your travels. I give it my best shot so hopefully the photography is good enough!
2016 is the year I am going to travel more in Scotland. I usually have a few trips planned abroad, but I'm enjoying staying nearer to home.
Over the sea to Arran
I travelled with the Scotlanders blogging team and we all enjoyed the crossing from Ardrossan. We were greeted on Arran by Sheila Gilmore, who was to be was our very knowledgeable host for our day out. She certainly knows the island – and most of the locals, who are a friendly bunch.
Our first stop was Auchrannie resort, which is a top class holiday accommodation. Most of the villages are on the shoreline, and Brodick is the main town where visitors to the island come ashore. The name is derived from Norse roots and means Broad Bay.
Next stop was the Heritage Museum. Please put the museum on your list of things to do when visiting Arran. You can trace your family's history if you were born on the island, hear all about the geology, and even see a dinosaur's footprint – but the stars of the museum are the staff themselves.
Arran Aromatics is also worth a visit. The company was founded by Janet Russell and her husband Iain in the kitchen of their cottage in 1989. They are now based in Home Farm. After that a lunch break was in order and we had pleasant stop at Janie's  – friendly staff with great choice of food. The BLT was brill. Will return there on my next visit.
Isle of Arran Distillery was another great stop during our visit to this special island where we got the chance to learn all about Scotland's national drink. We did get to try a dram. I'm not a whisky drinker but enjoyed a wee sample on a winter's day.
Well, that was our special trip to this beautiful Scottish island.
A Visit To Scotland`s Capital
When you visit Edinburgh you can see hills to the east. The main hill is known as Arthurs Seat, and the summit was our target.
It was a great way of gaining a bit of fitness and try out my new camera. Brilliant views over the capital – as you can see from the images on the right. At night we had dinner and a few beers on the Royal Mile.
The atmosphere in the city is great, and you can see why there are so many foreign visitors.
Bridge of Orchy
The next weekend we took a roadtrip to Bridge of Orchy. The weather was not at it`s best but we still enjoyed our day out. We started with lunch in the hotel (haggis and neeps were fab) before a walk round the village. Just above the train station a stag gave me a stare then moved on.
Then we drove up Glen Orchy to follow the river. There are some great waterfalls on this very fast-moving river – a good spot for a bit of photography.
Oban Daytrip Jan 2016
Another exciting journey took us to a great day in one of my favourite ports – Oban. It's the gateway to the isles and you can reach a lot of Scottish islands from there, including another of my favourite ports – Mull.
We left just after 9.00 in the morning from Glasgow onto the Citylink bus to Oban, which is a great connection.
In 2016, I will be travelling more by bus as the routes are a lot more extensive than they used to be. Gone are the days of it being a poor way to travel as the coaches have restrooms, comfortable seats and great viewing windows.
Inverbeg to Firkin point
Can`t have a Scottish blog without a wee mention of my favourite loch. Loch Lomond is a magic place to visit any time of the year, and both shores are special but on this particular day we were on the west.
OK, confession time. Earlier in the day on I slagged the weatherman for changing his mind a few hours before we left the house causing us to change our plans. Well, I'm glad I listened and I thank you, weatherman, because we had a great day on the Bonnie Banks. We started at Inverbeg and walked to Firkin Point. A few snow showers but we were dressed for the day, and had great views of Ben Lomond.
The lunch at Inn on the Loch was fab.
Greenside Reservoir
The sun was out so it was time for another great walk!
This time we headed up the Kilpatrick hills to see the Greenside Reservoir. A few weeks ago we also visited Loch Humphrey, which you walk from a different starting point. This walk we start from Cochno Rd. Very easy walk -​takes you about a hour to get from the start to the top.
These hills are not far from our home in Clydebank, and definitely worth a visit.
Coming up…
I plan to visit Glasgow`s new Sikh Temple. Scotland's only purpose-built Gurdwara. Eventually it will be able to accommodate 1500 worshippers, making it not only Scotland's largest Sikh Temple, but also Glasgow's largest religious building.
The new landmark can be seen for miles and looks really special from outside. Hopefully by the next time I blog for you I will have ventured inside.
Well that's my 2016 so far. Hope you enjoyed my Scottish adventures! I will blog again in a few weeks time.
---
More From Dougie
You can follow the Scotlanders on Twitter at @Scotlanders for updates, and follow Dougie himself at @Bairdtravels.