The Scotlanders | In Search of the Perfect Shot
---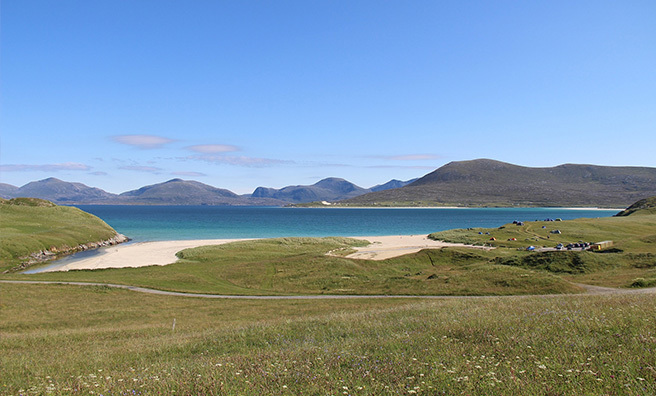 The Scotlanders' Kim has been putting his photography skills to the test this summer in search of the perfect Scottish shot…
Its been a busy few months since you last heard from me. The Scotlanders had their #LoveFife campaign back in early August, which Nicola talked about in her A Foodie In Fife update, and then the #Isleathon which Dougie mentioned in his last guest blog, Scottish Tourism.
On a personal level, I have also been trying to take in as much as possible of the beauty of Scotland, which included Bridge of Orchy, Glen Coe, Glen Evite, Outer Hebrides and Glen Affric.
My personal travel around Scotland was keeping me busy over the summer and it was almost an overload of amazing experiences and many beautiful sights. I'll keep it short, but I could probably write a whole book about my travels.
Bridge of Orchy and Glen Coe
For our anniversary weekend in July, my wife and I had the pleasure of staying at the Bridge of Orchy Hotel, which lies by the road towards Glen Coe and Fort William. We had a two night stay, which gave me a fantastic opportunity to get out and about to photograph the outstanding Scottish outdoors in all its glory.
This did mean I had two very long days to capture the different lights but it was all worth it with the beautiful sights seen and such a relaxing experience too!
On my first morning, I took in sunrise over Loch Ba in Glen Coe, which ended up being a rather stunning one and a treat to my first morning. During the day we were visiting the mysterious Glen Coe and beautiful Glen Etive. This was the first time I had really had an opportunity to travel these glens and it was a true pleasure.
One of the most spectacular loch photo opportunities I have ever seen was at the beautiful Loch Tulla by Bridge of Orchy – check out the final image on the right.
Outer Hebrides
This year's summer holiday we had planned in the Scottish Outer Hebrides. Our last visit to these parts of the country had been about 12 years ago, when I first visited Scotland so it was great to be back.
We had a week and made the most of this with road trips around the beautiful Isle of Lewis, Harris, Uist and the small Isle of Berneray. We had pretty decent weather, which meant we did manage to camp for a couple of nights at the beautiful Horgabost campsite, a  short drive from the biggest village on Harris, Tarbert.
Our beach water by Horgabost was clear, crisp and I for a brief moment considered going for a swim as the colours made it look like we were in a tropical, overseas country!
Many of the sites and so much of the scenery brought back wonderful memories of our first visit to these amazing isles. As with most of my holidays on the western isles, there was a true feeling of tranquillity and peacefulness as we travelled around the islands.
It's remarkable how everything we did was at a slower pace and with what felt like a healthier lifestyle with less stress and worries.
It was also really fascinating to see the many local historic sites such as the many beautiful Blackhouses dotted throughout the isles, old ruin like the Carloway Broch on the Isle of Lewis and several standing stones.
Drumnadrochit
My most recent trip, was a walking weekend in Glen Affric, while the rest of the Scotlanders were attempting the first ever Isleathon around the Scottish Isles with Calmac Ferries.
I had joined a local walking group and we made our annual journey north, this year to the remote Drumnadrochit for a day of walking in the even more remote Glen Affric.
As usual I started my morning with the hope for a bit of sunrise photography, and paid a visit to the nearby River Enrick.
After breakfast, we made our way to the beautiful Glen Affric, which was about 30 minutes from our accommodation, pausing to capture the beautiful waterfall on the right before we started our climb to the top of the two Munros, Tom a' Choinich and Toll Creagach.
We had some fantastic weather and the views that we had from the top of Tom a' Choinich, are to date some of the best I have yet enjoyed while bagging Munros around Scotland.
I look forward to a few more day trips around the country in the coming month and a couple of weekend trips abroad coming up.
Thank you for reading. Feel free to follow me on more of my travels and see what I get up to by following my Twitter and Instagram.