Travel Tips for 2017
---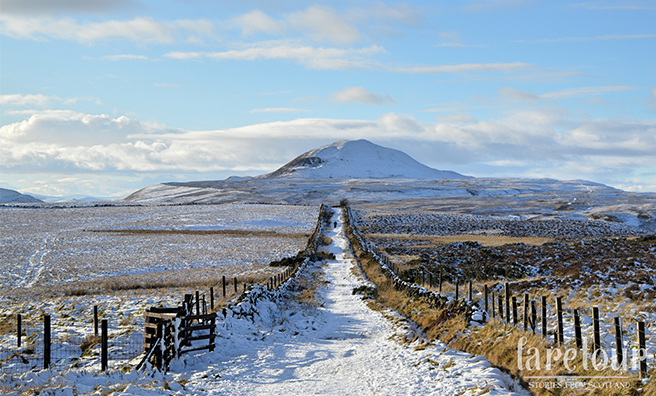 Here's to more of Scotland!
Is it just me or has this year been one of the fastest yet? I can't quite believe I'm typing out my final 2016 article for The Scots Magazine.
I've barely noticed the seasons sliding by, yet when I've taken the odd weekend off — or the customary two-week escape in summer — I've spent every second in Scotland.
And do I regret the lack of sunshine and suitcase packing? Not a bit.
In fact, this year I've probably done more exploring of our wee country than ever before.
From sailing out to a geological marvel to slogging up my first Munro (with an ice axe in hand!) 2016 has really shown me that there's nothing quite as good for your sanity as escaping into the Scottish wilderness.
Here are a few of my favourite memories of Scotland in 2016 that might give you some ideas for next year!
What are yours? Share them with me on Twitter @laretour.
Head to the hills
Is there a better way of appreciating the Scottish landscape than hillwalking? (Buying a drone doesn't count…)
In 2016 I bought my first pair of hiking boots and gave the shiny leather its first baptism on the small-but-perfectly-formed East Lomond Hill beside Falkland, Fife.
Before long I'd got the bug and signed up for a winter skills course in Glenshee. Our objective? Bag one of Scotland's easiest Munros, Carn Aosda.
But for a beginner this wasn't as simple as it sounds. Armed with winter boots, an ice axe, crampons and a forty-litre rucksack, I soon appreciated the strength and skill needed to summit in winter conditions.
Yet this exertion is quickly forgotten at the peak with wild, white views across the mountains. It's impossible to beat these simply stunning scenes.
A tale of two islands
This year I also ticked two of Scotland's tinier islands off my list: Gigha and Staffa.
After a long weekend of constant rain on the Kintyre peninsula back in April, I made the most of the momentary sunshine and took the CalMac ferry across the water to Gigha (just £5 return).
There isn't an abundance of activities to tick off on this island so simply sit back, and enjoy the silence and stunning small beaches.
It's an experience, too, to wander around Achamore Gardens where — even in its overgrown and derelict state — you'll hear echoes of its bygone beauty (and you might even meet the resident peacocks).
More tips here!
Further west towards the Atlantic sits a geological marvel. Back in July, I took a day trip with West Coast Tours to the three isles of Mull, Iona and Staffa. But it was the latter which really blew me away.
With gigantic basalt columns seemingly growing from the sea and the dark mouth of the famous Fingal's Cave, this place is like something out of a fairy tale… Just add puffins!
Explore your own back garden
Although taking long weekends and far-afield holidays in Scotland is great, it's not always possible due to a lack of pennies or other life plans.
There have been several moments this year which have really reinforced that sometimes the simplest and best Scottish experiences are right on your doorstep.
I moved from the quiet west coast to Edinburgh last year, yet it's only in 2016 that I've really embraced the capital city.
From coffee shop crawls in Stockbridge and Sunday strolls in the Grassmarket to sunset hikes up Calton Hill, I just know 2017 is going to be full of more discoveries in this picturesque city.
Follow my Instagram for more Edinburgh shots.
Go Somewhere Completely Different!
And talking of cities, 2017 is a year for going off-piste for your next weekend break.
How about Paisley? Not long ago I visited this sometime-misunderstood town south of Glasgow which is bidding for UK City of Culture 2021.
So there's no better time to blow away your prejudices, take the train west and discover Paisley's gems (like the abbey, Paisley pattern exhibits, town hall and mysterious 'drain' to name a few…) Read more here.
Have the merriest Christmas and New Year!
What are your plans for 2017?
---
More
Find Laura's online blog here, and follow her on social media to keep up-to-date with her travels:
---
One Day, Three Isles