Scotland's Biggest Dark Sky Events
---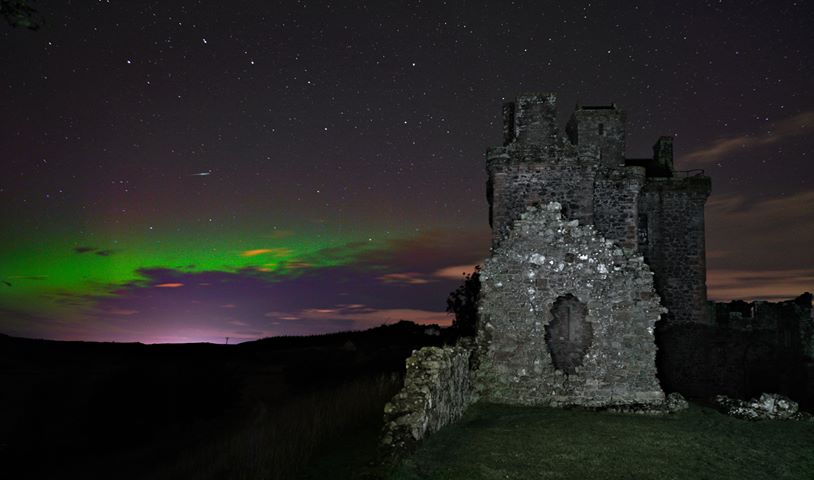 Aurora over Balvaird Castle. Pic credit: John Cuthbert Lrps
Scotland has some of the largest expanses of dark sky in Europe making it a perfect destination for eager stargazers and aurora chasers
Our beautiful country really lights up at night. As it lies at the same latitude as Stavanger in Norway and Nunivak Island in Alaska, a visit at the right time of year will include a bit of Northern Lights spotting at some of Scotland's biggest dark sky events.
And with the colder, darker nights drawing in, it is the perfect time to get cosy up north and experience the auroral displays.
Take a look at all the night sky events coming up this year and next.
Events and tours
Coll & the Cosmos, Isle of Coll
26 & 27 October 2019 and repeated on 28 & 29 March 2020
A collaboration between Coll Bunkhouse and Cosmos Planetarium, Coll & The Cosmos is a stargazing weekend break on the Isle of Coll which makes the most of the island's incredible dark sky. The break has been specifically designed to appeal to as wide an audience as possible. No prior knowledge of astronomy is needed.  A two-day astronomical voyage of discovery, with approximately 10 hours of learning and stargazing activities delivered by expert astronomers, visitors can discover the beauty of the island itself and also experience the wonders of the night sky under some of the darkest sky in Europe.
Prices: £90 per adult or £75 per young person, see www.collbunkhouse.com/dark-skies-coll-cosmos/ for full details
---
Public Astronomy Evening at the Edinburgh Royal Observatory
Various dates October 2019 – March 2020 (18:30 – 19:30 & 20:00-21:00)
Visitors can find out about the history of Edinburgh's Royal Observatory and tour the fabulous Victorian telescope dome at one of their special Public Astronomy Evenings. These events are designed to be suitable for all ages and include stargazing should weather permit. Prior booking required. Events will involve and astronomy-related talk and stargazing and observing the skies through telescopes (weather permitting).
Cost: From £4 per person, see www.roe.ac.uk/vc/ for full details
---
Hebridean Dark Skies Festival
Now in its second year, the Hebridean Dark Skies Festival – led by An Lanntair in partnership with Stornoway Astronomical Society, Calanais Visitor Centre, Gallan Head Community Trust, Lews Castle College and new partner Uig Sands – will bring two weeks of arts and astronomy events to the Isle of Lewis. The 2020 festival will run from Friday, 7 February to Saturday, 22 February, with an ambitious and exciting programme spanning theatre, live music, film, visual art, food, astronomy talks, and stargazing.
For more information see www.lanntair.com/creative-programme/darkskies/ 
---
Sleep Under The Stars
Selkirk Arms Hotel, Kirkcudbright, Dumfries & Galloway
Stargazing breaks, 29/30 November & 21/22 February 2020
Conveniently located in the south-west of Scotland near to the Galloway Forest Park, the Selkirk Arms Hotel is a great base from which to begin a Scottish stargazing adventures.  It is also close to the coast and picturesque walks and cycling routes. Also serving locally-sourced delicious food, it is an ideal home from home.
The Selkirk Arms Hotel also offers Stargazing breaks to include two nights' accommodation, food, pre-dinner drinks, an introductory talk on stargazing with a local astronomer, as well as the chance to explore the night sky at secret locations.
Price: Two-night package (dinner, bed & breakfast) is £269pp.
Visit www.selkirkarmshotel.co.uk/stargazing-break for more information
---
Eagle Brae Log Cabins, Beauly, Inverness-shire
Eagle Brae's five-star cabins are set within the northern Highlands, beneath soaring mountains and amongst wild glens and vast lochs, away from light pollution, providing a great place for stargazing holidays. If the Northern Lights don't make an appearance during a stay, there's still a good chance of seeing the Milky Way, meteors and other astronomical delights.
The sustainable log cabins are warm and cosy with log-burning stoves and biomass boilers. They are also dog-friendly.
Priced from £1,366 for a two-person cabin for seven nights, October – December 2019.  Please see www.eaglebrae.co.uk for more information and to book.