282 Munros In The Bag!
---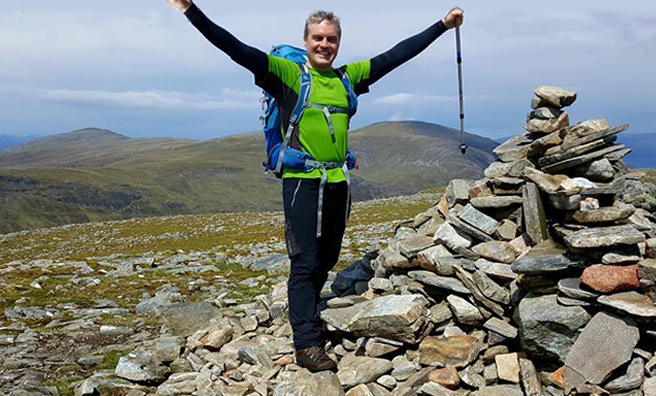 Scots Mag Editor, Robert Wight, joins the prestigious ranks of Munro compleatists
On Saturday, June 3, a five-year mission came to an end, as a group of hikers caught the train to Corrour to join Robert in climbing his 282nd Munro, Beinn na Lap.
Reaching the summit took us through rain, hail, shifting mists, glorious sunshine on the summit, and finally a thunderstorm on our descent – all four seasons in one day, in fact, which was a fitting end to a round that's seen Robert out in all weathers.
"Ticking the Munros has taken me all over Scotland, exploring places I'd be otherwise unlikely to see. The last few years have been a huge adventure. I've stayed in bothies, tents, hostels, remote inns and campervans. I've hiked, climbed, ice-climbed and even snow-shoed to summits.
"There have been days of cloudless blue skies, but also days of thick clag, clinging drizzle, torrential rain, gales and whiteout snowstorms – sometimes on the same day!"
Robert was one of three Munro baggers scaling Beinn na Lap as their final Munro, and all three parties mingled on the top for a well-earned dram (or two) of celebration before high-tailing it back down to hide from the elements in Corrour Station House.
They join some 6000 names on the Scottish Mountaineer's Council's list of recorded Munro compleatists, which has been faithfully kept since Rev. A E Robertson became the first recorded compleatist in 1901.
"At the end of the day, it's just another hill," Robert said afterwards – but we're inclined to disagree.
Scaling all 282 Munros is a fantastic achievement, and all three compleatists deserve a well-earned rest after their mammoth round.
And if they get bored, there's always the Corbetts…