Scots Triumph At Marmalade Awards
---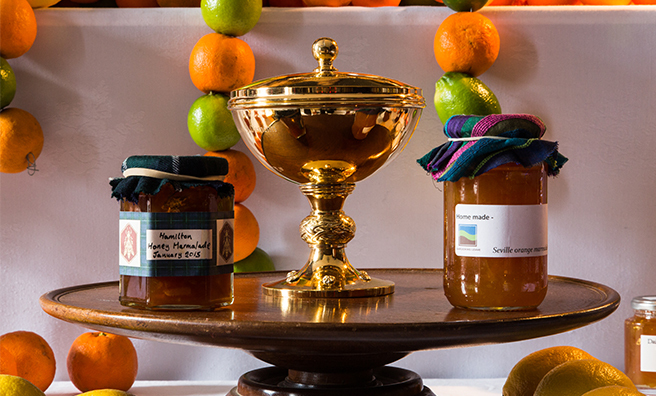 In January we called all marmalade makers to arms for the The World's Original Marmalade Awards & Festival, and the results are in!
Over 2,000 jars of home-made entries were received by the organisers at Dalemain – and this year there have been quite a few unusual additions.
Marmalades laced with honey, vodka, coffee – and even tiny flakes of gold – have jostled to stand out at the 10th annual awards, with entries being sent in from as far away as Japan.
The Scots have long been reputed to be the original inventors of the citrus preserve, so it's no wonder they've come out top in this year's Marmalade Awards with two Double Gold awards in the "Homemade" section.
Catie Gladstone was joint winner in the "Stirring of the Clans" category, and her Hamilton Honey Marmalade was hailed "a breath of Scotland's misty lands".
"I wanted to celebrate my Scottish heritage through my marmalade."
Catie was "absolutely amazed and delighted" to win this award – quite a feat for her first ever batch!
"I was guided through the making process by my Aunt Sona who inspired me to enter the competition," Catie said. "I used delicious local honey from Dumfriesshire as an alternative to sugar because I wanted to celebrate my Scottish heritage through my marmalade."
The Gardening Leave Army Veteran's Charity Marmalade also won joint gold in the "Military Marmalade" category with a traditional Seville Marmalade, proving it can still hold its own against more exotic varieties.
Both Double Gold winners will be offered the opportunity to have their marmalades stocked in Fortnum & Mason.
The Hotel, B&B & Restaurant Double Gold trophy, sponsored by Mrs Bridges, went to Wemyss House B&B in Bayfield for their Fine Cut Seville Orange Marmalade, which impressed judges with its powerful flavour.
"I've never had to pluck my marmalade before eating it before!"
Entrants from all over the world arrived with attached recipes, enchanting letters, family trees and all manner of decorations.
"I've never had to pluck my marmalade before eating it before!" one judge was heard commenting as he carefully removed feathers adorning one particular jar.

Winners of the "Artisan" category included Radnor Preserves, who have created the perfect marmalade to be eaten with sausages! Their Smoky Campfire Marmalade gained unanimous approval from the judges and was also awarded a Double Gold award. Click here for the full list of winners. 
The Awards Ceremony marked the beginning of National Marmalade Week (March 1 – 8), so get your jelly pan out and join in the celebration of the golden breakfast treat.