Scottish Rural Parliament 2016 Convenes In Brechin
---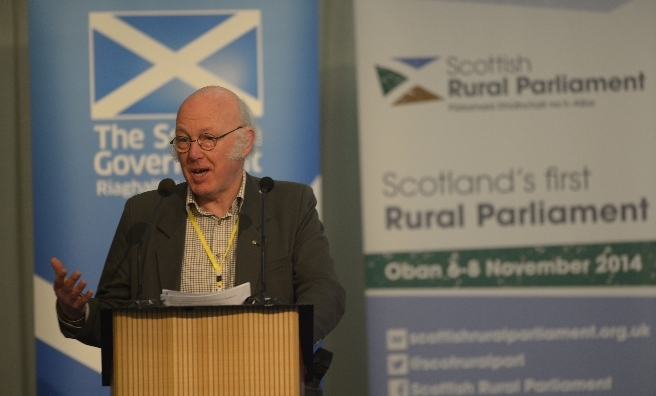 John Hutchison, the 2014 chair of the Scottish Rural Parliament opens the 2014 event
From October 6-8, the Scottish Rural Parliament 2016 will meet at the newly-opened Brechin Community Campus in Brechin, Angus.
The Scottish Rural Parliament is a non-profit, apolitical organisation which is completely independent of Government and aims to be a powerful voice for the people of rural Scotland. The first Scottish Rural Parliament was held in Oban in 2014 and, following applications from 21 Scottish towns to host the 2016 event, Brechin was selected as this year's host town.
Visiting projects and businesses across Angus
On the morning of Thursday, October 6, before the Scottish Rural Parliament convenes, delegates will be visiting projects and businesses across Angus, including a vodka production farm (Ogilvy Vodka, as featured in the August issue of The Scots Magazine); the high-tech Dragon Matrix event; Murton Trust nature reserve, visitor farm and tea room, which provides opportunities for young people (aged 14-19) who are disengaged from formal education; DD8 Music; Pictish Arts Society; and Caledonian Railway.
"There will also be a programme of visits for members of the public on Saturday, October 8," added Emma Cooper, National Co-ordinator of the Scottish Rural Parliament.
The opening ceremony on Thursday afternoon includes a welcome address from Fergus Ewing, a note from Europe by Staffan Nilsson who, with colleagues, organises the European Rural Parliament and a film about the Scottish Rural Parliament's Manifesto, as well as music and dance by local performers.
Workshops on the Scottish Rural Parliament's key themes
The event will then break into a series of workshops on the Scottish Rural Parliament's key themes, with speakers from a range of backgrounds and interests, including:
5G mobile-phone signal spectrum sell-off: Getting the best deal for rural Scotland – Calum Kerr MP and Digital Scotland
Ensuring micro-med businesses thrive: What enterprise support is needed, where and who should provide it? – GrowBiz and CanDoPlaces
Joined-up/framework legislation on food, farming and health – Pete Ritchie from Nourish
Local Democracy: How should it work and what can you do about it? – Willie Sullivan from the Electoral Reform Society
Land reform: next steps – Community Land Scotland, Scottish Government and Robin Callander
There's also have a varied programme of fringe workshops, which are open to the public on Saturday. "On Friday, participants have the opportunity to propose additions to the Manifesto, followed by an evening of fabulous local food menu and music," said Emma Cooper.
The Scottish Rural Parliament opens its doors to the public
On Saturday, when the Scottish Rural Parliament opens its doors to the public, there will be an exhibition of 40 organisations, including CalMac, Scottish Rural Network, Scottish Parliament, Police Scotland, Women's Enterprise Scotland, Business Gateway, ScotRail, SRUC, University of Glasgow, Uan Wool and Rural Housing Scotland.
Saturday morning will also feature a panel debate looking at the impact of leaving the EU on rural Scotland, chaired by Ruth Wishart and with Cllr Mairi Evans MSP, Peter Chapman MSP, Lewis Macdonald MSP and Gerald Banks from NFU Scotland.
For the full programme and to book places on one of the visits, click here.
---
Highlights Include…
Agreeing a Manifesto for rural Scotland
Brexit panel debate chaired by Ruth Wishart, with Peter Chapman MSP, Lewis Macdonald MSP, Mairi Evans MSP and NFUS rep Gerald Banks
Launch of #OurDemocracy campaign with Lesley Riddoch, a joint campaign between Electoral Reform Society, Scottish Rural Parliament and others
Programme of visits to projects in the local area