Sir Peter Maxwell Davies
---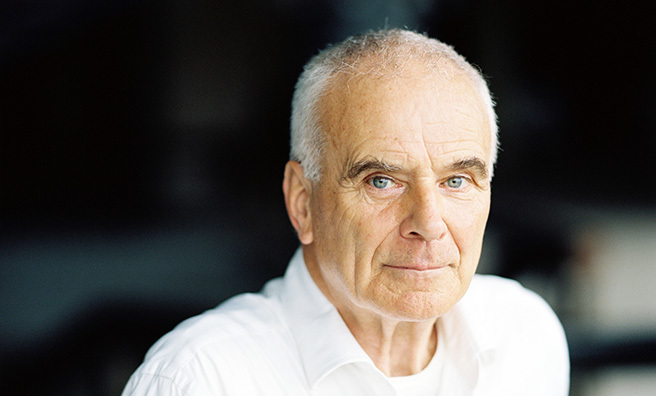 Garry Fraser pays a personal tribute to the Orcadian Composer…
I was lucky enough to attend the St Magnus Festival in Orkney a couple of years ago, and even luckier to speak to Sir Peter for a Scots Magazine interview (extract below). He was a genuinely nice man, and was a pleasure to speak to. I've also had the pleasure of performing one of his works – in the UK premier no less – with the Dundee Symphony Orchestra as Sir Peter was the orchestra's patron.
The piece, A Reel of Spindrift, Sky was actually written for a school orchestra in Iraq, but its first UK performance was delayed. While members of the DSO might remember him for that, most will recognise him for Farewell To Stromness which must be his most famous composition.
Sir Peter was instrumental (pardon the pun) in founding the St Magnus International Festival on his island home of Orkney in 1977.
Alasdair Nicolson, the festival's current director cited Sir Peter, or Max, as he was known to his friends, as "huge influence on so many composers of my generation".
"The musical world will miss his
endless enthusiasm, his encouragement
of the young and his complete
integrity to his art."
"Max's vision, determination and influence brought to life something which is now a precious part of the Scottish, UK and International arts scene. From the earliest days organising things from a phone box on Hoy – to his most recent role as President, Max has won the hearts of the Orkney community and been a significant part of many generations of musicians from the islands."
Read Garry's interview with the influential composer below – taken from our August 2014 issue.
The Max Factor
Sir Peter Maxwell Davies explains his love of composing for children
"They are my harshest critics. There's nothing phoney about them!"
The press? Music reviewers? His family?
No! Children, and that's one reason former Master of the Queen's Music, Sir Peter Maxwell Davies particularly enjoys composing for them, something he has done with alacrity all his career but especially since he moved to live and work in Orkney.
Another reason for working with and for children is to increase audiences: "Involve children and you involve parents", he says. "However, no matter how good the children are, the teacher is important. Kids can do anything given the right leadership.
"As a composer writing for children, you write up not down," continues Max. "There's a fine line in writing music that is too difficult so children give up or too easy so they get bored."
From what I've seen of children from the islands and their enthusiastic interpretation of his music, I would think he's got it spot on!
The Orcadian youngsters have taken him to heart, and as part of the 2014 St Magnus Festival they celebrated his forthcoming 80th birthday with a spirited concert featuring works written for them between 1979 and 1982, including Kirkwall Shopping Songs and Songs of Hoy, the island he set up home on in 1971.
These demonstrate not only his affinity with young folk, but also with the culture and heritage of the northern archipelago. Max – or PMD, depending on who you are and how well you know him – has surely deserved the title of Honorary Orcadian, happily domiciled as he is now on the northern island of Sanday.
Further Orkney-inspired music includes Orkney Wedding With Sunrise, a beautifully impressionistic work complete with drunker revellers, and the famous Farewell to Stromness, a piano piece composed in 2003 that might be short and relatively straightforward in content but which has made a huge impact in the world of contemporary classical music, becoming the fastest-rising new entry in the history of Classic FM.
Lancashire-born Davies studied at the University of Manchester and the Royal Manchester College of Music (which become part of the royal Northern College of Music) and it was there where he met fellow-composers Harrison Birtwhistle, Alexander Goehr, Elgar Howarth and John Ogdon. Together they formed New Music Manchester, a group committed to avant-garde contemporary music. But, as if to counter this, he also developed a liking for medieval music, the style and form of which have been the basis of his compositions for majority of his career.
After graduating and studying in Rome for a couple of years, Max took up the post of Music Director of Cirencester Grammar School and is was here where he nurtured his fondness for composing for young folk. In these days, provision for educating young children in the arts was an integral part of every school's curriculum.
Nowadays, Orkney enjoys an equally vibrant educational system, with vocal and instrumental music readily available through enthusiastic head teachers and willing peripatetic instrumental instructors and Max was able to feed off this with some success and prolificacy.
Orkney isn't alone in this phenomenon, as I know from experience that equally fine provision benefits other regions, including Dundee and Perth. However, lack of provision on a wider scale is something that Max laments.
"Authorities are reluctant to stick their heads out when it comes to music," he says. The same could be said on a more professional plain and he cites an experience Sir Simon Rattle, principal conductor of the Berlin Philharmonic Orchestra, once had. "In Germany, everything was provided to support the orchestra, lock stock and barrel. But when Simon was working with the London Symphony Orchestra, the purse strings were drawn tight."
It is instances like these, plus matters of a more political nature, that have forced Max to rail against the authorities on more than one occasion. And he often uses music, subtly, to enforce his point. The ponderous bass line in Farewell to Stromness portrays residents of the town leaving their homes as a result of uranium contamination – plans to mine uranium ore in Orkney were eventually shelved – and he isn't afraid to speak out on matters controversial, political or otherwise.
Max has made a big impression on many musicians over the years, not least fellow composer Alasdair Nicolson.
"I first met Max as an undergraduate and as someone whose music I had written about for a dissertation," he says. "I remember him being very welcoming of this nervous young composer and also being very encouraging. Max can be very insightful and shrewd but set against a wicked sense of humour. I admired his work because it mirrored the things I was interested in and I saw a musician who could be a performer, educator, composer and community musician, all of which I was doing at the time.
"He is also a great communicator, a highly knowledgeable musician and an "old style" composer in the sense of being able to write quickly, to direct festivals and ensembles, to conduct and to make work for amateurs, children and professionals with equal ease. He has been a significant contributor to the history of music in the UK not just as a composer but as a voice which has put music on a more public agenda. His versatility is one of his most admirable attributes."