America's Got Talent Stars Embrace Scottish Culture
---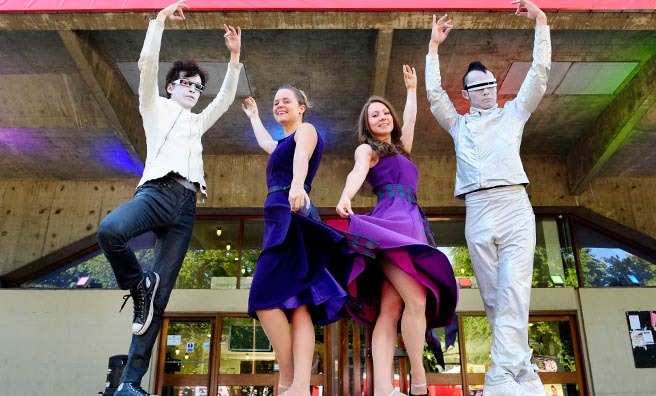 Japanese dance sensation SIRO-A get into the spirit of the Fringe Festival with Scottish Country dancing
Jetting in from American's Got Talent's third round to perform at Edinburgh's Fringe Festival this year, SIRO-A were keen to pick up a bit of the local culture!
Katie Moore and Eilidh Burgess of the Royal Scottish Country Dance Society, Edinburgh, were more than happy to oblige and taught the Japanese techno dancers from SIRO-A a little traditional Scottish dancing.
"The guys all love to learn new dance moves wherever they go," said Aki Okoma, from SIRO-A. "They had heard about Scottish country dancing and we're really excited to have the chance to try it out."
"We are looking forward to a magical month in Scotland."
"It's been a great way to start our visit to Edinburgh. So much has happened since we were last at the Fringe. America's Got Talent has been mind-blowing and now we are looking forward to a magical month in Scotland."
SIRO-A first exploded onto the international scene in 2011, scooping Mervyn Stutter's Spirit of the Fringe Award, for their spectacular video projection, animation, and stunning laser effects. The show crosses all boundaries of language and culture, and is a treat for people of any age.
Tonight they can also be seen on America's Got Talent, where they have already garnered huge praise from the judges as they compete for a place in the third round.
For a taster of what to expect at their Fringe performance, check out their audition video for America's Got Talent below:
SIRO-A are at the Edinburgh Fringe Festival from Thursday, August 6. Click here for ticket information.