A Place of Peace
---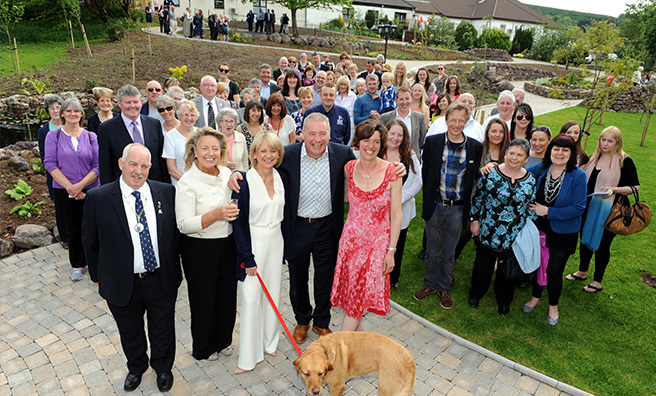 Down a country lane in Howwood, Renfrewshire, lies a little charity that's making a big difference
St Vincent's Hospice provides care for local people affected by life-limiting illness, but the centre itself is a far cry from being a depressing, clinical care home.
We were invited to tour the bright hospice and garden – and were warmly welcomed by Andrew Cassidy, the hospice's ICT Developer.
He explained that the emphasis is placed upon making sure that the patients get not only the treatment they need, but also the space to relax and enjoy the company of fellow patients and day patients.
Creating a tranquil space
The most recent venture from the hospice was to create a "Tranquil Space" garden – a long-held dream for many of the charity's staff, and the brain child of Chief Executive, Kate Lennon. 
Design work of the garden was undertaken by students from SRUC College in Ayr, and they have made an incredible job of selecting the right shrubs and trees for both scent and colour.
The enthusiasm from the charity's staff is infectious, especially with Andrew, who showed me around the beautiful new garden with delight.
It's hard to believe that only a few months ago the colourful garden was little more than inaccessible grassland, but now, with the help of local businesses, the community and wider public, it is a place of rest and peace that everyone can enjoy.
A celebrity opening
The garden was officially opened in June by celebrity patron Ally McCoist, who planted a rhododendron bush as part of the opening ceremony.
Ally is a champion of St Vincent's, having taken part in the Arran Challenge the weekend prior, where, with a team of fellow fundraisers, he cycled around Arran in wild conditions to raise funds for the hospice.
Speaking at the opening ceremony, Ally said: "The care provided by St Vincent's Hospice touches the lives and hearts of so many local families – it is a privilege to be able to offer my support.
"I know this wonderful garden will become a much-loved place where the whole community can enjoy the peace and beauty of nature."
My visit was a couple months after the opening, to see how it was thriving, and it was great to see all five areas of the garden in full bloom.
The Sensory Garden provides colour and scent to revitalise the senses, while the aptly-named Rest-a-while catches the afternoon sunshine in a bench seat by the pond.
All areas combine to provide a great area for the charity's patients – and also for the greater community. With wide pathways for wheelchair access, this place of respite is easily accessible to all.
None of this would have been possible without generous fundraising by members of the public, and donations and support from the Landfill Community Fund, the Malcolm Group, National Lottery Awards for All and Helping Hands Association.
What's next?
Now that their dream garden is in place, the staff at St Vincent's Hospice are looking ahead – planning activities to raise their much-needed funding, and also bring a bit of joy to their patients' lives.
Next March they're hosting "Strictly Come Prancing" to raise vital funds for local patient care. It's also a great way to get fit and learn to dance, and applications are still open for male dancers!
If that isn't your cup of tea, then there's always the opportunity to pop in to their on-site tearoom, The Barn, for a real one (and a fruit slice, which comes with a seal of approval from The Scots Magazine).
If you would like to make a contribution to the Hospice & Garden, make a dedication of your own, or apply for Strictly Come Prancing 2016 call St Vincent's Hospice on 01505 705635 or email info@svh.co.uk.