Still's Waters Run Deep at Loch Earn
---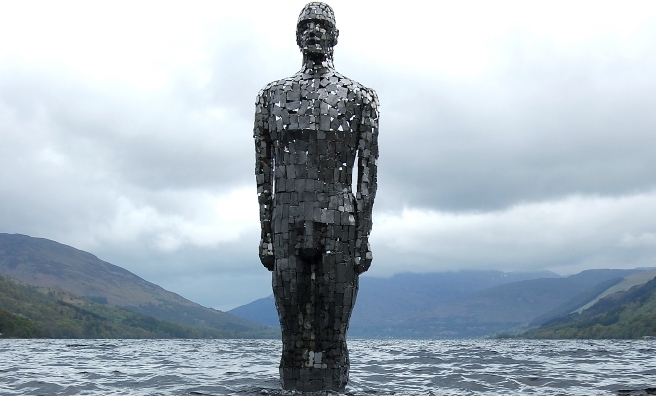 Still by Rob Mulholland - a powerful prescence on Loch Earn. Photo by Rob Mulholland
The storms that hit Lochearnhead at the start of this year were believed to have claimed an iconic victim – the stunning statue 'Still', known locally as The Mirror Man.
The larger-than-life statue had not been seen since 110mph winds and unusually high water levels hit Lochearnhead in January – until The Mirror Man was spotted lying in a sheltered area of the Loch.
The Mirror Man has returned
'Still' was rescued from his watery hiding place by his creator, Glasgow-based artist Rob Mulholland, and, after re-attaching his head and reshaping some of the metal sheets which had been twisted by the force of the waves, the Mirror Man has been returned to his rightful home in the shallow banks of Loch Earn, opposite the Four Seasons Hotel.
'People were missing him'
"People were missing him," said Rob Mulholland, as he helped the team manouvre the 2.7 metre-high statue back into place. "A lot of people had asked the hotel where he was."
'Still' was commissioned by the Four Seasons Hotel and arrived at the loch in May 2014. "We're all delighted to see 'Still' back in the water," said Hotel Owner Andrew Low.
"We've missed his presence over the last couple of months and hope that he will remain here for a number of years.
'Such a beautiful sculpture'
"We would like to thank Rob for firstly creating such a beautiful sculpture and, secondly, taking so much care to repair him after the extreme weather we experienced at the start of the year."
---
Still hibernating!
The Four Seasons Hotel in St. Fillan's gave an almighty hug goodbye to 'Still' before he started his long winter snooze.
Hotel owner Andrew Low explained that 'Still' will return in early spring. "Still will be much missed," he said, "but I can appreciate why he would not like to remain in the loch over winter!"