Take A Hike… To The Hermitage!
---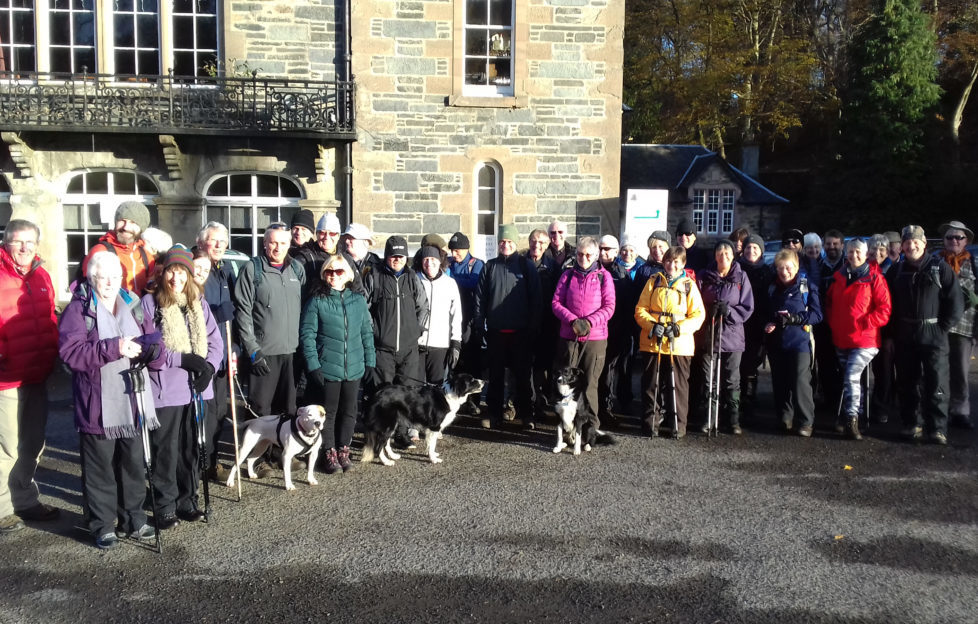 The Scots Mag Hiking Club met for a walk around the Black Linn Falls at the Hermitage
The first hike of the year was a pretty damp and misty one, as we negotiated the ridge behind the Airlie Monument in Glen Clova. The last one of the year, round and about the Hermitage, Perthshire, was taken in a blaze of autumnal sunshine amidst the coppers, yellows and oranges of the turning Perthshire trees. It was the perfect way to round off our 2017 hikes.
Such a reasonably flat hike, undulating at best, attracted a larger turn out than usual with 44 hikers poised at the 10am start at the Birnam Hotel. It was good to see the regular members of the club, but it was also nice to welcome four newcomers, of whom we wish to see more throughout 2018!
The hike, taken at a fairly leisurely pace, wound its way up past the Inchewen Burn and over to the A822. We then made our way through Inver before skirting the A9 and turning in for our first proper stop of the day, the Hermitage. It was a busy place, as we mingled with a bus load from Rabbie's tours plus sundry individuals, pairs, foursomes and groups. Turns had to be taken to access Ossian's Hall!
A Break in the Sunshine
We then headed along the Braan before climbing up onto open hillside where further refreshments were enjoyed, while basking in an unusually warm November sun.
It was here where one of our hikers spotted a plastic box tucked under a rock. It turned out that we had stumbled upon a Geocache, a hidden waterproof container that can be found using GPS and clues on the Geocaching website.
This cache contained a small notebook so we logged the day, date and who we were. Who knows, some intrepid hiker might come across it in the distant future and remark on the existence of the Scots Magazine Hiking Club!
By now we were on the return loop and after a brief stop to admire the views at Rumbling Bridge we headed through light woodland on a well-defined path back to Birnam and post-hike drinks at the Birnam Inn.
A good time was had by all!
Click here for next year's hike list and more hike reports.
See you in 2018!