Taking Stock Of The Wild Places
---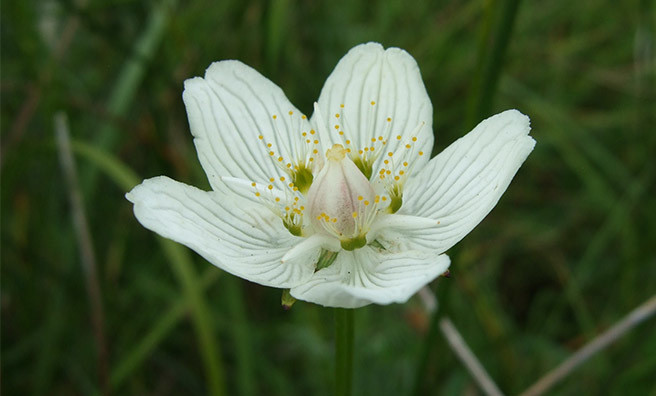 Beth Halski - Plantlife. Parnassia Palustris.
The National Plant Monitoring Scheme (NPMS) have announced their first annual stock-take of the UK's wild plants and habitats – and they're looking for volunteers!
Similar schemes are in already in place for native birds and butterflies, but this is the first time a study is in place to check the increase and decline of their vital, and beautiful habitats.
Prior to this new scheme, plant data could only be gathered on protected sites, making it difficult to track abundance and change in the UK as a whole.
The NPMS are now on the hunt for volunteers to help them understand more about how the countryside is changing. Twenty-eight important habitats, ranging from hedgerows and meadows, to salt marsh and scree slopes, are to be monitored, and volunteers can choose which area they'd like to keep an eye on.
All volunteers receive free training and guidance, plus support from the partnership, and those who like walking in the countryside as a hobby can enjoy the feel-good factor of giving something back to protect the scenery around them.
Dr Kevin Walker, Head of Science at the Botanical Society of Britain and Ireland (BSBI) hopes the results will give a better idea of how the landscape is changing – enabling further conservation for any endangered habitats that may be discovered.
"It's really great to finally have a national scheme that everyone can take part in. Whether you simply love wild flowers or are a budding botanist, input from volunteers will provide sound evidence on how our wild plants and habitats are changing."
To find out how you can get involved go on to the NPMS website for an application form.