Tartan Day
---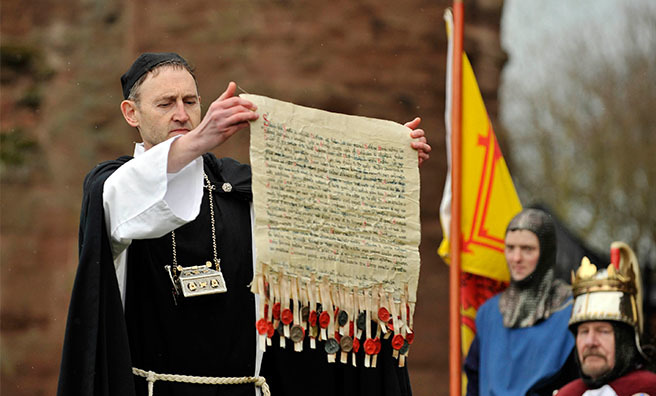 A replica of The Declaration of Arbroath is held aloft during a reenactment at the Tartan Day Scotland Festival 2017
Next weekend Arbroath will be celebrating its annual Tartan Day Festival with a range of events throughout Angus.
The festival commemorates the signing of the Declaration of Arbroath on April 6, 1320, and, to celebrate, visitors will be granted free access to the impressive Arbroath Abbey on April 6.
Inside, the Arbroath Abbey Timethemes will recreate the signing of the Declaration of Arbroath, with Robert the Bruce himself in attendance.
"We are delighted to once again offer free entry to the Abbey on the 6th April," said Douglas Wilson, Commercial Business Manager for Historic Scotland. "We're looking forward to welcoming people through our doors as part of the wider Tartan Day celebrations."
Following the recreation, there are opportunities for a free tour of the Abbey's ruins, a talk in the visitor centre, and live music in the Abbey courtyard.
Another highlight of the week is the West Links Family Fun Day on Saturday, April 4, a free event featuring a visit from Animal Man's Family Zoo.
Activities at the beachfront playground will also be reopened for the day, including the once-famous go-kart track, Kerr's Miniature Railway, Road Train and pitch & putt.
Local restaurants, The Bell Rock Restaurant and Sugar And Spice will be serving up Tartan Day Menus, too, featuring the world-famous Arbroath Smokie.
There are events on all week so have a look at their extensive programme for more information.