Ten Things To Do This Week 16-22 Feb
---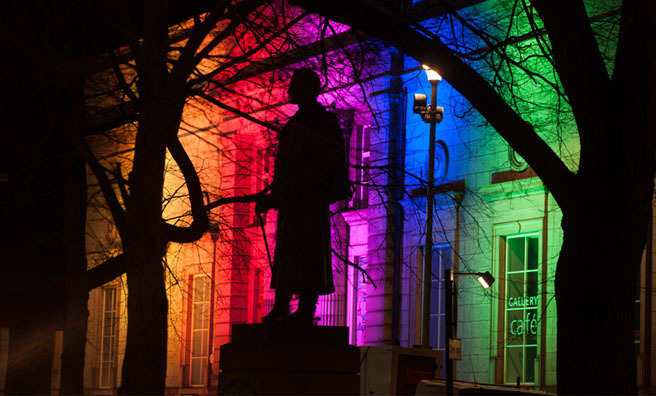 SPECTRE Aberdeen Festival Of Light
1. Stroll Down Memory Lane
Glasgow Film Festival 2015 kicks off this week with a full programme of events. Celebrate the city's ongoing love affair with the movies with specially-curated exhibition Jeely Jars and Seeing Stars at Mitchell Library. Over eighty years of cinema memorabilia, artefacts, archive film and photos will display.
2. Go See A Play
Direct from London's West End, Regent's Park Theatre presents To Kill A Mockingbird at Aberdeen Performing Arts (16-22 February). Based on the Harper Lee novel, this dramatic production tells the story of racial injustice and new hope in the era of The Great Depression.
3. Discover A Musical Journey
It's the story of one of music's most endearing partnerships – The Simon & Garfunkle Story tells the fascinating tale of how two young boys from Queens became the melodic duo loved around the world. A full cast of actor/musicians bring the story and the music to life at various locations from the 18-25 February.
4. Be Entertained!
Don't miss the UK's favourite dance couple, Anton Du Beke and Erin Boag, for a spectacular evening of music, song and dance across Dundee, Glasgow and Edinburgh (19-22 February). Expect dazzling choreography drawn from both stage and screen – and a whole lot of sparkle!
5. Attend An International Festival Of Light
Aberdeen will welcome in artists from the UK, Norway, Iceland, and Finland for a light spectacular from February 19th. Stroll through Union Terrace Gardens and see it transformed into an electric wonderland awash with unusual installations and UV face painting.
6. Experience A Fiddler Extravaganza
Around 100 fiddlers will take to the stage at the Eden Court Theatre, Inverness, on February 21. The Fiddlers' Rally provides both a visual and a musical spectacle with the tartan-clad performers giving it their all in this lively celebration of traditional music.
7. Be Transported To Arran
The much loved broadcaster Kirsty Wark will be reading from and discussing her debut novel The Legacy of Elizabeth Pringle at the Pitlochry Festival Theatre on February 21. You can read more about the inspiration behind the book in our December issue.
8. Stock Up On Your Bargains
Judy's Affordable Vintage Fair has replenished its vintage wares and will call once again to Edinburgh on Saturday 21 February to offer another fabulous round of shopping bargains. 5 tonnes of retro fashion will be laid out on rails at Out Of The Blue on Dalmeny Street. It's only £15 per kilo so get ready to stock up!
9. Get Up Close To Reindeers
Experience a scenic hill walk like no other with the Caingorm Reindeer Centre, Aviemore. It's the wonderful chance to ramble up the mountainside and meet 'n' greet the centre's herd. Suitable for children and adults alike, this visit includes a feeding of the herd and is led by an experienced reindeer herder. A range of tickets are available.
10. Grow Your Own Veg
Fancy growing your own vegetables but don't know where to start? The team at the Royal Botanic Garden Edinburgh are on hand with a weekend dedicated to seasonal gardening information (21-22 Feb). Gain some valuable advice, enjoy some fun activities and pick up some great garden produce tasters.