Ten Things To Do This Week 2-8 Feb
---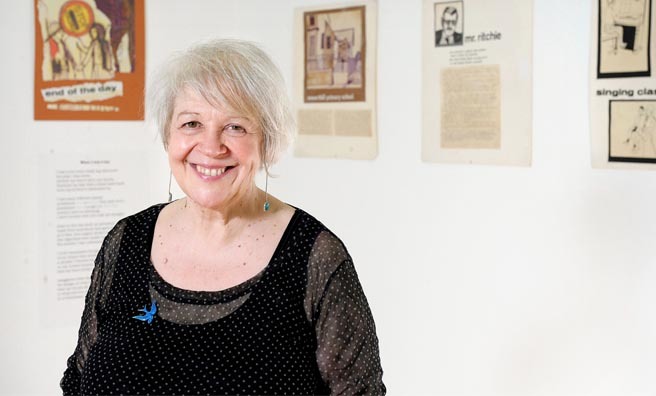 Join Liz Lochhead for a wee dram and poetry session. Image: Herald & Times Group
1. See Through The Lens Of A Rock Photographer
Make February the month you discover the rock photography of Harry Papadopoulos. Paisley Museum & Art Gallery are exhibiting a gallery of band portraits, live-action shots and unique pictures until March 1. Expect an all-access slice of Scottish post-punk music history from The Clash to Scots band Orange Juice.
2. Get Lost In A Murder Mystery
The King's Theatre, Edinburgh, is the venue for thrilling murder mystery, Dead Simple, this week. Based on the best-selling book by Peter James, this new stage production recounts the tale of one man's mysterious disappearance. Runs between the 2 and 7 February.
3. Discover Edinburgh's Design Talent
Pop up shop, Twenty Eight Collective, is open for business on 28 St Stephens Street, Edinburgh, from February 3. The creative venture aims to showcase local Scottish talent through a variety of exhibiting stalls selling everything from artsy accessories to cute knick-knacks.
4. Enrol At Hogwarts School of Witchcraft and Wizardy
 For the first time ever, publishing house Bloomsbury will launch a themed Harry Potter storytelling event across the UK on Feb 5. Scotland's young witches, wizards and muggles will be treated to an evening of games, activities, readings and quizzes in locations across Dundee, Dunfermline, and Glasgow. Booking required.
5. Dance Ballroom Style!
For one night only (Feb 6), The Rothes Hall will be transformed into a premier ballroom for a spot of dancing. Expect a big dance floor, music from The Scottish Swing Orchestra, full bar and cabaret seating. There is also the option of a dance lesson before the big event!
6. Rediscover A Magical Fairytale
It's the classic fairytale but unlike you've ever seen it before. Russian Ice Stars presents Snow White On Ice, a stunning skating, ballet, gymnastics and aerobatics experience at the Perth Concert Hall between Feb 5-8.
7. Enjoy A Wee Dram And Poetry Session
 Join Scotland's Makar Liz Lochhead and the Jolly Toper (Mark Davidson) for a delightfully intoxicating tour through a selection of fine whiskies and poetry on Feb 5 at the Scottish Poetry Library, Edinburgh. Ticket prices include 5 drams, shortbread, oatcakes, and plenty of poetry and fun!
8. Uncover the Best of Fife's Produce
Fife's natural larder is on show at Younger Hall, St Andrews, on 8 Feb. The Fife Food Festival invites all foodies to meet Scottish food entrepreneurs and enjoy the very best of local produce. There's also a luxury raffle and activities for all.
9. Watch A High-Flying Spectacular
Witness an aerial dance spectacular under the roof of the quaint Birse & Feughside Parish Church by Banchory (Feb 5) or at Eden Court Theatre, Inverness (Feb 7). Performance troupe All or Nothing reflect the power of human relationships through the mediums of dance, theatre, circus and acrobatics.
10. See The World's Longest Tapestry
Visit Stirling Castle and discover the entire history of Scotland – all on one tapestry! Author Alexander McCall Smith is the brainchild behind the idea that saw a team of hundreds come together to create one of the biggest community art projects Scotland has ever produced.
For lots more ideas about things to do and places to go, pick up a copy of this month's Scots Magazine. On sale in newsagents and supermarkets now or subscribe by clicking here.