Ten Things To Do This Week 27/10/14 – 2/11/14
---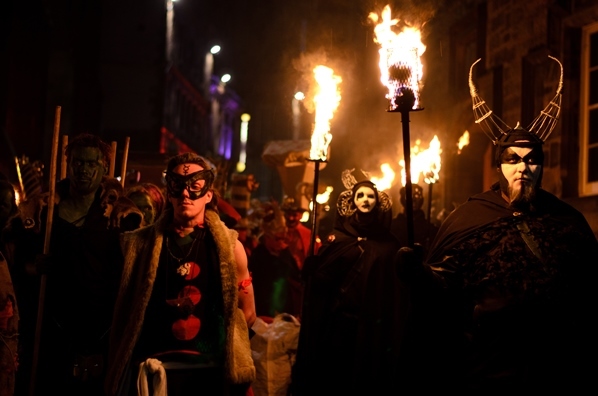 Last year's Samhuinn celebrations. Photo copyright of Richard Winpenny
1. Go to the Flicks
From October 25 – November 9, it's the Discovery Film Festival at Dundee's DCA. Featuring a selection of the world's films from all over the world aimed at young audiences, the Discovery Film Festival includes three exciting weekends of films, creative activities, and gala events, as well as two weeks of screenings and events for schools.
2. Get Your New Shoes On!
Having cancelled Monday's show due to severe tonsillitis, we've got everything crossed that Paolo Nutini makes it to his show at the SSE Hydro on Tuesday, October 28.
3. Watch Scotland's Favourite Novel of All Time
Sunset Song is at Eden Court in Inverness from October 27-29. Lewis Grassic Gibbon's timeless story is being performed across Scotland to mark the start of the centenary of World War 1 – and the beginning of Chris Guthrie's battle for survival in her beloved Mearns.
4. Roll Up! Roll Up!
Barnum is at Edinburgh Playhouse from October 28-November 1. The title role of this smash-hit musical is played by the fabulous Brian Conley, perfectly cast as The World's Greatest Showman.
5. Read All About It!
Faclan – the Hebridean Book Festival – takes place throughout the Hebridean Islands from October 29 until Nov 1. Events include a talk by broadcaster and author Trevor Royle about his new book 'The Flowers of the Forest', a spectacular club night and rock journalist Mark Ellen explaining how Rock Stars Stole His Life!
6. Swing Out
The Skye Swing Jazz Festival (October 30 – November 2) is a nostalgic jazz festival which this year focuses on the music of the 1920s, with swing, jazz, jitterbug and jive the dances to brush up on!
7. Get Fired Up!
The Samhuinn Fire Festival is held in Edinburgh every Hallowe'en to mark the end of summer and beginning of winter. This year, to accommodate the ever-increasing number of spectators, the event will move beyond its usual Royal Mile route to reach its climax at the Mound Precinct. The celebration will begin at 9pm on Friday, October 31 at the High Street, with a procession of drums, fire and characters from Celtic lore making their way from down Cockburn Street and on to the stage at the Mound Precinct for the final battle between the forces of Summer and Winter. Free event.
8. Experience Puppy Love
On November 1, the cream of Scotland's working dogs will be on display at The Working & Pastoral Breeds Dog Show at Ingliston. Doors open 7.30am, with judging beginning at 9am.
9. Become A Scientist Dundee Science Festival (November 1-16) is a two-week long series of events for all ages celebrating science and showcasing the rich culture of research, discovery and innovation in Scotland.
10. Step Back In Time
To raise funds for Innerpeffray Library, a Concert of Early Music is being held at St Mary's Chapel, Innerpeffray Library, by Crieff on November 2, 2014. The programme will feature 16th and 17th century ensemble music, played on historic instruments, with tickets costing £15 each, including light refreshments during the interval. For more information, email john.crieff@gmail.com.