The 1000 Year Hike
---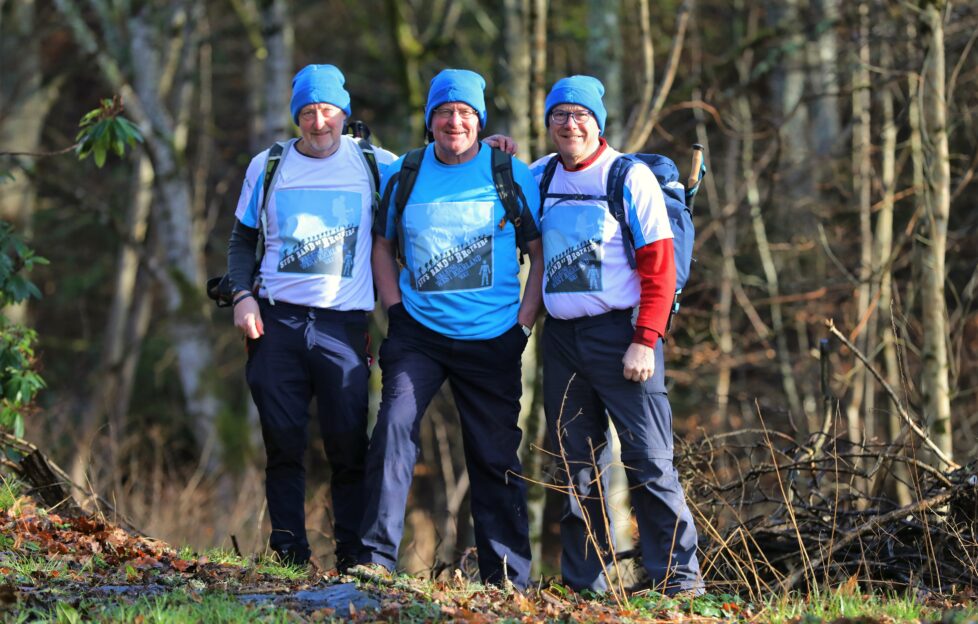 Evening telegraph/ Courier news CR0033666 G Jennings pics , " Stu,s Band of Brothers" Garry Fraser ( blue t shirt,whose brother Stuart passd away after having prostate cancer) Steve Dron & Ian Crighton get in somee training for walking the West Highland way in May in aid of prostate cancer.tuesday 15th February.
West Highland Way charity walk to raise funds for Prostate Cancer UK…
At the end of May, a team of walkers will walk the 96 miles from Milngavie to Fort William in memory of their brother and close friend Stuart Fraser who passed away last September after being diagnosed with prostate cancer. Walkers will be coming from all over the world to take part, from Vancouver, Singapore, Switzerland and England as well as some from Scotland.
Stuart's brother Garry (65) is one of the squad. "The name of our mission – The 1000 Years Hike – derives from the sum total of our ages. Few of us have the opportunity for regular walking in this kind of terrain, but some of the Brothers are experienced walkers with a couple who have already completed the Way."
Garry is one of the more experienced of the 16-strong group. "I've done the Way twice already, both times for charity," he says. "But after the second I decided to call it a halt. You can get too much of a good thing! However, when I heard about this venture, I couldn't say no to having another crack at it. Doing it with some of Stuart's closest friends is an added bonus.
"Not only that, but Prostate Cancer UK was a great help to Stuart latterly, and I know hundreds of other sufferers who have benefited from their support. So it was, as they say, a 'no brainer'. I'm sure Stuart will be watching us from above and, no doubt, be following our every step. What better incentive is that!
"The only problem I had on my previous experiences of walking the Way was the dreaded midge. But now that I am slightly longer in the tooth, I'll not only be fighting off these beasties but also trying to avoid sore knees, sore ankles etc. Luckily, one of the group is a retired GP so I reckon his skills might be in great demand!"
Stuart, originally from Dundee but settled in Ashtead, Surrey, passed away last September one month before his 68th birthday. Prior to his illness, he was a keen golfer, walker and gardener and had suggested the walk before he died. To call the walk "Stu's Band of Brothers" was his idea.
One of the Brothers is Gordon Emslie, who was brought up in Broughty Ferry and who now works in Singapore and has a family home in Victoria, Canada. "As an expat Scot and having been away from 'home' for 41 years, the opportunity to walk the West Highland Way is undoubtedly a bucket list item," he says. "To have the pleasure to walk across Rannoch Moor, a place I have enjoyed on many occasions and reckoned to be one of the most pleasurable and scenic places in the world, will be a great joy."
The West Highland Way, from Milngavie to Fort William, is usually completed in six to eight days. As well as the mountainous terrain, the unpredictable Highland weather can often delay walkers, as well as testing their resolve.
The Brothers have all been in strict training for this venture, with weekly hikes or walks a feature of their routine. It will be a challenge for them all, but they will raise their game knowing that the walk is for a cause close to their hearts.
www.justgiving.com/fundraising/stus-band-of-brothers