The Best of 2017…
---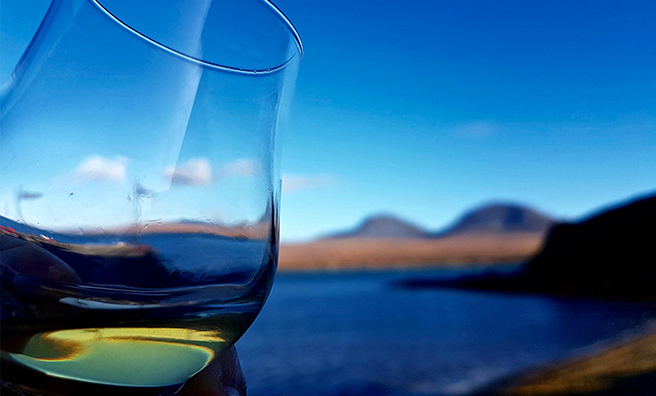 David picks his top highlights of


a year o

n Scotland's history trail
Perhaps in unconscious defiance of the travails of 2017 I made sure to spend the year checking some historic sites off the list that were sure to provide lots of inspiration.
From whisky and ruins to meeting my heroes, here are four of my favourite Scottish places and moments from the past year. If you haven't visited them yet, then get them on your to-do list for 2018!
Islay
I like my whisky to taste as though it's been filtered through a peat bog and smoked over a log fire, which makes Islay the closest thing to heaven on earth I can imagine. Whisky and history – what can beat that?
You can take in both at Lagavulin Bay, where the ruins of 12th century Dunyvaig Castle stand sentinel across the bay from Lagavulin distillery. Another treat was rounding off a visit to Finlaggan, the medieval capital of the Lords of the Isles, with a dram at nearby Bunnahabhain distillery.
With views across to Jura and Norse-Gaelic lore swirling in my head, it made for perhaps my single favourite moment of the year.
Kilmartin Glen
The cradle of the earliest Scots, Kilmartin Glen's reputation as a history lover's wonderland should be on par with the Heart of Neolithic Orkney or the Callanish Stones. Over 800 historic sites lie within a few miles of Kilmartin Museum, where I filmed a YouTube video as part of a series on Argyll museums with DigIt! TV.
In the kirkyard just next to the museum is a spectacular collection of carved medieval grave slabs, and several ancient cairns are within a stone's throw. My favourite place in the Glen is Dunadd, the capital of the Scots of Dál Riata. There you can find a footprint carved in stone used in the inaugural ceremonies of the kings of old, and quite literally stand in the footsteps of history.
Ravenscraig Castle
If there was one castle from 2017 that really left me in awe it's Ravenscraig. I had been there back in 2012 when I was a very amateur castle hunter and had vague memories of a neat but not extraordinary place. How wrong I was.
Perhaps it was the eerie lighting as the sun waned or the daunting scale of the gatehouse so shrunken by my memory that left such an impression. It certainly didn't hurt that several crows were flying overhead doing justice to the castle's name. The castle stands out as one of the first in Scotland built to defend against gunpowder weapons, preceded by just a few years by Threave Castle in Dumfries & Galloway.
Ravenscraig overlooks a beautiful beach and backs on to housing, and I found myself thinking how great it would be to be a kid with this place in your backyard.
Melrose Abbey
I'm no pilgrim, but going to Melrose Abbey to see the burial place of Robert Bruce's heart was nonetheless a pilgrimage of sorts. One of my favourite stories from Scottish history is the tale of how, upon his death, Bruce had his heart removed from his body and taken on crusade by his formidable companion, James 'the Black' Douglas (a story I recounted in the October 2017 edition of The Scots Magazine). It's story that gave us the term 'Braveheart', which was never historically applied to Bruce, and not to Wallace as pop culture has established.
I'll be covering the best historic sites in the Borders in the next fortnightly blog, so I won't spoil too much for now!
Paying tribute to two great Scots at once I brought along Nigel Tranter's The Bruce trilogy, which sparked and fuelled a fascination with Scottish history for millions across the globe. In many of my own castle quests I'm keenly aware that Nigel Tranter blazed the very same trails before me, and it's a true privilege to partake in his legacy.
2018 History Goals
So, what's on for 2018? My big goal is to reach my 400th Scottish castle, so that's 90 more to go – just one castle every four days, no problem! I'm also aiming for islands, with long-awaited trips to Shetland and the Outer Hebrides in the works. If you have any suggestions for where to go or are seeking inspiration for your own Scottish adventure, drop me a line through my website www.castlehunter.scot.
Happy history hunting!
You can catch David's next blog on the best of the borders here on January 24.
---
More From David
Hear more of David's adventures by following him on Twitter


@TheCastleHunter

,
on his blog at
www.castlehunter.scot


and here every fortnight!