The Call Of The Wild
---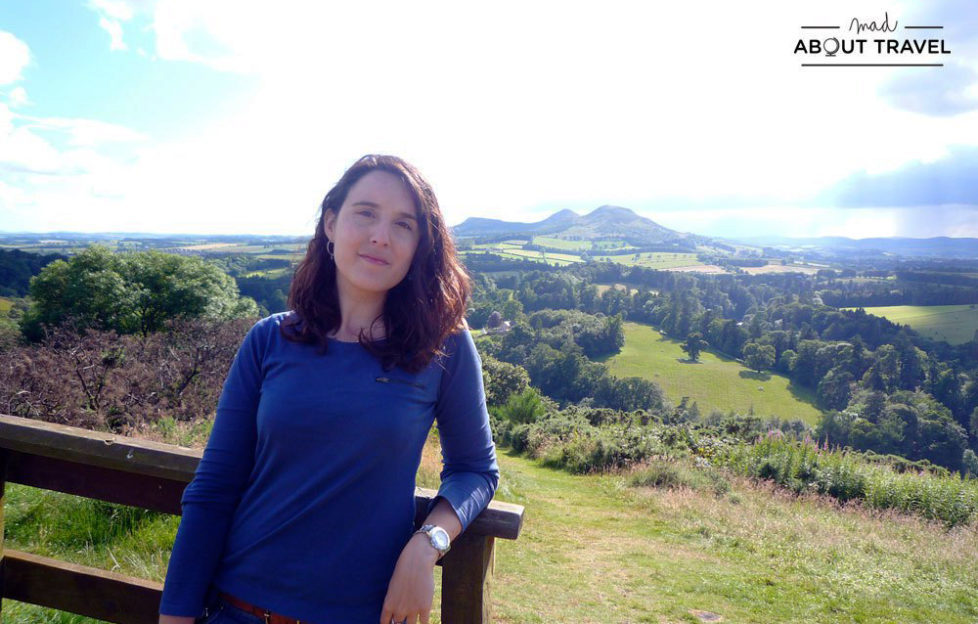 It was love at first sight for the newest addition
to Scotland's first blogging collaboration
When I got the news that I was going to become the newest member
of the Scotlanders team I couldn't believe it!
The amazing team of writers and bloggers had long filled my days with inspiration for exploring the wee country I now call home, but how had I, a Spanish girl and travel blogger, had the luck not only to meet them, but to join them?
I am afraid it is a long story… so bear with me!
Originally born and raised in Barcelona, I am a journalist, travel writer and marketer that has adored Scotland for more than a decade.
I grew up under the sun, in a place where ochres and blue skies are taken for granted, but I always felt a connection with this country.
I don't really know why, but the moment I first set foot here, 11 years ago, I knew I was home.
A Restless Native
I studied journalism and worked as a TV reporter and newspaper journalist for some time, until I decided to give PR a go.
And that is how I ended up working in what (to me) was the dullest and most uninspiring job in the world!
Instead of travelling the world and sharing my passion for places with readers, there I was, drafting press releases about medicines and scientific achievements.
The role just didn't suit me at all and something deep inside kept urging me to follow my gut and go back to doing what really makes me happy.
So back in September of 2011 I opened Mad About Travel, my travel blog.
This small online space allowed me to be creative once more and, even more, to share my love for travelling – and especially to Scotland – with a wider audience.
I created a place where I could be me without any constraints. Little by little, the blog started growing as I filled it with articles about my adventures and visits to Scotland, with images that capture the essence or each moment…
Love At First Sight
You may be wondering how a Spanish girl came to fall so in love with Scotland – what brought me here in the first place, what made me come back at least once a year for almost 10 years until I finally settled in Edinburgh.
Well, it all started with my Erasmus experience.
I picked Scotland as my destination of choice knowing I would be in awe of my surroundings every day of my course at Stirling University. I was right.
Those 6 months allowed me to explore quite a bit and to realise for myself that my intuition was right: the land of green hills, impressive castles and stunning lochs was as amazing as I had imagined.
But it wasn't the beauty of the landscapes and the unique heritage. The Scottish people themselves welcomed me in such a way that I knew I wanted to be part of their community.
From my flatmates in Thistle Chambers to every single person I bumped into while exploring Scotland, everybody made me feel the warmth of a people proud of their country and willing to show it to anyone.
At the end of my Erasmus, I was a bit torn about going back to Spain but I had to finish my degree. So, with a heavy heart I left for Barcelona. Years passed but I somehow managed to visit Scotland (at least) once a year!
I took any excuse – friends getting married (I love a Scottish wedding), birthdays, holidays and weekend trips – and ittle by little I managed to explore the length and breadth of Scotland, from Skye to Orkney, from the Borders to the Highlands, from Glasgow to Edinburgh.
I took everything in like an eager child that wants to remember every single minute spent running around in the Fairy Glen, gazing at golden sunsets on picture-perfect beaches or feeling the energy that standing stones irradiate.
"Every trip to Scotland was a journey home.




  Until Scotland finally became home."
In 2013 I was hired by a Scottish travel company. Moving here was a dream come true and I have not looked back. And I don't have to fly every time I need my Scotland fix, which has made everything a bit easier!
Since moving to Edinburgh have been trying to see as much as possible, to cover unexplored parts of the country for my readers to see that there is much more to Scotland than just what travel brochures show you.
So, when Neil, Kay, Nicola and Laura asked if I wanted to join the Scotlanders the answer was a huge "Aye"!
Being the fifth Scotlander will take me to places I have never been, allow me to spend time with some of the nicest bloggers in Scotland and, of course, to take my passion for this lovely country to another level.
Have a look at my favourite places so far in the gallery on the right.
The Scotlanders have a few things lined up for the next few months… so make sure you check out www.thescotlanders.com or click the links in the panel to follow our adventures on social media!
I look forward to hearing from you all.
---
More from Patricia
Or on social media:
Twitter, Instagram and Facebook