The Nature Library Goes On Tour 
---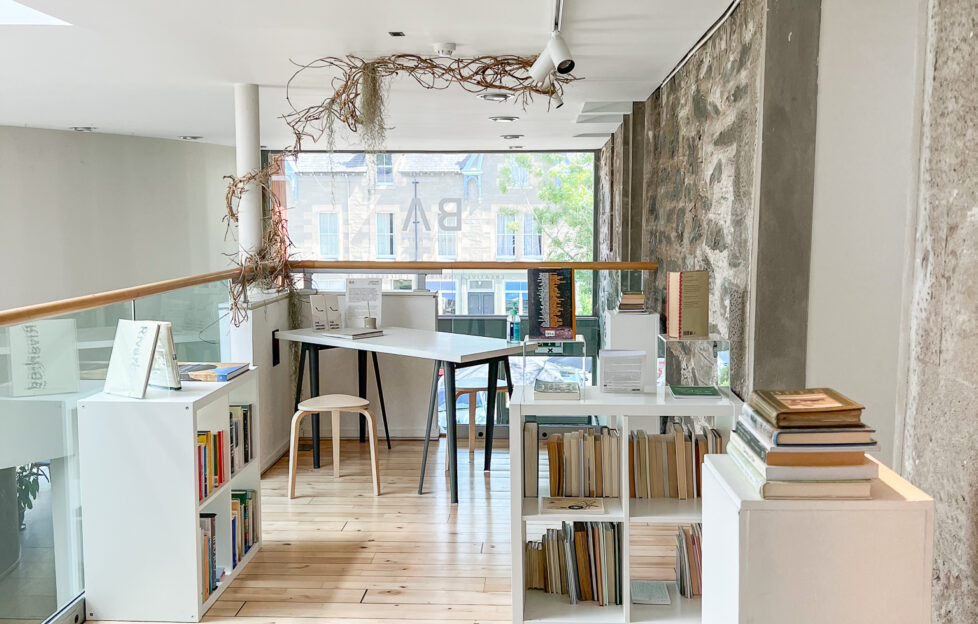 This summer, The Nature Library, a pop-up collection of land and environment writings, is visiting Birnam Arts in Perthshire, Arran Botanical Drinks and Ullapool

Ferry Terminal

…
Founded in 2019 by Ayrshire-based artist, photographer and writer Christina Riley, the reference library of around 200 books is a carefully curated, travelling reading space connecting readers to land, sky and sea.
Until August 31, it will form part of 'nATURE', a collective of sculptural installations and talks at Birnam Arts, which features the work of Simone Kenyon, Katherine Fay Allen, Alicia Escott and Heidi Quante. And in September, the travelling library also has two slots on the Climate Fringe programme in Arran at Arran Botanicals (September 10- 11) and in Ullapool Ferry Terminal (September 24-25).
Christina founded the library when she recognised that books by authors such as Rachel Carson, Kathleen Jamie and Nan Shepherd were having a significant impact on her work as an artist and her life views. Over the past few years she has expanded both the size of the library's collection through a number of donations and charity bookshop purchases. She has also taken the library to a variety of public spaces including Civic House and The Project Café in Glasgow, The John Muir Trust Visitor Centre in Pitlochry, John Muir's Birthplace in Dunbar, Isle of Mull's Knockvologan Studies, Edinburgh's Stills Centre for Photography and Eston Arts Centre in Middlesborough.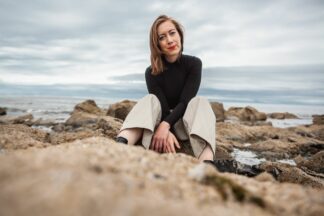 "The more I was reading, the more I was learning," says Christina. "I was reading books from the 1950s and they were shouting about the same things we're shouting about now regarding climate change. That was really interesting to me.
"The nature genre is growing so much because I think it's a bit easier to sit down with a book and understand what's going on. It's given to you in a way that enjoyable to read. News headlines can be a bit overwhelming."
Christina says she's always been drawn to non-fiction, for ease more than anything else. "You can browse the spines and recognise that's something you're interested in," she says. "And what I love about The Nature Library is that it's not what you'd expect to find in nature section of bookshop. There is some sci-fi and fiction as well as politics and guidebooks, poetry and memoirs.
"I do love watching who comes in and seeing what they pick up. It's fun acting like a librarian"
The Ayrshire- based photographer by trade hopes the library will one day find a permanent home, however, she understands the novelty of the catalogue and how it benefits from being a travelling collection.
"It's my hope that, even if The Nature Library does become a permanent fixture somewhere, that I can continue to take it to places across the country, from major cities to small villages, and to regions and schools which have lost their libraries." says Christina. "Everyone needs access to stories and to benefit from the good that comes from hearing them. These books, whether they were written 80 years or 80 days ago, show us that bold and enduring changes need to be made now. In the more eloquent words of Robin Wall Kimmerer, 'Restoring land without restoring relationship is an empty exercise. It is relationship that will endure and relationship that will sustain the restored land.'"
Among the first to visit The Nature Library at Birnam Arts was Environment Minister, Mairi McAllan.
"This unique exhibition in demonstrates just how much Scotland's nature is a key part of our national identity and our culture. The Covid pandemic has brought to the fore how our natural environment can contribute to our wellbeing, and I am always greatly encouraged and inspired to see people engaging with and caring for the nature on their doorstep," she says. "We know that the climate and biodiversity crises are closely interlinked. That's why we established the £65 million Nature Restoration Fund, committed to expanding protected areas and growing our National Park network. Our ambitious new biodiversity strategy will be published later this year and will set out what we will do to halt nature loss by 2030 and reverse it by 2045."
What started off as a small project on the side has now grown arms and legs and taking on a life of it's own.
"I enjoy it so much that it's good stress," says Christina. "Even if it's stressful, I remind myself that I get to take a library to different places all over Scotland, and that's the kind of stress that I want."
For more information visit The Nature Library (website)
Discover some of Christina's Scottish nature writing recommendations >>
Read about The Nature Library's previous exhibition in Glasgow >>