Scotsman Of Steel
---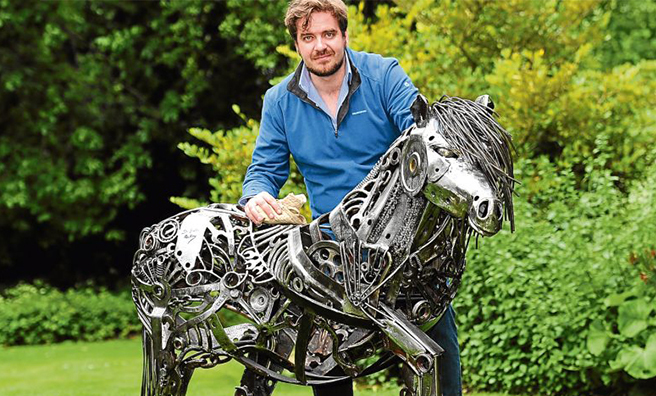 A self-taught Angus maker is creating stunning
metal sculptures out of recycled metal
On June 14 in Dundee's Botanic Gardens, Steve Burke McKay unveiled his life-size Shetland pony sculpture made entirely from reclaimed metal and old farm machinery.
The sculpture, affectionately-named Magnus, took Steve four months of hard graft, and was inspired by a family trip to the Shetland isles.
Steve fell in love with the Shetland scenery, coastline and people – but it was the Shetland ponies that really stroke a chord with the sculptor.
"When I got home I immediately headed for the workshop and started to create Magnus." Steve said. "This has definitely been my most challenging piece because of the complexity, the materials and the sheer size. I've spent more time with Magnus over the last four months than I have with people!"
Magnus is the latest step in Steve's entirely self-taught sculpting journey, which began just two years ago with a surprise birthday present.
"It was my brother Lewis's 21st birthday in 2015 that really kicked me off creating metal sculptures. I didn't know what to get him for a present, but I wanted it to be something special. He loves cars and guitars, and I took his guitar from his room and drew a template of it on an old piece of carpet. I then started to make a metal guitar from car parts. That guitar has the highest mileage you'll ever see – and no MOT needed!"
The guitar, made entirely from parts of a 1980s Mini Cooper, took around six weeks of hard graft for the self-taught metal sculptor, but his brother was over the moon with the gift.
Inspired By Scotland
The sculpting hobby fell by the wayside when Steve's work as a recruitment manager in the oil and gas industry took him from Aberdeen to London after the fall in revenue. While he enjoyed his time there he couldn't help but feel the pull of his workshop in rural Angus, and it wasn't long before he packed his things and came home.
"I had this persistent idea for creating dramatic metal Highland Cow heads that could be wall mounted, so I jumped in my car and drove home to Scotland! I knew there was no way I could, or would want to, do this in London. I love Scotland. The countryside is spectacular and the quality of life is second to none.
"I immediately holed up in the workshop at home and over the next few months made my first three Highland Cow heads – Fergus, Strachan and Stuart – which are all now for sale in galleries in Broughty Ferry and Perthshire."
Now a full-time sculptor, Steve takes commissions and is always on the look out for interesting challenges to turn his hand to.
Magnus is Steve's most challenging sculpture so far, but he's looking forward to creating many more intricate pieces. One thing is for sure, his business is no one-trick pony!
---
More info
Magnus  will be on display in Dundee Botanic Gardens for the next fortnight. Post your selfies with Magnus to Steve's social media pages (on the right) by June 30 to enter Steve's competition for Best Selfie!