There Was A Soldier…
---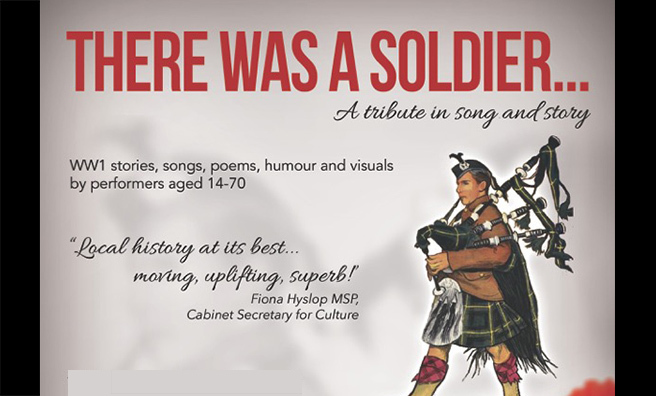 A new Fringe show c

ommemorates West Lothian's contribution to the First World War
"We were clearing out my late aunt's house a few years ago," explains Liz Reid, the show's co-creator, "and came across a bundle of letters addressed to her from a young soldier in the First World War.
"Tied with a faded pink string, the letters and memorabilia from her sweetheart on the front line entranced us."
The bundle of letters from David Wallace Dinwoodie stopped short with an almost-inevitable black-bordered envelope announcing his death in action. Liz and her friend Mary Boylan had to find out more.
"We did some research then visited his grave in France," Liz continues.
"Then a few years later we saw a show in Glasgow called Far from Ypres, written by Ian McCalman."
"Ian made the format of the show freely available to anyone wanting to produce a similar story about the war in their own area."
Mary and Liz decided to research West Lothian's experience of war in order to tell the story of so many young men, like David, who left their area with such enthusiasm and never returned.
Songs From Flanders Field
The resulting musical show There Was A Soldier… features David as the main character, and incorporates two songs written in an old jotter by Broxburn man, George Coyle, in Flanders 100 years ago.
"Reading his good-humoured songs written on the front line, you can imagine he must have been an inspiring and positive man to be with in those terrible conditions," Mary said.
The cast of twenty features young singers from Broxburn Academy and St. Margaret's Academy, Livingston, who are all of similar ages with the young men who left West Lothian for war.
This is the third year running that the popular show has been performed, and for the first time at The Edinburgh Festival Fringe.
All proceeds from ticket sales will be split between two charitable causes.
The first is a project to have the names of all local war dead engraved onto a stainless steel board beside the Broxburn War memorial, and the second is Broxburn Family History group who are researching all local people who went to war.
There was a Soldier… will be performed at Stockbridge
Church on August, 16-17, at 3 pm and 7 pm.
Tickets are available from The Fringe Box Office
and from Dechmont Shop at EH52 6LG.