Tom Watson | Farewell To A Golfing Great
---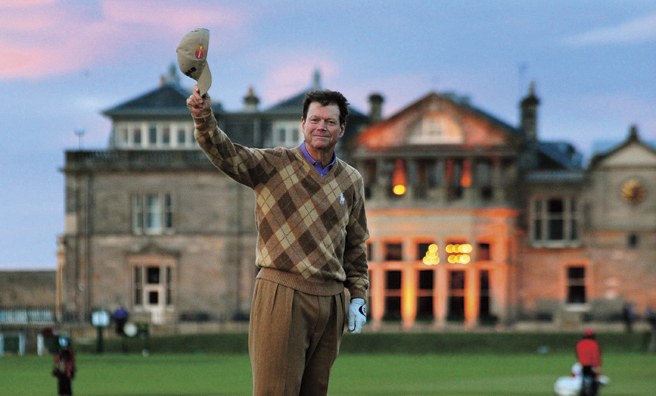 Tom Watson at St Andrews (Pic: Press Association)
As golfing champions go, few can beat Tom Watson.
The old magic might not all be there and the succinct touch that labelled him one of the best links golfers might be on the wane but the competitive spirit is still there. Those attributes plus a warm, engaging and charismatic personality have made him one of the most popular United States golfers ever to grace these shores.
The Open Championship this month will see Watson grace the hallowed links of St Andrews' Old Course for the last time, and as he makes his final crossing of the Swilken Burn there will be many with a lump in their throat, not least Tom himself. However, we should be grateful to the Royal and Ancient for granting Tom a final farewell to the Old Course, emotional though it might be.
"I wanted to say farewell to St Andrews and play on the course for my last time"
"I asked a favour of Peter Dawson and the R&A whether they would grant me one more year in exemption to play because my exemption had run out last year," he says. "They were very generous and gave me the chance to be able to play in what looks to be my final Open. I wanted to say farewell to St Andrews and play on the course for my last time." An Open title at the Home of Golf would have completed a grand slam of Open venues in Scotland, but he has no regrets in missing out on one of golf's greatest prizes.
"I had my opportunities as I had in other tournaments I didn't win. I played well in 1984, but I had an issue at the Road Hole in the final round and a bogey there ended my challenge. However, Seve Ballesteros turned it on at the end and won well. I suppose my final round this year will be a moving experience, but we have a baseball player in the States called Yogi. He's always saying 'it's deja-vu all over again' so I guess it'll be deja-vu for me all over again at St Andrews!"
Kansas City-born Watson is truly one of the Open greats as wins in 1975, 1977, 1980, 1982 and 1983 will testify, and it was an eight-year purple patch that included two Masters and a US Open. Four of these Open wins came on Scottish soil – Carnoustie, Troon, Turnberry and Muirfield – with Royal Birkdale the exception, and one would have thought he was a man born to play links golf. Not exactly.
"I still have that love for links courses"
"I didn't particularly like links golf in the first three or four years even though I won a couple of times," he says. "I eventually fell in love with it because of my good friend Sandy Tatum took me over to play some courses in Ireland and Scotland in 1981. I kind of had a change of heart then and I still have that love for links courses. The wonderful thing about links golf is there are so many unexpected things you can't predict and you have to learn how to deal with them.
"To some golfers, it is very difficult to accept some of the bad bounces or the outcomes of the shots you think you had played very well."
Very few championships have a name all to their own, but Tom's triumph in Turnberry in 1977 has – the "Duel In The Sun", as he battled it out over the Ailsa Course with Jack Nicklaus. Each matched the other's scores in the opening three days and the duel went right on to the eighteenth green on the final day. It's the stuff of legends, as the lead swayed to and fro until the final hole when Nicklaus' marvellous 35-foot putt for birdie which left a 2-footer for Tom to win the title. The eighteenth tee is called Duel In The Sun to this day.
"I was playing the best golf of my career"
"It was one of the best matches I played in," says Tom. "I was playing the best golf of my career against the best player in the game. I fully expected Jack to hole that putt, even though he was a good bit away. He had an uncanny ability to birdie the eighteenth on the final day of a championship. In fact, I can relate to when I played with him at St Andrews in 2005 just before he retired from the game. He had a 25-footer fast downhill on the last hole. I said 'there's no way Jack's going to miss this!'. He didn't. He made a birdie in his last competitive round."
Tom nearly worked the Turnberry magic again in 2009, tying for the lead on days two and three. However, Stewart Cink's final 69 meant a four-hole play-off, and even Tom would admit that it wasn't one of his crowning glories, losing by six shots. "He played far better than I did, hardly missing a shot. I think I hit one good shot in the four holes."
Had Tom won that day, he would have been the oldest player to win a major, at the age of 59. "I felt extreme disappointment that night but the one good thing that came of it was the response of people round the world."
Tom Watson was hurting, but then so were many of us, but today he doesn't rule out someone of a relatively senior age winning big. "I don't have anybody in mind but I know it can be done. With the players of today, the equipment they have to play with and the shape with which they keep themselves in, someone over the age of 50 can surely win a major."
"The money is secondary to the great champions"
Things have changed since Tom first lifted the Claret Jug, the financial side of things in particular. In 1975, Tom's purse was £7,000 while last year Rory McIlroy pocketed a cool £975,000. However, the American still sees some parity. "We both won the Championship, and that's the most important thing. That's what we're there to do. The money is secondary to the great champions. The winning of the Championship is the most important thing."
Watson wasn't to win another Major after 1983, but it wasn't for the want of trying.
"My game was suffering from around 1984 and I got very frustrated," says Tom. "But I reconstructed my swing and by 1994 I was back playing my best golf. I played better from tee to green for the next ten years than I'd ever played before."
When the young Tom Watson set out on what was to be a glittering career, golf was dominated by the likes of Johnny Miller, Lee Trevino, Tom Weiskopf and, of course, Jack Nicklaus. But it was a man not so well known in golf who was Tom's first mentor and motivator. Stan Thirsk was a professional at the Kansas City Country Club, but he unfortunately died in May, too soon to see his protégé play in his last Open. "He was a man of grace and of faith and he loved the game with a great passion," says Tom. "The greatest thing he taught me was character. I was really fortunate to grow up under his wings when I was a youngster."
Tom Watson has coached, encouraged and advised many youngsters over the years. If any of him rubs off on them as it did from Stan to Tom, they should consider themselves very lucky.
---
Tom Watson facts
Golfer Tom Watson was born September 4, 1949, in Kansas City, USA
He's won 39 times on the PGA tour
Watson has won The Open Championship 5 times, including 1977 when he also won the Masters
In 2009, nearing his 60th birthday, Tom led the British Open before missing out in the playoff to Stewart Cink
---
Mair golf…
Click here to check out our quick-fire question and answer session with BBC commentator Andrew Cotter!
Our July issue has some great content on The Open with a tour of the Old Course, a focus on St Andrews and an interview with Marc Warren on the Scottish Open, too. Click here to get your copy in print or digitally (with a free set of Scots Magazine golf balls with every subscription!) or through the Readly app store, here.