The Ubiquitous Alexander McCall Smith
---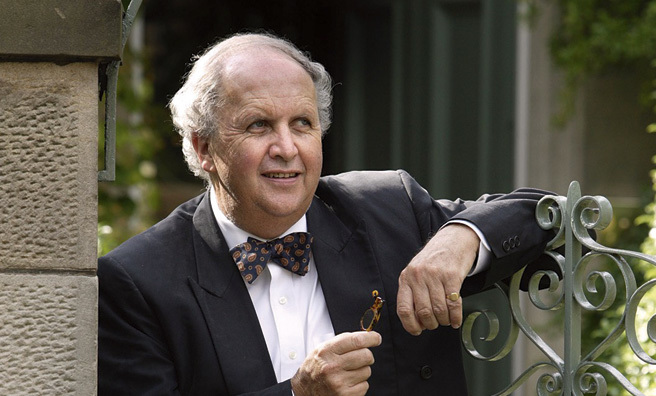 Author, composer and performer (Graham Clark)
For a man who has sold tens of millions of books and had them translated into 46 languages, Alexander McCall Smith has a lot of critics.
But those making suggestions about how the works could be improved are not the reviewers in newspapers and magazines; they are his fans.
Letters arrive by the sackful
In the book-lined rooms of his Victorian house in Edinburgh, letters arrive by the sackful, containing opinions on all his works from The No 1 Ladies' Detective Agency series to the Scotland Street series, his Isabel Dalhousie novels and a whole host of other works.
"If I do something which people don't like, which they feel is wrong for the character or the direction, then people won't hesitate to let me know," he says.
"I have had, for example, a lot of suggestions about Bertie's mother in Scotland Street. You should see some of the suggestions, people urging me to get rid of her.
"I think that there is a major issue about the moral responsibility for the characters. I recognise they mean a great deal to people, and I realise this imposes quite a considerable responsibility on me."
And that responsibility is not just towards people who may disagree with what he has written. He says, "I get letters from people who have read the books when they are having chemotherapy or who have perhaps read the book with a dying spouse. These are very moving, and I take them very seriously. In essence, it is a pastoral side of the job which is quite major; we spend a lot of time replying to people."
Scotland is home
Mr McCall Smith is a busy man, with interests ranging from his prolific writing to music and the arts. He garners worldwide attention but Scotland is home, and an influence on much of what he does. As a result, he could be said to be one of the country's greatest champions.
One thing which causes the mild-mannered author some displeasure is the way Scotland is often portrayed as a grim place. He says, "Sometimes we present ourselves in a less than complimentary light, which is a pity. The portrayal of Scotland as being a place of violence disappoints me. There is urban dysfunction and violence in Scotland, and aggression, but that's not the whole picture.
"I get accused of being unduly optimistic and concentrating only on positive things, which I find a very strange accusation because it is as if the role of the writer is to represent dysfunction and discord. Certainly that must be represented but that is not the sole thing. This assumption that you have got to be grim to be a writer seems to me to be very strange."
Mr McCall Smith is proud to be Scottish, joking that his birth in Bulawayo was a "historical accident".
But that doesn't mean he is confined to writing only about the country. He says, "I see myself as a Scottish writer, although I write about other places. I would certainly disagree very strongly with the notion that Scottish writers just write about Scotland – that is nonsense really. Scottish writers can write about wherever they like, people don't say the same thing about English writers; they don't say it about Graham Greene – he was an English writer who wrote about all sorts of different places.
"So the deliberate curtailing of the intellectual for Scottish writers and artists is in my view not a good idea at all."
When it comes to writing, he is credited with being able to work anywhere and while that might be an attractive idea, it does not appear to be strictly true.
He says, "I can certainly write on the train and on planes, and often do." But he adds, "There are certain places I couldn't write if the circumstances are just so unsympathetic. So, for example, if I was staying in a very uncomfortable and ugly hotel, I couldn't (write)."
He says many writers have rituals, something he claims not to be victim to although he admits there are some things he does like to do when writing.
"One of the things I do is listen to music, and I will have certain pieces of music that I will use for a particular series of books. When I am writing about Isabel (Dalhousie) I will put on the wonderful trio from Mozart's Cosí fan tutte – Soave sia il vento – which I think is the most beautiful piece of music ever composed. So, that is a bit of a ritual."
Morvern is his place of escape
With a huge amount of writing to complete, as well as a range of other projects, there needs to be a place of escape. That place is Morvern on the West Coast of Scotland, where he owns a house and enjoys sailing while his wife, Elizabeth, a doctor, indulges her passion for walking. "It is a bit of a retreat and it is a very lovely place. I do a lot of sailing and boating there and I get a lot of pleasure from that."
When I ask if he writes in Argyll, more evidence that he may be fussier than he claims over the writing environment emerges.
"Having said that I write anywhere, I am actually quite particular about the circumstances. I have had a bit of difficulty with what I thought was going to be my writing space, which isn't currently right, so we are going to have to try and readjust it."
"I am going to protect the islands for what I hope will be forever"
However, even on the Morvern peninsula Mr McCall Smith has found a project to occupy himself. He has bought a chain of small, uninhabited islands – the Cairns of Coll.
"They are very beautiful islands just north of Coll. I am going to protect them for what I hope (will be) forever."
The islands are home to a colony of seals and Mr McCall Smith wants to preserve the natural beauty. "I can go over there by boat; it is about two hours from where the house is. We used to have picnics on them and that is why I was very interested when they came up.
"I intend to look after them and do nothing with them and I will make arrangements for when I am no longer here for the same to be done."
When he isn't writing, Mr McCall Smith, who is 64, is not one to sit still. So when he came up with an idea for a tapestry telling the history of Scotland, he was never going to keep it to himself.
He teamed up with historian Alistair Moffat and the artist Andrew Crummy to come up with a design which was hung in the Scottish Parliament and is now on tour around the country.
Mr McCall Smith also wrote a libretto for an oratorio to mark Glasgow's Commonwealth Games called The Friendship Oratorio which fitted very well with the Games ethos.
In addition to the tapestry and libretto, work coming up for Mr McCall Smith includes collaborating with composer James Ross on a song cycle as well as the Really Terrible Orchestra which he founded and still plays bassoon with. His literary activity includes a tour of book festivals and promotional work that reads like a rock band's tour schedule.
Although the global appeal is important, the attraction of Scotland as a place of community is something Mr McCall Smith, who has two daughters, holds dear.
He says, "I think one of the important things that makes Scotland special for me is the scale of the country. I think the fact that Scotland is, in population terms and in physical terms, smaller than many other countries makes the sense of community a bit stronger than it is in big, impersonal countries.
"It is a country where people still have time to engage with one another."
---
McCall Smith facts
Born Aug 24, 1948 in Bulawayo, Southern Rhodesia (now Zimbabwe)
He was awarded a CBE in December 2006 for services to literature
His highly successful No 1 Ladies' Detective Agency

series has sold over twenty million copies

His bestselling books have been translated into 46 different languages