The Ultimate Outlander Challenge
---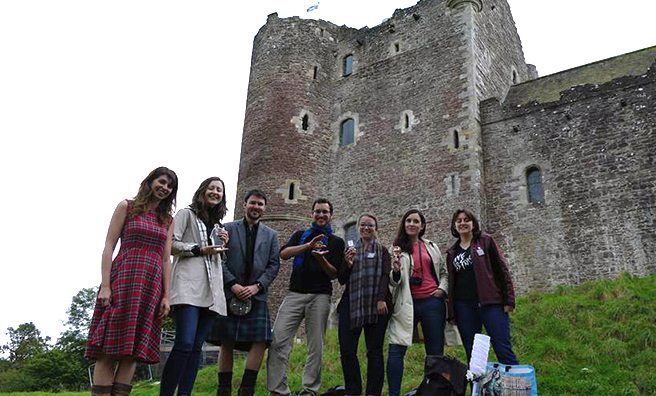 The Scotlanders race against time to find as many
Outlander filming locations as possible in 36 hours!
Outlander's Season 3 has finally returned to our screens, and for captivated fans of the show the wait has been long and hard.
The birth of the tag #Droughtlander on social media should speak volumes for the degree to which folk have been impatiently counting down the days.
Unlike the rest of the world though, us Scots have the chance to at least partially keep ourselves captivated by getting right under the skin of the show. We are surrounded by 30+ filming locations from Seasons 1 and 2, and I teamed up with my fellow Scotlanders bloggers and VisitScotland to bring them to life over the course of one very intense weekend last month.
These kind of campaigns have become the Scotlanders' speciality over the years. We join forces to charge hell-for-leather around our homeland simultaneously – all the while being digitally connected by our #Scotlanders tag. It's an approach that fits perfectly with the purpose of social media as worldwide audiences (in excess of 3 million in this case) follow along with our journey in real time.
With the clock constantly ticking, three pairs of Scotlanders covered much of mainland Scotland in just 36 hours as we ticked off site after site. For my part, I had 'The North' as my remit and took in sites including eerie Tibbermore Church, beautiful Drummond Gardens, majestic Kinloch Rannoch and the incomparable Glen Coe. All teams ended together at mighty Doune Castle, a central location within Season 1, to reflect on a breathless adventure.
Outlander Crash Course
For a crash course in the background to the Outlander show (stemming from the novels by Diana Gabaldon), here's the gist:
The story begins in 1940's post-war Britain with Claire Randall happily planning a future with her husband, Frank. Through the mystique of Scotland's legendary standing stones, she is accidentally transported back in time to the 18th Century, deep into the politically-fraught Jacobite times. For those not into time travel – believe me, I understand – stick with it.
What follows is a suspenseful, dramatic and grippingly intense journey for Claire as she grapples with her predicament – and her feelings for a certain strapping Scotsman. Throw in some blood and gore, a close-up perspective of one of our most fascinating historical chapters, and a healthy dose of clan warfare and civil unrest and you've got a couch marathon on your hands!
Outlander has had an absolutely massive impact on our tourism industry in the last couple of years. The location choices take into account Scotland at its best – going in heavy on natural beauty and historical intrigue. Many of the sites on our hit-list have seen swelling visitor numbers as travellers come from far and wide – many with the sole intention of seeing the filming locations up close. Step aside Nessie, you've got a new rival in town!
Check back here for Patricia's blog next week, where she'll recount her adventures searching for Outlander locations near Glasgow and the west.
Where will your Outlander journey take you? Click here for the VisitScotland location map!
---
More Outlander Locations
Click here

to read Neil's full write-up and gallery, with links to the other routes taking in sites in Fife, the Lothians, Glasgow, Ayrshire and more.