Unveiling of Tom Weir Statue
---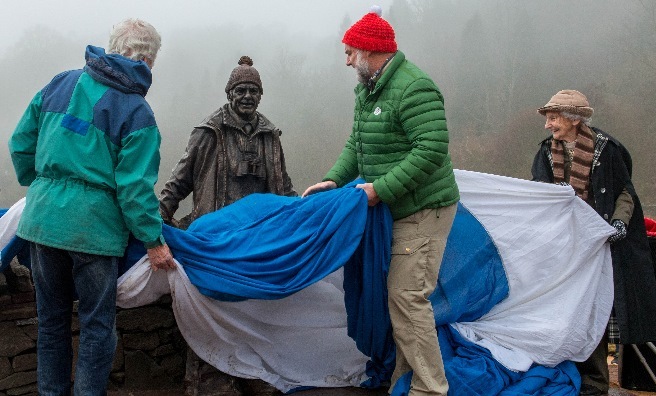 The statue is unveiled by Jimmie MacGregor, Cameron McNeish and Rhona Weir. Photo by Paul Saunders Photography
On December 29, all roads led to the bonnie banks of Loch Lomond as hundreds of people witnessed the unveiling of an impressive bronze statue in memory of Scotland's most popular mountain man and Scots Magazine legend, Tom Weir.
Tom's widow, 94 year old Rhona Weir, was joined by well-known outdoor writers and broadcasters Cameron McNeish and Jimmie MacGregor for the unveiling of the statue against the idyllic backdrop of Balmaha Bay.
"Tom would have been 100 years old today and it's interesting that he was born only a few days after the death of the great John Muir," said Cameron McNeish. "The two men were so similar in many ways; in their passion for wild land and in their belief that we should look after and nurture the natural world as much as we could.
'Future generations will remember him'
"Just as John Muir is remembered in his birth town of Dunbar with a statue in the Main Street so Tom will also be remembered with a statue on Loch Lomondside so that future generations will remember him and what he achieved for Scotland.''
Jimmie MacGregor explained that he shared Tom's Springburn working class background and intense interest in the natural world but knew him initially through his articles in the Scots Magazine. "Later, I came to appreciate his inspirational and educational influence through his wonderful television programmes," continued Jimmie.
"After the first of his regular appearances in Macgregor's Gathering on Radio Scotland it was obvious that no script was required, such were his natural talents as a communicator. It is impossible to calculate the number of people who were introduced to the splendours of the Scottish countryside by Tom and we all owe him a great deal."
'The likeness to Tom is amazing'
Following the unveiling, Rhona Weir expressed her delight with the quality of the statue, which was sculpted by Sean Hedges-Quinn. "The level of detail and likeness to Tom is amazing and I am pleased the statue has been sited at one of Tom's favourite spots on Loch Lomondside," said Rhona.
''I earnestly hope Tom's statue and the associated picnic area and viewpoint will be a source of much pleasure to those who visit Scotland's first National Park over the coming years and I would like to thank the many people from all walks of life and different bodies who have made this possible.''
The audience raised replicas of Tom's signature bonnet
During the celebrations , a special musical tribute was performed by popular Scottish minstrel Alistair McDonald who played some of Tom's favourite music and then the audience raised replicas of Tom's signature red and white bonnet to mark the centenary of his birth and his adventures as a climber, naturalist, writer and broadcaster.
Susan Taylor, Administrator of the Tom Weir Memorial Group, added: "This special celebration is the culmination of almost three years hard work by a dedicated group of volunteers. The fact that we raised over £70,000 is tribute to the high regard Tom is held in and we are grateful to the hundreds of knitters who donated thousands of Tom's signature red and white toorie hats and the thousands of other members of the public who generously donated funds.''