Vegan Haggis Recipe
---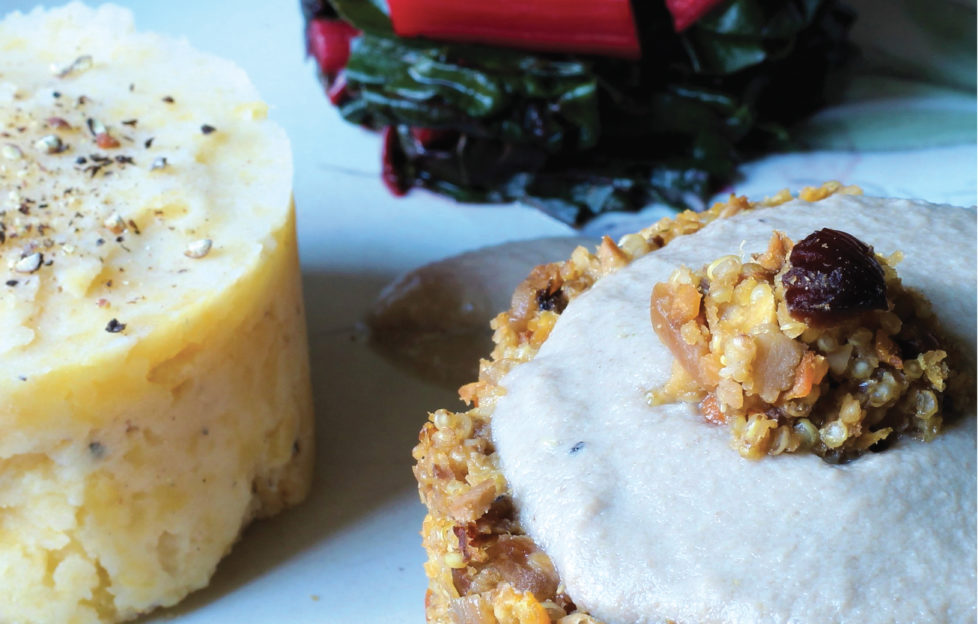 Pic credit: Jackie Jones, The Scottish Vegan Cookbook
Ingredients
150g quinoa, rinsed thoroughly in cold water (you can also use the same quantity of cooked lentils if you prefer)
450ml vegan stock
50g medium oatmeal
1 x 400g tin chickpeas (240g net weight)
90g roasted sweet chestnuts (vacuum-packed and already peeled, e.g. Merchant Gourmet)
50g hazelnuts, chopped finely
2 tablespoons olive oil or rapeseed oil
4 small onions, peeled and chopped finely
2 medium carrots (about 150g), scrubbed or peeled and grated
3–4 large cloves of garlic, peeled and crushed
100g button mushrooms or chestnut mushrooms, sliced finely
1 teaspoon dried thyme or 3 teaspoons fresh thyme, leaves picked and chopped finely
1 teaspoon dried rosemary or 3 teaspoons fresh rosemary, leaves picked and chopped finely
6 fresh sage leaves, chopped finely
1 teaspoon ground allspice
½ teaspoon ground nutmeg
2 tablespoons tamari
2 teaspoons freshly squeezed lemon juice
Salt and freshly ground black pepper
Credit: Jackie Jones
Jackie Jones, author of The Scottish Vegan Cook Book, has a huge selection of recipes for delicious vegan versions of traditional Scottish as well as newly designed dishes. Try this vegan haggis recipe!
Haggis is usually served with 'neeps and tatties' for an elaborate Burns Night Supper on 25th January to celebrate the birth of Scotland's national poet, Robert Burns. This vegan haggis uses oatmeal, chickpeas, sweet chestnuts and traditional seasoning.
Serves 6
Prep time: 15–20 minutes
Cooking time: 100 minute
Method
Preheat the oven to 200°C. Line a 23cm rectangular loaf tin with baking parchment.
In a large saucepan with a lid, place the quinoa and the stock, bring to the boil, then reduce the heat and simmer, uncovered, until the quinoa has absorbed most of the liquid and the germ separates from the seed (a small 'tail' will appear) – about 20 minutes. Take off the heat, replace the lid on the pan and cook for another 5 minutes or so. Fluff up with a fork, then stir in the oatmeal and set aside.
While the quinoa is cooking, drain the chickpeas, reserving the bean water/aquafaba to use in another recipe (see Scotch Mist, p. 192), then place in a large bowl and mash, leaving some small pieces. Crumble in the chestnuts and hazelnuts and set aside.
In a large frying pan or heavy-based pan heat the oil on medium heat, add the chopped onion and carrot, and sweat until softened. Next, add the crushed garlic and cook for a minute, stirring. Now add the sliced mushrooms and cook for a further 5 minutes or until softened. Stir in the thyme, rosemary, sage, allspice, nutmeg, tamari and lemon juice.
To the bowl containing the chickpea mixture, add the quinoa and the contents of the frying pan and stir well together. Season to taste with salt and a good few twists of black pepper (traditional haggis recipes are peppery!). Spoon into the loaf tin, press down evenly and smooth the top with a palette knife.
Cover the top with tin foil and cook in the oven for 20 minutes, before removing the foil and returning to the oven for a further 15–20 minutes or until the top is brown and crisped.

This recipe is an excerpt from The Scottish Vegan Cook Book by Jackie Jones. Available from Birlinn