Vegan Stovies Recipe
---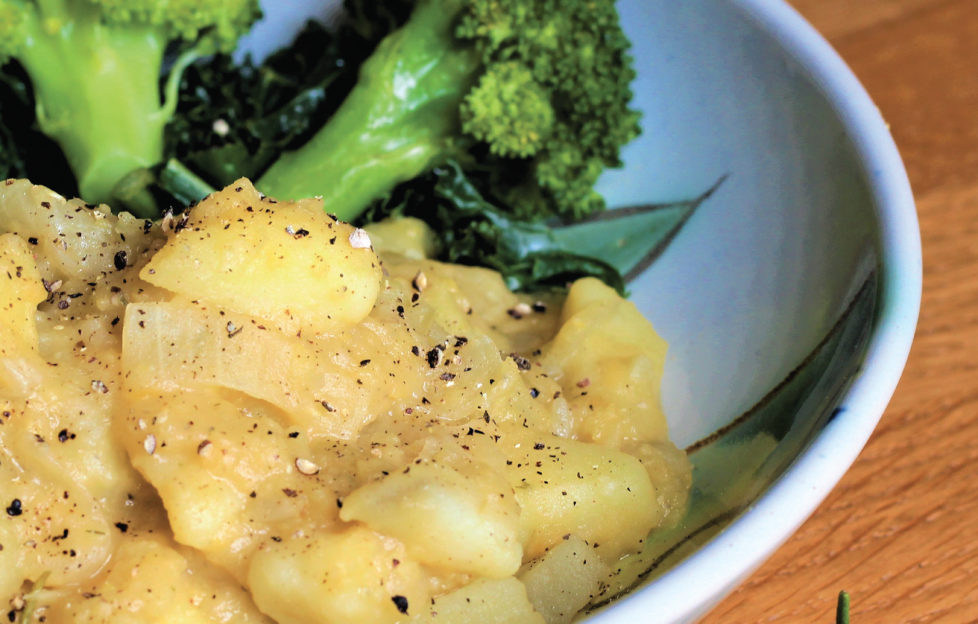 Pic credit: Jackie Jones, The Scottish Vegan Cookbook.
Ingredients
3 tablespoons olive oil
500g onions, peeled and sliced finely
1kg potatoes, peeled and sliced finely
A large sprig of fresh rosemary, leaves picked and chopped finely
½ teaspoon ground nutmeg
300ml concentrated vegan stoc
Freshly ground black pepper
115g dried red lentils, rinsed in cold water
Salt as needed
Credit: Jackie Jones
Jackie Jones, author of The Scottish Vegan Cook Book, has a huge selection of recipes for delicious vegan versions of traditional Scottish as well as newly designed dishes. Try this vegan stovies recipe!
Stovies have long been a staple in the Scottish diet and traditionally are made using potatoes and onions fried in dripping and meat jelly; they also often contain leftovers of minced beef. These healthier, plant-based vegan stovies use potatoes and onions together with olive oil, lentils and a little fresh rosemary and makes a very satisfying (and, according to my tasters, an apparently authentic) dish!
Serves 4
Prep time: 25 minutes
Cooking time: 60 minutes
Method
In a large heavy-based pan with a lid, gently heat the oil, add the onions and sweat slowly over a low heat for about 20 minutes.
Add the potatoes, rosemary, nutmeg and stock and a couple of twists of black pepper, place a lid on the pan and cook gently until the potatoes are soft, about 40 minutes, only stirring them if they look like sticking.
In a medium pan, place the lentils, cover with cold water to around 2cm above, bring to the boil, reduce the heat and simmer, uncovered, for 20 minutes or until all the water has been absorbed.
Stir towards the end of the cooking time and add a little more water if necessary. The lentils should just yield when squished between finger and thumb and not be mushy.
Add the cooked lentils to the potato mixture, season to taste and heat to serving temperature.
This goes really well with leafy green vegetables sprinkled with sesame seeds. Stovies make a tasty accompaniment to Black Bean and Mushroom 'Black Pudding' (p. 48).

This recipe is an excerpt from The Scottish Vegan Cook Book by Jackie Jones. Available from Birlinn