Virtual Market Gives Small Scottish Businesses A Lifeline This Christmas
---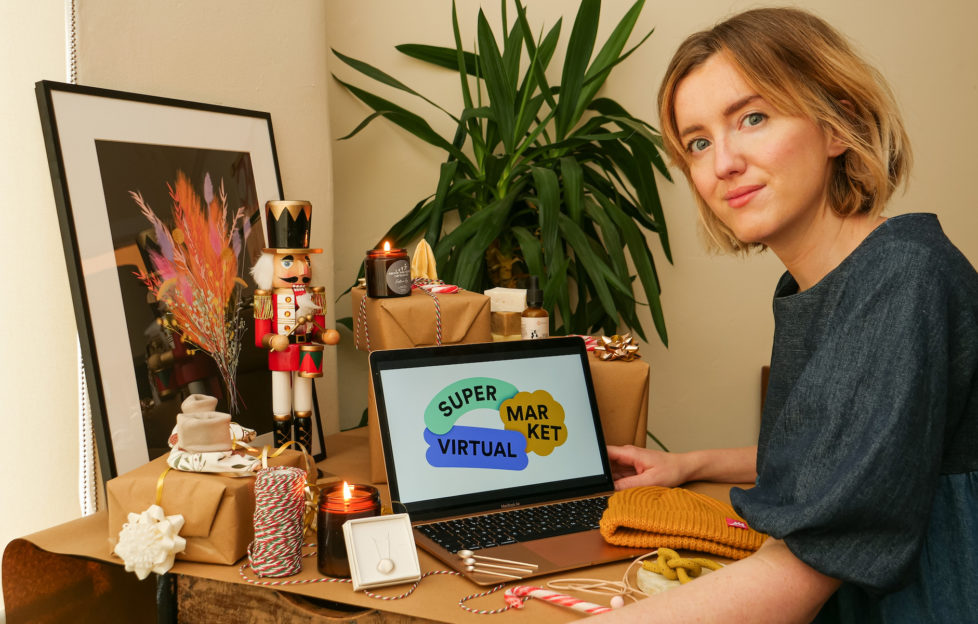 Super Market Events Founder, Kelly Conway.
The UK's first virtual market is in full swing, just in time for Christmas!
Scottish market events company is leading the way with the launch of an innovative new online shopping experience that is supporting independent brands this Christmas.
Super Market Events, who have been running creative market events across Glasgow since 2017, saw their bustling and successful business grind to a sudden halt earlier this year. Lockdown and further Covid-19 restrictions have made it impossible for them to operate in their usual live events format. Having a huge knock-on effect for not only themselves but also the hundreds of independent traders that their events support each month.
With Christmas fast approaching, Super Market Events founder Kelly Conway wanted to find a way of bringing their much-loved market experience to people virtually and embrace a 'Digital Christmas'.
Discovering a technology that has traditionally been used for virtual art gallery shows in the past. Conway was inspired and saw an opportunity to create a fully immersive virtual shopping experience unlike any other, where visitors can actually 'walk' the marketplace.
Allowing her to authentically bring the Super Market Events market experience and over 150 independent Scottish brands online and directly into customers' living rooms. All with the market's trademark buzz and community spirit. The creation of 'Super Market Virtual' will give a vital lifeline to independents trading in the midst of Covid-19 and the 'new normal'.
Shoppers will have the opportunity to 'walk around' and browse the individual stalls of over 150 independent Scottish brands across 10 categories, such as; fashion, homewares, kids and food & drink. You then simply click into your chosen stalls and get shopping. Everything is then purchased with one simple and convenient transaction. Plus, UK postage is completely free.
Kelly Conway, founder of Supermarket Events and Super Market Virtual, explains:
"2020 has undoubtedly had its challenges, but it has also allowed us the space to look at the business and be open to doing things differently. It's been amazing to reconnect with all our brands and offer them an innovative platform to sell their products during such a crucial trading period. We're so excited to launch Supermarket Virtual and bring Supermarket Events back to life for Christmas!"
Rachel Robertson, Aberdeen based designer and founder of participating accessories brand Hackley also spoke of her appreciation for the new concept:
"I'm delighted to take part in Super Market Virtual. It's such an exciting concept and has given all of us a fantastic platform and opportunity to reach new customers this festive season. As a business that usually relies on and thrives at 'real-life' markets, it's a huge relief to see this kind of innovation coming through. And I hope shoppers choose to shop small and support brands like me this Christmas."
Supermarket Virtual 'Festive Edition' will run until Sunday 13th December. Entry to the virtual market place will be free to all for its entirety:
www.supermarketevents.com
Discover more Christmas gift ideas >>