Walk In The Footsteps of William Wallace
---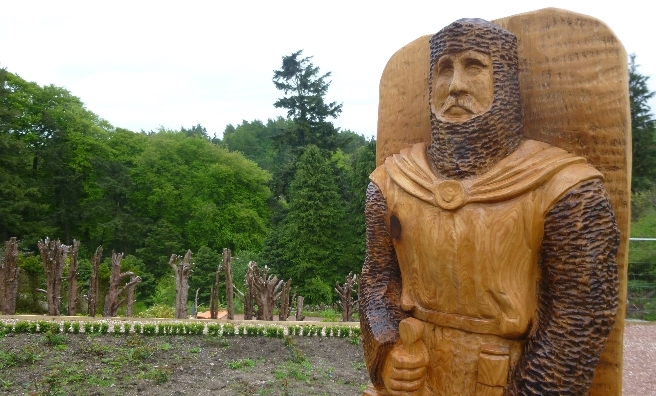 The new William Wallace Statue at Castlebank Park features on the walking trail
A walking route dedicated to William Wallace has been created to share Lanark's strong connection with the patriotic knight.
The 'Wallace Trail – In the Footsteps of William Wallace' is part of Lanark Community Development Trust's 'Vision for Lanark' and aims to encourage visitors to explore the Lanark area and, as the trail suggests, walk in the footsteps of 13th century Scottish icon William Wallace.
Throughout the trail, which is designed to attract both walking enthusiasts and the general public, five designated areas have been marked with large information boards that provide in depth information to some of the most recognisable William Wallace hot-spots.
Where Wallace first laid eyes on his love
Some of the designated stopping areas reveal a history rooted as far back as the 6th century, including:
The location where Wallace first laid eyes on his love, Marion Cornelia Braidfute;
St Kentigerns Castle, where he is reputed to have married his love;
St Nicholas Church, where a statue of Wallace keeps an eye on the people of Lanark from high in the steeple.
Lanark Castle is stop number three on the trail, and allows explorers to stand in the spot where it is said William Wallace first drew his sword to free his native land.
Continuing Lanark's Wallace legacy
A new cedar rosewood William Wallace statue has also been added to a rose garden in Castlebank Park which visitors can visit as part of the walk. The statue has been designed to last generations, with the aim of continuing Lanark's Wallace legacy.
For more information about the William Wallace Trail, click here.