West Highland Magic Lives On
---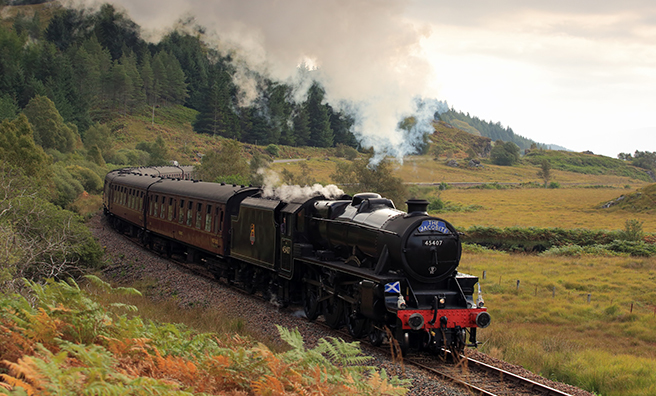 The West Highland Railway line has gone through many changes since it first connected Glasgow to
Fort William in 1894, but for Tom Weir – and for
our readers, too – the magic has never faded
As regular visitors to our website will know, we've been going through Tom Weir's "My Month" features from the late 1970s and reproducing them online every Friday for a new audience.
The features are fascinating, standing the test of time almost fifty years on, and the next on our list to republish this week was from December 1980.
A reader request from Fiona MacSween on our Facebook page, however, saw us digging further back in our archives, and the article we unearthed was too good not to republish right away.
Below you can find Fiona's request, and hopefully see why we felt the feature was worth finding and altering our republication order to accommodate…
Dear Scots Magazine,
My sister and I were brought up in the lovely wee village of
Bridge of Orchy.
Our dad, Calum MacLeod, was the signalman at the railway
station there, and our mum worked in the Bridge of Orchy
hotel. Sadly our dad passed away in 1983 and Mum in January
this year.
Going through their old letters etc, we found part of an old
Scots Magazine dated 1964, with an article by Tom Weir called
"West Highland Magic". It was tattered and torn but there was
a lovely photo of our dad working in the station.
It is of great sentimental value to me as it brought back fond
memories of our time there.
I remember the post office was also situated in the station and
it was a hub of activity for the villagers. We used to visit my
dad when he was working and sit in front of the wee stove to
warm ourselves. During school term we would have milk every
day which was delivered by train.
We had a great childhood growing up there. The school was tiny,
with one teacher and primary 1 – primary 7 in the same classroom.

The nearest shop was "Brodie's" in Tyndrum [still there!] which
was six miles away.
Our mum, Cathie MacLeod worked in the hotel for Angus and Dolly
MacDonald. They were from the Isle of Skye and a lot of islanders
from Skye, Lewis and Harris came to work in the hotel.
It was an ideal stopping place for a lot of people travelling through
from Glasgow to Mallaig and Ullapool along the line.
I look back to my days in Bridge of Orchy with love and oh so sweet
memories. Tom weir's article brought it all back to me.
Seeing the article again would mean so much to my sister and I,
as my father passed away 33 years ago and the station is no longer manned.
Tom's article commemorated 100 years of the West Highland Line and is a fascinating read on the line's construction, the now-automated work of signalmen like Fiona's father, and Tom's own memories of his first journey out of Glasgow as a boy.
After sending scanned copies off to Fiona we are republishing the feature online, and you can find it on the link below.
---
Images
The above images all appear in Tom's original article, and in the second image you can see Fiona's father, Calum, using the machine which held the tablet for single line working at Bridge of Orchy railway station.