Wildlife Photography Tips – L.Campbell
---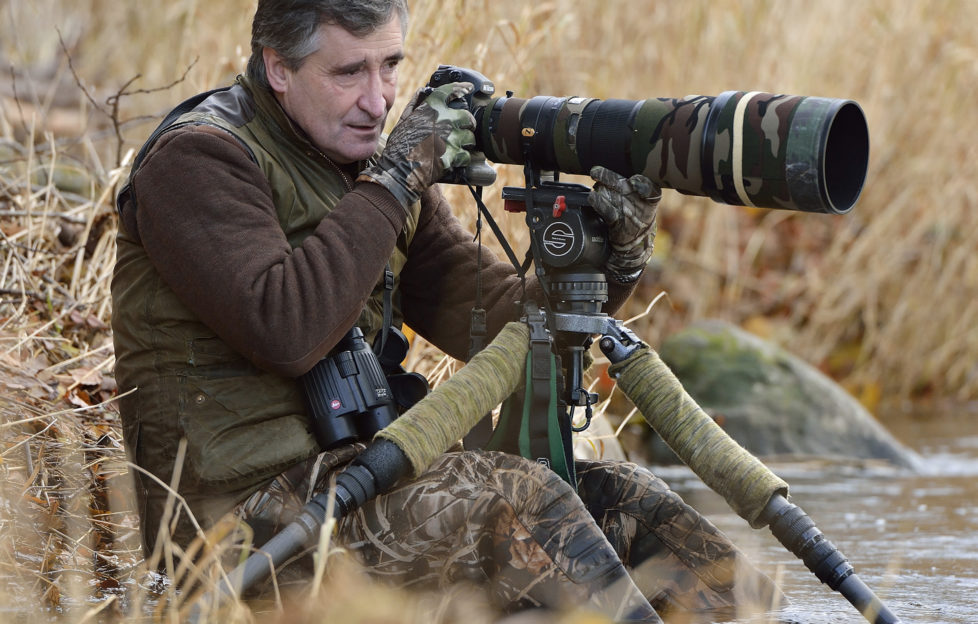 Laurie Campbell at work!
Our regular wildlife photographer, Laurie Campbell, shares some of his top photography tips for capturing that perfect wildlife image. Most importantly, he highlights how important it is to avoid disturbing or upsetting wild animals and nature in the process of securing fantastic shots.
Born in Berwick-upon-Tweed in 1958 and with a life-long interest in the natural world, Laurie Campbell has dedicated almost fifty years to photographing Scotland's distinctive wildlife, flora and landscape.
In the beginning, his aim was simple, to show what he had witnessed to others who might have neither the time nor the inclination to go out into the field and experience nature in as much detail for themselves.
After graduating from a four-year degree course in photography at Napier University in Edinburgh he continued accumulating stocks of photographs from the natural world and in 1985 became arguably Scotland's first full-time professional nature photographer.
His imagery is published across a range of media internationally and is widely recognised for its distinctive style and his preference for using natural light and belief in photographing subjects just as he finds them in the field.
Laurie tells us why he loves photographing wildlife in Scotland. He says,"I have been fascinated by nature all of my life and from childhood I spent a lot of time in the countryside close to the family home in the Scottish Borders, observing and developing fieldcraft skills to get close to birds and mammals.
"I started photographing them in my youth, simply because I wanted to have something to show to others who might share my passion. Later, and when I turned professional, I began to travel extensively around Scotland, building-up an image library, starting with all the key species.
"I have continued to do so for almost forty years and the one thing that keeps me motivated is the sheer variety of subjects I have to work within Scotland. This corresponds directly with the diversity of habitats that is perhaps unrivalled for such a small country in world terms."
Equipment
"Equipment choice is always dependant upon what you want to do with your images. Before thinking of investing in a digital DSLR or mirrorless camera system, I would recommend obtaining a 'bridge camera'.
"Most of these offer a huge range of features, such as a fixed zoom lens that is powerful enough to photograph distant subjects, down to a wide-angle that can be used to cover close-ups of insects and plants.
"To match the capability of many bridge cameras, would mean that I would almost have to fill my photo-backpack with a good few kilos of DSLR equipment. Add the fact that you can also shoot video, these cameras may be the only ones that most people will ever need to photograph just about anything in nature."
Starting out
"Photo equipment is only part of the story because having a knowledge of the subjects you plan to photograph is much more important.
"Do some research in advance and where birds and mammals are concerned, familiarise yourself with their habits and movements through different times of day, season and weather conditions.
"Start with subjects on your local patch so that you may have regular access and able monitor them so you're able to take advantage of certain times when conditions are ideal.
"Set yourself a project, such as photographing just one species and stay with it until you have run out of ideas on how to photograph it. The best pictures always follow when working in-depth on any subject."
Location and subject
"My choice of where to work is governed by season and habitat in relation to the subjects I want to photograph.
"I always have a list of photographs, not just for the sake of photographing another species, but more the types of behaviour I would like to record them doing, particularly if it is something that hasn't been photographed before. For many projects, there is often a story to it, such as for a book, or magazine article.
"Sometimes I revisit subjects, such as badgers and golden eagles that I photographed extensively in the days of film. Now, using digital cameras, I can photograph them in ways that would have been almost impossible in the past. It can also be good to take a break and return with a fresh eye and different technology."
Ethics
"It goes without saying that no photograph is worth the risk of compromising the welfare of any subject.
"For rare and uncommon subjects, there are regulations in the Wildlife & Countryside Act 1981 where it is a criminal offence to disturb many species of birds in the nesting season or mammals at their place of shelter without a photography licence.
Information on laws and licencing is available on the website of NatureScot, formerly Scottish Natural Heritage: www.nature.scot/guidance-licensing-wildlife-photography-scotland
"Lastly, never ever rush when approaching wildlife. Any disturbance caused will inevitably show in the photographs and you will miss out on the satisfaction of knowing that you succeeded in photographing animals behaving naturally, without them possibly knowing you were even there."
You will find spectacular wildlife photography from Laurie Campbell in every issue of The Scots Magazine. (SUBSCRIBE TODAY)
Discover more photography tips >>