Wolf Moon on Beinn Alligin
---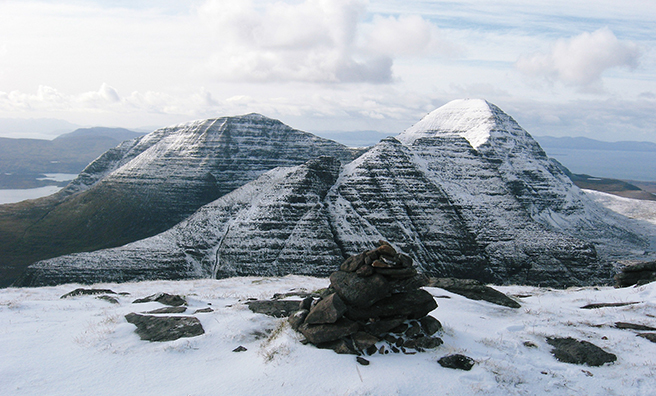 Howling at the first moon of 2018
Being Alligin was first up on my list of 2018 moonwalks, but the main objective was not the summit but the big corrie, hopefully beautifully lit by the Wolf Moon.
Legend has it that one of the last wolves in Scotland was hunted down in its lair in this corrie, which is named Toll a' Mhadaidh Mor (big hollow of the wolf), and killed along with its cubs. I wanted to head into this corrie and explore by moonlight. And, of course, howl at the moon, a sort of wolf tribute act!
However, despite the moon shining through all the way up the A9, by the time I got to Achnasheen and down into Torridon the cloud had obscured the best of the light so I sat it out for a couple of hours until I got a break in the cloud cover around 3am.
"Suddenly the night became a lot darker and colder."
The first part of the walk was nicely illuminated but by the time I had reached Coir nan Laogh, it was snowing, cloud had moved in and the moon was blocked by the buttresses. Suddenly the night became a lot darker and colder.
I dropped into the corrie then threw my head back and howled for a few minutes at the moon. I was the wolf on the mountain that night. Apologies to any small girls carrying picnic baskets to their granny! I did think to myself 'If anyone else is in this corrie they're going to have a heart attack!'
The traverse across the corrie needed care but I made it without incident. The sunrise was equally disappointing, a muted light failing to provide any great photo opportunity.
It was a disappointing start in many ways but I had achieved my goal. I'm sure there will be a few more disappointments along the way, but that's another part of adventure.
I slept well that night. A pity really, because as I later found out, the moon was at its best above Alligin early next morning while I was still unconscious.
The chances of landing 13 perfect nights of Scottish weather are rather remote!
---
More Moonwalking
---
---