Work Begins To Create Literary Neverland
---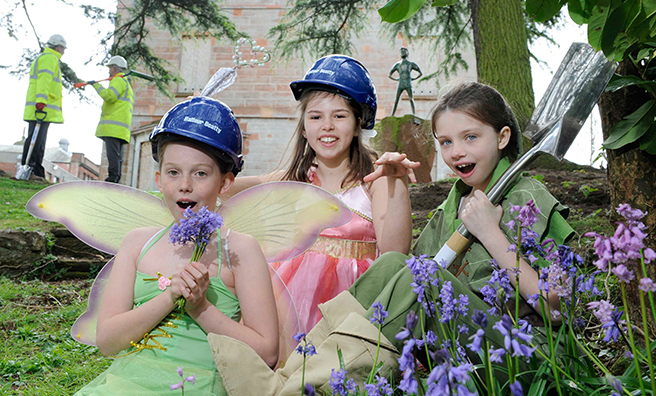 Work has started to restore Moat Brae House, birthplace of Peter Pan, as a national centre for storytelling and children's literature
Contractors Balfour Beatty, the international infrastructure group, have just taken possession of the Moat Brae site in Dumfries, after winning the £5 million contract to revive the house and garden .
The budget, which includes £1.78m from the Heritage Lottery Fund, £680,000 from Creative Scotland and £500,000 from Dumfries and Galloway Council, has saved the historic Moat Brae House, and promises to bring a whole range of benefits to Dumfries.
A wonderful place to visit and play
Expected to welcome 40,000 visitors a year from around the world, the visitor centre by Peter Pan Moat Brae Trust (PPMBT) will contribute a much-needed additional £1.3 million for the local economy.
Children from across the region, and far beyond, will have a wonderful place to visit and play, and enjoy a year-round programme of creative events and activities.
The centre will open in 2018 and will be a place to discover children's literature and storytelling, with the grounds reinvented as a Neverland Discovery Garden.
The project will also celebrate Moat Brae's architect Walter Newall, tell the story of the Gordon family who befriended J M Barrie, recreate the Darling's nursery and promote a better understanding of Georgian Dumfries.
'It's an awfully big adventure'
"This is tremendous news for Dumfries and a lovely gift to young people everywhere," said Joanna Lumley, PPMBT Patron.
"Sometimes dreams really can come true. It's marvellous that work has now begun to turn this beautiful house and garden, that had gone to rack and ruin, into a national centre for literature and storytelling that will welcome children from around the world.
Dame Barbara Kelly, PPMBT Chairman, said: "It's all systems go as the restoration begins and the house and garden are transformed. Moat Brae will soon become an inspirational year-round local, national and international visitor attraction and resource for all ages to enjoy.
"We'd like to thank all those who have believed in us and helped us reach this stage, either by making donations or giving their time and energy as volunteers."
'The genesis of that nefarious work – Peter Pan'
J M Barrie played at Moat Brae when he was a pupil at the nearby Dumfries Academy in the 1870s.
On being awarded the Freedom of Dumfries, JM Barrie described his childhood there as "the happiest days" of his life and later revealed "For our escapades in a certain Dumfries garden, which is enchanted land to me, were certainly the genesis of that nefarious work – Peter Pan".