Working With Nature
---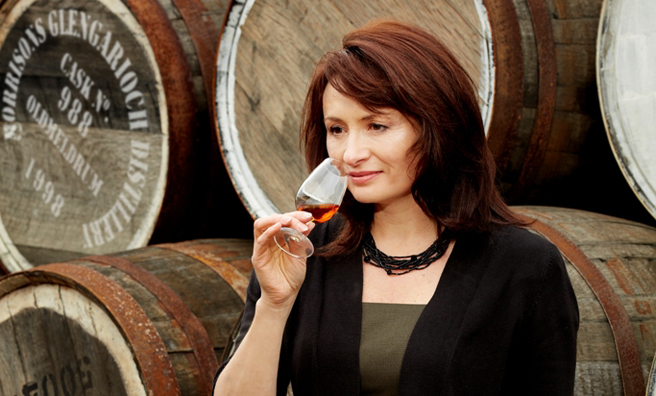 Rachel Barrie, Master Blender
Whisky is synonymous with Scotland, with thousands of visitors every year coming specifically to visit the distilleries.
Yet this isn't just some tartan-clad, shortbread-flavoured nostalgia; the world of whisky has evolved radically in recent years.
"Within the past decade – and probably more so in the last five years – the demographic of people drinking whisky has changed a lot," says Rachel Barrie, Whisky Creator and Master Blender with Morrison Bowmore Distillers Ltd. "When I was starting out in 1991, it was mostly blended Scotch. There were some malts out there, but certainly not the variety that you get now.
"There are now whisky festivals somewhere in the world every week," she points out, "and the demographics are changing. For example, in Australia, the highest proportion of whisky drinkers are now between the ages of 21 and 30 – that's significantly younger than before. Also many more women are coming into the world of malt whisky, so that's been quite a change."
Arguably, Rachel has played her part in that. "I was the first woman to gain the title of Master Blender, back in 2003; there are probably around four or five of us now in the industry, so it's becoming a more common phenomenon."
Yet, when she first started, there were very few women in whisky production. "Although there had been a few female distillery managers historically, there were none that I knew about at that point. It was only when I started working in research – my 'apprenticeship' was working in the Scotch Whisky Research Institute, based at Riccarton, Edinburgh – that I realised there could be opportunities to move into production, and I was lucky enough to get an opportunity to go into a whisky company. That wasn't a typical route into whisky at the time."
There was an element of "surprise", nonetheless – especially once she started doing tastings around 1997-98. "There's still an element of that, but much less now; the industry has realised it's missing an opportunity if it doesn't encourage women to enjoy it as well, just from a commercial perspective."
So what does a Master Blender actually do?
"A lot of different things," Rachel says. "I get involved in everything from assessing the quality of the spirit of the still, and deciding on distillation, right through to selecting the wood and then selecting casks for bottling. A Master Blender is really a guardian of quality for each distillery and for each product. Also, there's the role of creating new products and new ideas, and bringing them to life through working closely with distillery managers and marketers. There's a lot of variety, and getting out and about. And sampling thousands of casks!"
So, given her scientific background and 23 years experience, is whisky an industry or a craft?
"You could say it's very much an art, because you're using your senses; there's no machine that can do the job. The human nose is the final arbiter of quality, effectively," she insists. "Distillation is more of a science, in terms of the process of making the whisky, but the blender's job is about deciding the taste profile. I would say it's more of an art than a science; but science does help as a tool."
Rachel has had a life-long love of whisky.
While her career path came from a scientific basis, Rachel has had a life-long love of whisky.
"My grandmother introduced me to whisky; she was from Inverurie, where our Glen Garioch distillery is," she says. "My first taste was when I was about aged seven, in a hot toddy. My dad was quite a connoisseur of whisky, and always had a tremendous selection of malt whiskies. It's one of my hobbies as well; I collect whisky, it's something I enjoy doing."
Rachel's enthusiasm for her job means she's well equipped to maintain the quality of the distilleries under her charge, but she sees her role as being much more than just preserving standards. "It's also about improving on them, to try to optimise things as far as possible to get the tastes," she says. "Each year, the barley harvest can be subtly different; its maturation will depend on the weather – temperatures, humidity and all of that. So you're working with Nature, and having an influence through the selection of casks and how it's all put together to make it the best it can be."
So who has inspired her?
"I suppose my first inspiration was Dr Jim Swan, who gave me my first job at the Scotch Whisky Research Institute. He has set up distilleries and is a renowned figure in the world of whisky; an ardent researcher and someone who really opened the world of whisky across the globe. Also Sheila Burtles, who – going back 23 years – was probably the first sensory scientist in whisky. They were my first inspiration, who I learned most from. But there are also the many distillery managers who have been doing the job for decades, their kind of observations of how things have changed and evolved over the years."
As for the future, Rachel sees no end in sight to the growth of the industry.
"Distilleries are expanding, and there are 29 new distilleries popping up this year," she points out. "There's significant growth at our three distilleries – double-digit growth, every year. And there's our visitor centres too; whisky tourism is definitely growing."
As the mother of three boys, does she see any of them following her into the craft?
"They have an interest in the smelling side of it, and frequently accompany me to distilleries," she admits. "I think the middle son is the most likely as he's got the best nose; he seems to have an interest as well. He's quite into practical engineering, though, so perhaps he's more likely to go into it as a distillery manager. We'll have to wait and see."
---
Scotch Whisky Facts
Exports of Scotch Whisky generate £135 every second
96 million cases of whisky are exported worldwide each year
35,000 jobs are supported by the industry in the UK
To be classed as a Scotch Whisky, the spirit must mature in oak cases in Scotland for a minimum of 3 years