World Porridge Champions!
---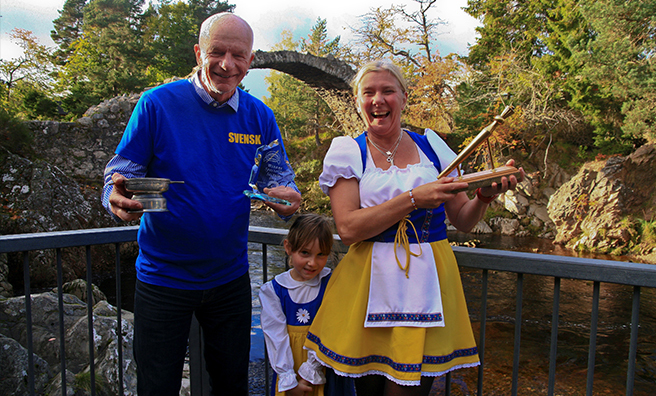 Swedes Take the Double at the 24th Annual World Porridge Making Championships
Competitors from Sweden took both the main and speciality titles at the 2017 World Porridge Making Championships which took place in Carrbridge on Saturday.
Ellinor Persson from Halmstaad in south west Sweden took the Golden Spurtle trophy and the coveted title of World Porridge Making Champion with fellow-Swede Per Carlsson taking the Speciality title.
The title of World Porridge Making Champion is awarded to the competitor who makes the best traditional porridge using only three ingredients – oatmeal, salt and water. The porridges are judged on three factors – consistency, taste and colour.
"The World Porridge Making Championships is such a great event," said Elinor. "It's a real honour just to compete, never mind to win."
In the 'Speciality' competition, oatmeal must be the main ingredient in any sweet or savoury porridge-based dish.
This year's speciality winner Per Carlsson impressed judges with his dish Nordic Porridge – Caramel Sweet and Sour, a porridge made with oatmeal, cloudberry liqueur, orange zest and whipped cream, topped with flambéed cloudberries and whipped cream.
Alan Meikle, Managing Director of Hamlyns of Scotland said: "The World Porridge Making Championships is closely followed by porridge lovers from all over the world. It's been a wonderful event with a real international flavour, and we'd like to congratulate Ellinor and Per on their great wins."
Love this – the Swedish competitors were over the moon to take both titles home @golden_spurtle #GoldenSpurtle17 pic.twitter.com/LMtIBLNZ5e

— Hamlyns of Scotland (@hamlynsoats) October 7, 2017

---
Nest Year Marks 25 Years!
"It's been a fantastic day and we're already looking forward to the 2018 competition, when the Golden Spurtle will be celebrating twenty five years as one of Scotland's favourite culinary events."
– Organiser Michelle Green from Carrbridge Community Council