Chris Brookmyre – The Write Stuff
---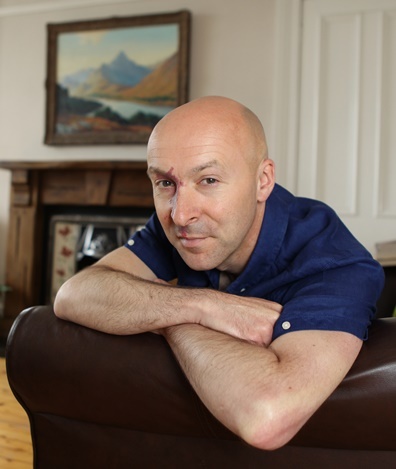 Christopher Brookmyre. Photo Barrie Marshall
One of the stars of this weekend's Bloody Scotland 2014 will undoubtedly by Christopher Brookmyre, even though Chris doesn't actually describe his 17 best-selling books as crime novels.
"My books are feel-good fiction," stresses Chris, whose latest book – 'Flesh Wounds' – begins with the chilling slaying of a Glasgow gangster. "I might take my readers to places where it can be very dark before dawn – but dawn tends to be very bright in my books. And I always write happy endings!"
The discussion between Chris and fellow Scottish crime writer Denise Mina at Bloody Scotland on September 19 promises to be one of the highlights of Scotland's international crime writing festival – just don't ask Chris what they'll be speaking about!
"I don't have a clue," he laughs. "But with Denise involved, it will be lively! The last time we spoke together, we both read a wee bit from our latest books and just chatted for an hour or so. Once you get Denise started, there's no stopping her!"
Chris first met Denise in 1999, when her first novel, Garnethill, had just been published and Chris was a relatively new author, with 'only' three novels to his name. "Since then, we've frequently been on the same panels – sometimes because we're both Scottish, sometimes because we're both crime writers and, in the case of Bloody Scotland, because we're both Scottish crime writers.
"We used to bemoan the fact that our paths didn't cross often enough so we resolved to meet up more. As a result, for the last year or so, a small group of Scottish writers has been gathering together every now and again. We're almost a literary salon!
"The group consists of Denise and her husband; Louise Welsh and her partner, Zoe Strachan; comic book writer Mark Millar and his wife; my wife Marisa and me. We go round to each other's houses for lunch and a blether! Mark remarked recently that we're like the Bloomsbury Set but instead of heroin and sex, it's soup and rolls!"
Read the full interview with Christopher Brookmyre in the August issue of The Scots Magazine, on sale now.
Bloody Scotland, Scotland's International Crime Writing Festival, is in Stirling from 19-24 September, 2014. For more information, visit www.bloodyscotland.com.