200-Mile Bike Ride To Raise Funds for St Columba's Hospice
---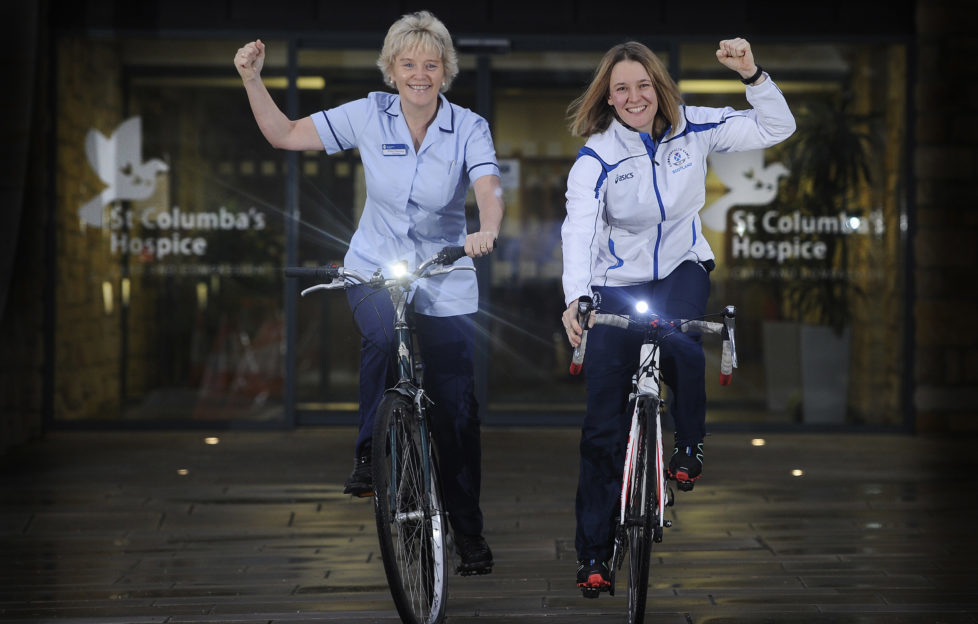 Jenny Davis, Team Scotland medal-winning cyclist, and hospice nurse Rona Thornton at the launch of The Celtic Challenge 2016. Neil Hanna Photography, copyright St Columba's Hospice
Medal-winning Team Scotland cyclist Jenny Davis has launched The Celtic Challenge, a 200-mile charity bike ride to raise funds for Edinburgh's St Columba's Hospice.
The Celtic Challenge, which is in May, 2016, takes in some of Scotland's most challenging and breath-taking scenery, with participants cycling from Edinburgh to Iona. The 200-mile route will be completed by participants in just four days, departing from the hospice on May 11, 2016.
The event is run for St Columba's Hospice and raises money to provide specialist palliative care for people from Edinburgh and the Lothians.
'It will be incredibly rewarding'
"The Celtic Challenge is tough and I admire everyone who completes this cycle across Scotland," said Jenny. "It will be incredibly rewarding for those who sign-up and take part, both from the sense of achievement of completing the Celtic Challenge and also from raising vital funds for the Hospice."
The route for the 2016 Celtic Challenge has been changed from previous events and now includes the iconic Rest & Be Thankful pass and the Arrochar Alps. The route is: Edinburgh to Glasgow, north to Balloch, up the west coast of Loch Lomond, west over the top of Loch Fyne, north to Dalmally and west again to Oban. A short ferry journey takes participants to Mull, where they cycle the  length of the island to the ferry to the isle of Iona.
'I loved doing the last Celtic Challenge'
Rona Thornton, a nurse at St Columba's Hospice, completed the 2015 Celtic Challenge. "I loved doing the last Celtic Challenge," said Rona. "I see it as a great honour to take part and raise money for the Hospice. I was inspired and encouraged by a patient at the Hospice to take on the challenge – and I'm so pleased I did. It was an amazing experience!
"As a nurse I see first-hand how the hospice's care makes a difference to patients and their loved ones and I would encourage anyone to sign-up and take on the Celtic Challenge. You won't regret it!"
Registration is now open for the Celtic Challenge. To find out more, or sign-up online, click here.
Jenny Davis and Rona Thornton, the hospice nurse who completed the Challenge last year and is doing it again in 2016. Photo copyright of St Columba's Hospice, by Neil Hanna
Jenny Davis, Team Scotland medal-winning cyclist, and hospice nurse Rona Thornton at the launch of The Celtic Challenge 2016. Neil Hanna Photography, copyright St Columba's Hospice
---
St Columba's Hospice
St Columba's Hospice provides specialist palliative care for patients in Edinburgh and the Lothians. The Hospice includes a day hospice, in-patient unit and a community nursing team who provide care services to people in their homes, with specialist care given to over 1,300 people and their families each year.
As well as the highest quality of clinical care, the Hospice offers emotional, spiritual and practical support to patients and their loved ones, helping people face the most difficult experience they will ever go through with confidence and dignity.
All of the hospice's services are given completely free of charge to all those who need care and support. St Columba's Hospice is a registered charity and relies on donations to fund 70% of its running costs.