2015 in 2015
---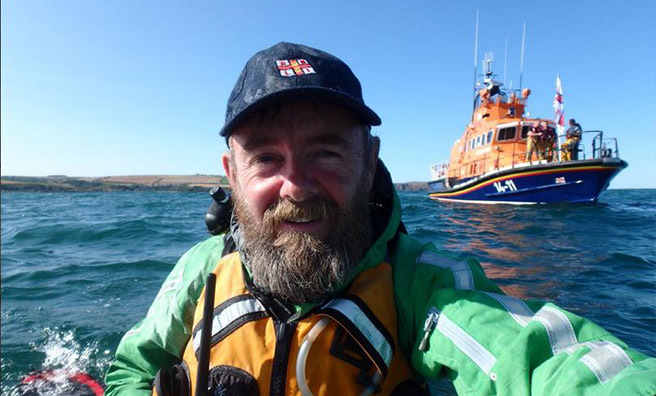 Nick Ray has just completed a 2015 mile journey around Scotland's coast to raise funds for the Royal National Lifeboat Association
Nick set off from Kippford in Dumfries & Galloway on May 1, and circumnavigated the entire Scottish coastline (including Shetland!) to visit all 47 of Scotland's RNLI stations.
The incredible 3-month and 2015-mile journey was completed on Sunday, September 6, when Nick reached Eyemouth Lifeboat Station – the most southerly station on the Scotland's east coast.
We were lucky enough to meet up with Nick as he stopped for a breather in Arbroath, but the intrepid kayaker was remarkably nonchalant about his impressive undertaking.
"I just wanted to paddle around Scotland, and this seemed a great way of giving myself permission to do that!"
An excuse for a paddle
It all began last year when Nick chanced upon a book on the lifeboat stations in Scotland by Nicholas Leach, and it occurred to him that it would be possible to kayak between them all.
"I was looking for my one big adventure, and my wife said 'Take the opportunity while you've got it to go off for a summer and paddle.'"
Nick then wrote his "2015 in 2015" proposal to the RNLI, who gave him the go-ahead and alerted the lifeboat stations to expect him.
While some had forgotten (this was proposed back in April), most of the lifeboat crews were on the look out for their paddling visitor, and made him feel at home.
"A lot of the stations have been really welcoming – some of them have come out to meet me. Generally I've been hosted really well and have been made to feel really valuable, which is nice."
Self-sufficient
The sea kayak's lightweight frame was big enough to contain everything Nick needed for his journey: spare clothes, a tent, sleeping bag, food supplies – plus his all-important journal, which he's hoping to turn into a book to kindle the love of kayaking in others.
"With sea kayaking it's a totally different perspective. You're able to get up close to the amazing nature of the coastline: the sea caves and the arches and the cliffs, but also the softness of some of the landscape."
The journey wasn't all plain sailing, however, and occasionally the weather forced Nick to stay ashore – sometimes for days at a time.
He had weather reports and tide listings in advance, but the ever-changeable Scottish weather is not known for being particularly predicable…
"The wind more than anything has been frustrating at times this summer. Particularly now that I'm getting to the end – I just want to reach Eyemouth. I've been two days off the water in Arbroath and in Stonehaven I was four days off the water. But it's part of the journey I suppose, and I have to keep reminding myself that."
A life-long fascination
A lot of Nick's fascination with the sea comes from growing up in a land-locked country – Zimbabwe. The first time he saw the ocean was on a family holiday to Scotland, and he was terrified!
"I remember encountering the sea for the first time. I must have been about 5 or 6. I remember running away from the waves."
This fear of the sea developed into a fascination that called him back to Scotland as an adult to learn to tame the waters.
Nick learned sailing and sea kayaking, and became an instructor in both with Outward Bounds. His fascination with the moving water was so great that now he and his wife call a yacht home!
Earlier this year it was moored on the Isle of Kerrera, but who knows where they'll sail to next?
Well, once he's had a well-earned rest (and finished his book) Nick plans to head back to some of the places he kayaked past in order to explore them properly.
"When I was kayaking past the Hebrides, there were a whole series of small islands that I'd love to explore – there were deer, otters, seals and a lot of history, too, in cairns and cleared villages. I'd like to get to know the area better."
We hope to hear more of Nick's adventures as he explores Scotland from the water, but for now – put your feet up, Nick. You've earned it.
---
Sponsor Nick
During Nick's journey visitors to his blog could follow his progress through a tracker – and you can still the route he took, here.
Sponsorship is still open, too, so if you'd like to donate to Nick and the RNLI, click here.