2015 – The Year of Food and Drink
---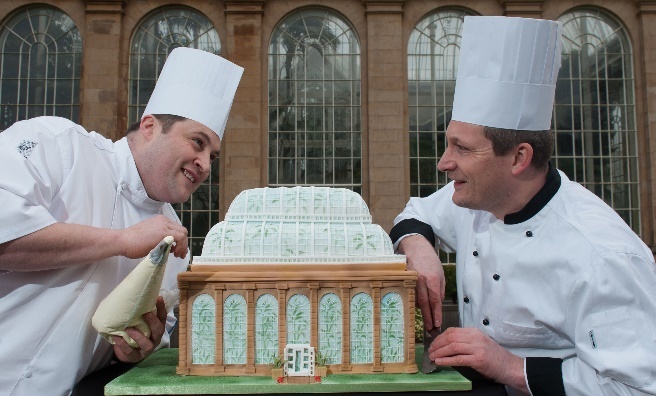 The Royal Botanic Gardens' Chefs with the cake of the Glass House. Photo by Gareth Easton
A cake-themed celebration of our capital city, a festival to inspire junior foodies and a gala which raises a glass to our national tipple are a few of the mouth-watering events that will take place during Scotland's Year of Food and Drink.
Scotland's outstanding natural larder will be showcased over the next 12 months at events the length and breadth of the country, including special events supported through a dedicated £265,000 fund aimed at raising awareness of the role food and drink plays in the country's cultural identity and in shaping the nation's economic success.
A Taste of What Lies Ahead
Funded events will be spread across the country and include existing or established events such as Borders Book Festival (June 11-14), Orkney Folk Festival (May 21-24) and Glasgow Science Festival (June 5-15), which will enjoy a greater focus on food.
There will also be a number of new events, including the Children's Food Festival in the Highlands (June 5-6), Cake Fest Edinburgh (June 21) at the Royal Botanic Garden, Edinburgh and Food Town Day (June 6) in Dumfries and Galloway.
Whisky Month will return in May, with events like Mhor Whisky Festival (May 23-24) and Whisky Stramash (May 23-25) inviting visitors and locals to sample Scotland's national drink as well as explore both the traditional and contemporary blend of stories, circumstances, provenance and science behind our vast array of marvellous malts.
With eating traditional dishes and local produce listed as one of the top activities undertaken by visitors to Scotland, promoting food and drink has the potential to provide significant growth for tourism. in fact, recent figures revealed that Scotland's food and drink tourism industry is worth an estimated £2.5 million per day to the economy.
'This will help enhance our reputation as a land of food and drink'
"The Year of Food and Drink is a brilliant opportunity to inspire the people of Scotland and our visitors to celebrate the exceptional food and drink we produce the length and breadth of our country," said Scotland's Cabinet Secretary for Food, Richard Lochhead.
"This will help enhance our reputation as a land of food and drink and achieve my vision of Scotland becoming a Good Food Nation."
Malcolm Roughead, Chairman of VisitScotland, said: "Scotland's reputation for quality food and drink is increasing and the Year of Food and Drink is a chance not just for visitors to sample the best of our natural larder but for people in Scotland to learn more about what is on our doorstep.
"The events unveiled today are just a taste of what the Year of Food and Drink can offer visitors from far and wide. 2014 was all about welcoming the world, 2015 is an opportunity to build on that momentum and use strengths, like our world-famous food and drink, to take Scotland to the world."
For a full list of Year of Food & Drink events, click here.
For lots of other ideas of places to go and things to do, pick up this month's issue of The Scots Magazine – in the shops now or click here to order a digital or print subscription. 
Chefs terry and Ben Harrison put the finishing touches to a cake modelled on the Glass House at Edinburgh's Royal Botanic Gardens. Photo by Gareth Easton
---
2015
Led by VisitScotland on behalf of the Scottish Government, the Year of Food and Drink aims to increase and promote Scottish produce across the tourism sector and enhance Scotland's global reputation as a Land of Food and Drink.