A War Of Two Halves
---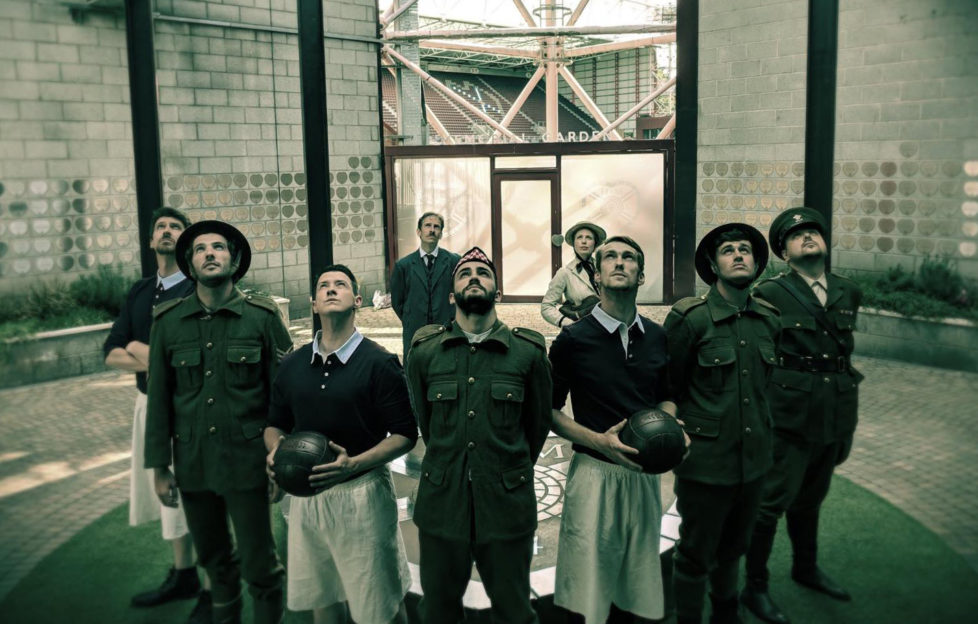 Promenade theatre immerses the audience into the courageous story of the ill-fated 1914 Hearts team
"The year is 1914. Edinburgh's Heart of Midlothian Football Club have won 19 of 21 matches and stand on the brink of becoming Scottish league champions. In a remarkable show of comradeship and courage, 13 of their players volunteer to serve together in McCrae's Battalion destined to fight in France."
Paul Beeson & Tim Barrow's A War Of Two Halves follows the Hearts team's story in a touching promenade performance, walking the audience through Tynecastle Park.
The play starts in the stadium's Supporters' Bar, before touring through into the stadium itself, the dressing room, and into a First World War trench, purpose-built in the grounds.
To find out more, we caught up with actor Mark Rannoch,
who plays Hearts player and soldier Ernie Ellis
"I think it's very important for those in Edinburgh, especially Hearts fans," he said.
"Hearts were at the top of the league when the boys signed up. All the extra war training they were doing while still in Edinburgh and still playing football deteriorated their form – and they came in second to Celtic at the end of the season."
Worse was to follow, as many of the players didn't come back from the war. This is a tale familiar to communities throughout the country, who lost many men through the First World War's Pals' Battalions.
"At the time it was a complete tactic to get more people signing up," Mark said.
"Sir George McCrae was the politician tasked with going to Edinburgh and signing up 1000 people within seven days. He went to the stadiums and gave them a guarantee that they'd get assigned together."
McCrae's Battalion was the first of the 'footballers' Pals' battalions to be raised during the war. Around 500 supporters and ticket-holders signed up to fight with their players.
"Obviously, once fans heard their team was signing up they followed suit. It was almost advertised as a lads' holiday – 'you'll get to go fight alongside your heroes and it'll be over and done with before Christmas', which, of course, wasn't the case.
"We really need to make sure these stories are told, and make sure people can learn from them."
"It's very special, and a very poignant story. There'll be a few tears, but there is some comic relief and there's a few songs, too," Mark said. "It's a brilliant group of lads we've got performing."
Originally from Dundee, Mark is delighted to be back performing in Scotland after many years in London. There's just one problem…
"It's weird, because I'm a Dundonian and I'm playing the only English character!
"It was tricky when we first started rehearsals – when I've done English accents before I've always been surrounded by other English accents to bounce off. Trying to keep the accent when everyone else is speaking with a Scottish lilt is really hard, but I just have to tune them out and keep focused!"
Even more daunting, however, was performing in front of the current Hearts team.
"Craig Levein was there," Mark remembers, "and their new signing Jimmy Dunn. There's a bit in the beginning of the play where we're playing football – that was really daunting in front of a bunch of professionals!
"Unfortunately none of us were signed…"
After rave reviews at the Edinburgh Fringe, A War Of Two Halves has returned to Tyncastle for one week only as part of Edinburgh's Armistice commemorations.
"With 2018 marking 100 years since the signing of the Armistice, it is the perfect time to share the remarkable story of 'the bravest team' for a new generation of fans," said Director, Bruce Strachan.
You can catch A War Of Two Halves at Tynecastle Stadium, Edinburgh on the following dates:
Tuesday, November 6: 1pm, 3:30pm, 6pm & 8:30pm
Wednesday, November 7: 1pm, 3:30pm, 6pm & 8:30pm
Thursday, November 8: 6pm & 8:30pm
Friday, Novemeber 9: 6pm & 8:30pm
Sunday, November 11: 3.45pm, 6pm & 8:30pm
Find out more and book tickets here