Angus Walking Festival
---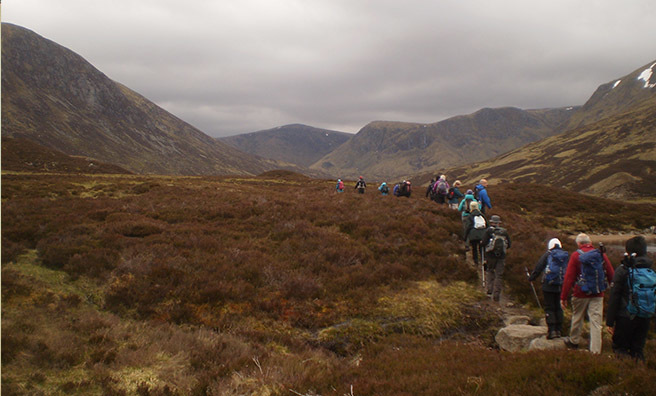 A day in the hills with the Angus Walking Festival.
I have a T-shirt that reads "better a rainy day in the hills that a sunny one on the office". Normally, I'd go along with that but my good humour was stretched during my last two treks along Jock's Road. For those not in the know and thinking it's a rarely-used Dundee thoroughfare, I should explain that it's a well-worn drovers road between Braemar and Glen Doll, favoured by hikers for decades.
getting wet isn't so bad when others are getting just as wet as you!
It consists of 14 miles through some of Scotland's best scenery. Well, there is scenery if you can see it! Twice visibility has been down to 20 or so yards and twice I have emerged at the other end wet and bedraggled. However, I should say that both experiences have been helped by the stoic and cheerful company I was in, the last time with like-minded souls undertaking a hike organised by the Angus Walking Festival. Somehow, getting wet isn't so bad when others are getting just as wet as you!
Under the expert control and good humour of guides Ian, Rosie and Stevie a party of 25 left the car park at Auchallater making good progress before the first stop (breakfast for some, especially for me!) Thereafter, conditions deteriorated and by the time we started the haul up to Crow Craigies, it was a full-waterproof call as the drizzle fell incessantly. A compass bearing in the mist was called for before we began the trek over and down to Glen Doll.
Just south-west of Crow Craigies, the mist parted enough for us to see Loch Esk on our left, a clear indication that we were on the right path. Mind you, with Ian, Rosie and Stevie with us, getting lost was not an option. Although I am semi-proficient with map and compass, these guys are 20 times more adapt at finding the correct bearing. It's nice to know you are in the hands of professionals. That way you can relax and enjoy the hike.
Davie Glenn's hut was reached in record time, and before we knew it we were in the shelter of the forest that ushers walkers from Jock's Road, Corrie Fee and other routes back into the car park at the Glen Doll Ranger Centre.
A beer at the Clova Hotel – tea and scones for others – ended a great day. Okay, it rained and we all got wet but at the end of the day such misery is easily and quickly forgotten. Festivals like this one are an excellent way to undertake linear walks and hikes you couldn't do without either two cars or a mighty long round trek. The Angus Walking Festival is one of the longer-established events, well-organised, well-led and well worth trying next year.