AWHH Children's Writing Competition S4-7 Second Place
---
Georgia Dennis won Second Place in A Write Highland Hoolie's Children's Writing Competition, S 4-7, with this entry about her Highland home 
My Highland Home
By Georgia Dennis
My Highland Home is original. My first home wasn't a Highland one, so when we moved, it took a bit of getting used to. Originally we lived over on the busy, bustling East coast where there were shops, crop farms and no sheep on the roads. Since
moving, I have noticed my family becoming exceedingly weird; tourists being unthinkably stupid; and that everything happens at 'Highland speed'. Five years on and I wouldn't change it for the world.
Camusdarach Lodge is my current home: a one hundred and twenty year old hunting lodge. It's fair to say that the house isn't in the prime of its life. When we first bought the house the kitchen and all skirting boards were lined with salmon pink
gloss paint and magnolia. Though we have changed the kitchen's colours, the skirting remains the same around some areas of the house – again reminding us that everything happens at 'Highland speed'. There are cracks in the walls from where the wood has split due to water and we've just filled it with duvets as there is only one roofer who we've tried to get hold of over the past year – Highland speed. Although the house is in need of some serious decoration, it is pretty cool. There's a giant,
Victorian bath tub, good sized rooms and it's right next to the beach! (So the house is constantly full of sand despite Mum's efforts with a series of hoovers).
And then there is our wonderfully mad campsite. It wouldn't be a normal summer's day without a camper doing something unbelievably idiotic: washing their dishes in the chemical disposal loo or sinking their campervan into a wet patch and creating a huge muddy mess in the field. Even the questions are bizarre: "What shops are there down at the beach?", "Do you have toilets and showers?" and "What's the midge count?". My top three favourite things campers have ever said and done (which we
still giggle about!) are truly incredible. A woman showed up a month early for her camping pitch – "The good news is that you're booked; the bad news is that you're a month early." A man was waiting for 'next day delivery' (which doesn't happen here!)
on an engagement ring for his girlfriend. The poor man ended up staying an extra three nights whilst trying not to let his girlfriend know why!
Last, but not least, my mum and I were having a conversation with a camper and he then said, "Oh have you seen those three gorgeous english springer dogs? Aren't they lovely?!"
"Yeah, they are actually police sniffer dogs who are on holiday. They are rather pretty," my mum said. A look of panic rushed over the man's face as he said, "I..um..think I'd better go." as he bolted back to his tent!
Tourists can be hugely irritating; walking down the middle of the road, standing in the wrong place, taking the last bag of maltesers in the Co-op…but without them we would be somewhat less amused and a good deal poorer.
And what draws them to the amazing area of Arisaig: sunsets are spectacular, beaches are beautiful and its mesmerizing mountains are occasionally dusted with snow. The waves alternate between the small relaxing ripples on a calm night to Fistral beach mayhem where the waves can be two metres tall – almost perfect for body boarding. There are plenty of trails to explore – and a few bogs to fall into! Everyday the view over Eigg and Rum is painted differently with pinks, reds, oranges, even blues and greys too. The wildlife is considered not so wild as it is common that one could spot a deer in their garden! There are small fuzzy otters, buzzards and the occasional wild cat. Although the scenery is stunning and the wildlife captivating, the company isn't bad either.
My friends in and out of school are amazing. In school, we feel safe and supported by each other and teachers. Mallaig High School may be small but has such a variety of talent that we all learn from one another. I think being in a small school benefits us
as all pupils are like – a rather odd but amusing – family. Especially in the Highlands, there is so much opportunity for music and culture to shine through where it wouldn't in big city schools. Out of school there are many opportunities for people to have fun, such as dancing/sport clubs, music lessons and school productions. These give pupils the chance to build up courage at a young age so that they are ready to take on bigger challenges later in life.
In my family we all have nicknames but not just the normal abbreviated versions of our original names – Oh no. All nicknames in the house are given by my dear, disabled auntie Kate. Mine for example is 'darling dodo' or 'special sparkle' – (I have
no idea what my relation to an extinct flightless bird is!) and my brother's is 'darling bearlet.' However, not all names are linked with animals. Mum's is 'Catkin', my Granny's is 'darling dimple-beast', my sister's 'darling poppsie' and my stepdad's is 'Jonny fruity-pot'. Although that is all the people who live with us; there are names for everyone who works with us on the campsite too! 'Golden gumpsie' – for someone
called Eve, 'Gregus maximus' – for Greg and 'Stumpy' – for someone who is neither short nor fat.
The best way to describe my family life is like 'Monarch of the Glen' meets 'Fawlty Towers' with a dash of 'Outnumbered'. For my stepdad, Jonny's 50th birthday, our family friend came up from Glasgow to blow the bugle horn for his birthday ( learned specifically for the occasion) Jonny was then marched down to the beach with all the family and knighted by my younger sister with a fencing sword. Like every family we have silly arguments now and again, but we all fight over who gets to sit in 'The
Chair' (This is the chair that Sean Connery allegedly sat it whilst filming Highlander!) Despite all our squabbles, there is a lot of love for one another.
My Highland Home is original, it's mine – and I wouldn't change it for the world.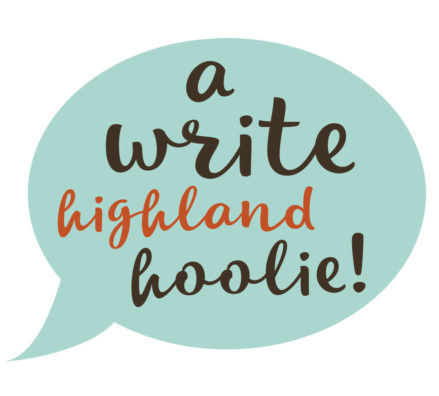 ---
More Entries
Click below to read more entries in the S 4-7 category…
Second Place
Third Place