Bernard Gallacher's Ryder Cup Memories
---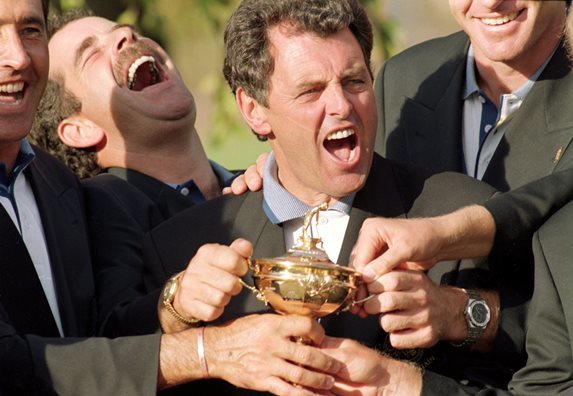 Bernard celebrates Team Europe's win in the 1995 Ryder Cup with team mate Sam Torrance
"It's great that the Ryder has come to Scotland this year," says golfing legend Bernard Gallacher, who is commenting on the illustrious event for BBC Radio 5 Live. "I think Scotland was successful this year because a key part of the bid was to encourage more people to play golf. It helped that the First Minister promised to give every child under 9 years old the chance to play the game."
Bernard, who's married to Lesley and has three children, Jamie, Laura and Sky TV sport presenter, Kirsty, adds that the Ryder's not just a boost for golf but for the whole country. "The Ryder Cup's a brilliant showcase for the rest of the world, fantastic for tourism and the economy."
Bernard explains that, on a personal level, the Ryder Cup represents the worst and best of his golfing life. "The worst time was losing the 1993 match at The Belfry," he says. "As Captain, I felt such a big sense of responsibility for the team and the tour but a few of the players had injuries and off field problems and that had a bearing on the result.
"The highlight of my career was playing my first Ryder Cup in 1969. I was the youngest player to represent Great Britain at the time and it was made even more special because Eric Brown was our captain and he also came from Bathgate Golf Club, like myself."
Having clinically died last August after collapsing at a golf function in Aberdeen, for the past year, Bernard and Lesley have been busy with their campaign, along with the Arrhythmia Alliance, to get defibrillators in as many golf clubs as possible.
"I was extremely lucky as there were two nurses at the function who performed CPR and, thankfully, there was a defibrillator at the hotel which kick started my heart. It then stopped two more times on the way to hospital," says Bernard, whose family was warned not to hold out much hope.
"My guardian angels were certainly looking after me. In fact, they were working overtime," he laughs.
"I just remember waking up in hospital five days after leaving Spain, where we have a house, and seeing Lesley and a priest by my bed. It's all a bit disconcerting when I hear myself recounting the story. It's as though I'm talking about somebody else. It's very surreal and, in reality, it was far more traumatic for my family."
Now it's pretty much business as usual for Bernard. He's back doing all the things he loves best – playing golf, watching Hibs and Fulham when he's at home in Ascot, keeping fit, reading, looking after his grandchildren and enjoying his place in Southern Spain.
And as for The Ryder, he says: "Walking inside the ropes talking about golf for Radio 5 live? Well I don't mind that at all."
Read the full version of our interview with Bernard Gallacher in the September issue of The Scots Magazine – out now.