The Big Yin's Special Recognition
---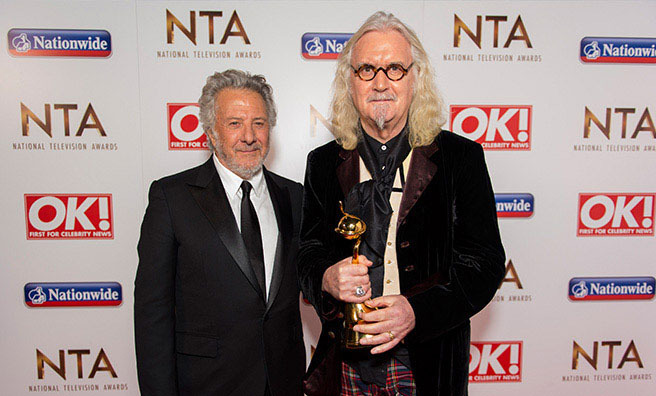 At the 2015 National Television Awards on Wednesday, Jan 20, Billy Connolly was awarded with the Special Recognition award for over 50 years in entertainment.
Billy accepted his award graciously from close friend Dustin Hoffman, before announcing in true Big Yin style:
"This is the best laxative I've ever known in my life!"
Dustin Hoffman delivered a moving and heartfelt speech on his friend and star of his 2012 directorial debut, Quartet, before handing the award over to a bashful Billy.
The Big Yin then lightened the mood with a few jokes (mainly at Peter Kay's expense), before turning sombre and thanking his friends and family – and fellow British comedians, the standard of which, he said, is "rising all the time".
The award for services to comedy comes after Billy openly discussed the difficulties he has faced since being diagnosed with Parkinsons in 2013.
Speaking to The Daily Mail in early January of this year, he said: "There were things I liked to do, like smoking cigars. I can't do that any more because it makes me drunk.
"I can't play the banjo any more because of my left hand. I don't move as much as I used to because I don't feel secure in my balance. My way of speaking has changed a bit too."
Despite this, Billy Connolly is still the life and soul of the party – as he proved at the Awards last night, saying:
"It's been a grand old rock and roll all the way."
The career of the Big Yin
In 2012 Lorraine Wilson painted a portrait for us of the life and career of Billy Connolly – with a little help from his friends and The Big Yin himself…
"I'm a citizen of the world. I like it that way. The world's a wonderful place. I just think that some people are pretty badly represented. But when you speak to the people themselves they're delightful. They all want so little."
If anyone knows about having "so little", it's Billy Connolly. There's no doubt he started his life with that in wartime Glasgow; but now he can reflect on his legacy as one of the most influential comedians of all time.
His days growing up in poverty in Glasgow were a source of great material, particularly in the early days of his stand-up career.
It was only later, with the release of the biography written by his wife Pamela Stephenson that the darker elements of his childhood were revealed, particularly the systematic abuse by his father.
He believes that meeting Pamela on the set of the BBC Sketch Show Not the Nine O Clock News and subsequently marrying her in 1989 saved his life as he was abusing alcohol heavily.
Now, clean and sober he is happy, healthy and can take on the workload of a man a third of his age.
When he was a third of his age, that was the slog of the shipyards – the fate of many Glaswegians of his generation, but with a banjo in his hand he was playing folk clubs and was joined in his band The Humblebums by a young Paisley songwriter called Gerry Rafferty.
Creating his own platform
Songwriter and performer Rab Noakes worked the same folk club circuit as The Humblebums and later worked with Gerry Rafferty in Stealer's Wheel and beyond.
Rab believes that, despite the fame, Billy hasn't had the recognition for one fundamental part of his work.
"I met Billy in the 1960s," he says, "and we're still in touch now. One thing I feel he has never been fully acknowledged for is creating his own platform for his work.
"When The Humblebums split, it was quite clear what Gerry was going to do – carry on with his music career. With Billy it was totally different – there was no real platform for him. What he did wasn't for the folk clubs, it wasn't for the mainstream entertainment clubs, and it wasn't for theatres at that point. He had to create his own thing.
"He's credited for his performances and the content, of course, but never for creating a platform that forged the way for every other stand up after him."
Once Billy built his platform, his reputation began to spread, but it was a performance on Parkinson that made his name south of the Border.
He was courted by the biggest stars of the time and even toured the US, opening for Elton John in huge stadiums.
He quickly became Scotland's biggest ever comedy star and it wasn't long before film roles came his way.
In fact, his first credited acting role came as long ago as 1975 in the iconic Play For Today Just Another Saturday.
Even the biggest Connolly fans would admit that his acting performances have rarely overshadowed his stand up, with the best reviews coming when he didn't stray too far from home, playing Glasgow hard men or in his role as ghillie John Brown opposite Judi Dench's Queen Victoria in Mrs Brown.
His rich animated tones have also been a favourite for animation voiceovers, with the latest being King Fergus in Pixar's Brave.
However, his latest role is as Dain Ironfoot in the eagerly anticipated Hobbit trilogy – something that will take his name global once again.
Television has been a rich source for him – especially as a slightly more sweary Michael Palin, when he has taken on tours of the world's greatest locations.
He even bared his bum in sub zero temperatures for A Scot in the Arctic. Come to think of it, he bared that same (slightly younger) bum when he danced around standing stones in Orkney too.
Inspiring a generation of comedians
There's little doubt that it's his solo stand-up that will be seen as the inspiration to a generation of comedians, however.
Sanjeev Kohli is part of the current generation of Scottish comedy stars, and there's an exclusive interview with him in the September issue of The Scots Magazine.
As Navid in Still Game, Sanjeev became the country's favourite shopkeeper and his award-winning Fags, Bags and Mags is a stalwart of Radio 4 comedy.
As with practically every comedian working today, he cites Billy as more than just an influence.
"I cannot tell you the excitement I felt seeing Billy Connolly on Parkinson. The fact that this most Glaswegian of men could make Angie Dickinson (Policewoman!) actually lose control of her body with laughter filled me with a pride I was probably too young to understand.
"Billy was a direct influence on me in the sense that he had the outright confidence to take material that made his shipyard workmates laugh on to stages in America and Australia; this in turn gave me the confidence to think that stuff that was funny round my dinner table could be taken to a bigger audience on shows like Goodness Gracious Me.
"Connolly, along with Chic Murray, took the traditional Scottish art of storytelling to the next level.
"I personally think that An Audience With Billy Connolly is as funny as stand-up has ever been, and should replace the Scottish national anthem; in many ways it has, as I have never met a Scot who doesn't know the routine inside-out. 'Have a custard cream father, that's what they're there for.'"
Sanjeev's fellow Still Game actor Greg Hemphill (Victor) echoes this saying, "Two people I would love to meet. Chic Murray and Billy Connolly. I can't meet Chic now, but still hope to meet Billy. The best in the business."
Read more from Greg, in our interview, here.
Auld yin
In 2011, the prospect of turning 70 obviously meant nothing to Billy or as he would say he cared "not a jot". His schedule that year would tire men a third his age.
Starting with a nine-week tour of Australia, he then recorded the voiceover for Disney, began the filming for his Route 66 series for ITV, took part in documentaries on the art of stand up and his old friend Gerry Rafferty.
He also formed Quartet and did A Special Audience with Billy Connolly to raise money for Besting Blood Cancers. In March of 2012, he had his first art exhibition in London and showed no sign of stopping the stand up with a series of shows at the Beacon Theatre in New York, which straddled his 70th birthday.
"Once you become successful, people know where you live, the type of house you live in, the kind of car you drive, the clothes you wear, and so it would be patronising to go and talk like a welder. Welding's a mystery to me now."
Currently Billy is about to embark on his latest comedy tour, riding across Canada this autumn on his High Horse Tour – tickets here.
On a personal note…
It may seem strange but my parents let me join them when they went to see Billy Connolly on his Cop Yer Whack For This tour in 1976, at the Caird Hall in Dundee.
Some of the language may not have been suitable for a nine-year-old and a fair proportion of the subject matter may have gone over my head, but having been a huge fan of his Solo Concert album, they obviously decided that I shouldn't miss it.
The memory of that night is the same as every subsequent experience of Billy Connolly on stage (at least six to date) – he's not a performer as much as a force of nature when he steps into that single spotlight.
Despite having seen hundreds of stand-up shows over the years, no one has left audiences as helpless with laughter.
I still have the VHS video tape that recorded the first showing of An Audience With Billy Connolly, which may be the single funniest piece of television ever broadcast.
The CDs are banned from the car, however… for fear of driving the car off the road.
---
Billy's Wit and Wisdom
My definition of an intellectual is someone who can listen to the William Tell Overture without thinking of the Lone Ranger. 
Marriage is a wonderful invention: then again, so is a bicycle repair kit. 
There are two seasons in Scotland: June and winter. 
I don't know why I should have to learn Algebra… I'm never likely to go there.
I've always been fascinated by the difference between the jokes you can tell your friends but you can't tell to an audience. There's a fine line you have to tread because you don't know who is out there in the auditorium. A lot of people are too easily offended. 
Never trust a man, who when left alone with a tea cosy… doesn't try it on.
(To a heckler.) Don't tell me how to do my job. I don't come to your workplace and tell you how to sweep up.
My parents used to take me to the pet department and tell me it was a zoo. 
Fame is being asked to sign your autograph on the back of a cigarette packet. 
I think my securities far outweigh my insecurities. I am not nearly as afraid of myself and my imagination as I used to be.