Vive L'entente Cordiale!
---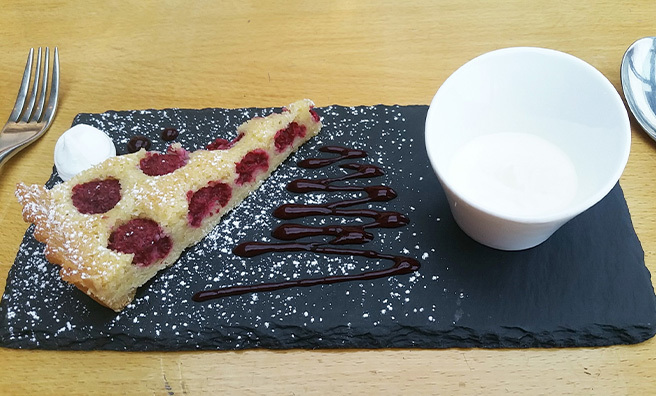 A corner of France is thriving in the port of Leith
It's a corner of Provence to be exact, and Bistro Provence is carrying on a long tradition of French restaurants in this part of Edinburgh. It's taken owner Michael Fons a long and winding road to get there, via Corsica, China and Canada, but he's relishing the opportunity to serve haute cuisine to the good folk of Leith and those further afield.
"Leith really is a thriving part of Edinburgh and it has been a real privilege to be a part of that. For me, initially, it was more of a coincidence," he says. "I was looking to open a restaurant and, having worked in Leith for a couple of years, I knew a bit about the area and of course, the potential after the regeneration. When the space for Bistro Provence became available, I knew it was in the perfect place."
"For me, being a French native, it is a way of life to cook and enjoy eating. Since leaving France and living abroad, it has been such pleasure to notice the interest so many people have in French cuisine and I am so pleased that we are able to produce authentic dishes at the restaurant.
Delicious, fresh and light cuisine
"Where I am from, Provençal food is colourful and fresh. The food is quite light as butter and cream are often replaced by southern ingredients such as olive oil, garlic, parsley and thyme which I also think is something quite special and different."
With Michael coming from the bustling port of Marseilles, fish is an important part of the bistro's menu. And if the delicious fish soup I had is anything to go by, such inclusion makes sound business sense.
Michael's experience of Scotland began in 2007 where he worked in some of the best restaurants in the country, including The Kitchin and La Garrigue (both incidentally in Leith). Something must have rubbed off as business is booming.
"Bistro Provence started with very small budget, but I think because of  the passion of myself and my team, we have been overwhelmed with great success. So far, the restaurant has received one AA Rosette, been recommended in the Michelin Guide 2015 and appeared as a finalist in the CIS Excellence Awards."
The true French culinary experience
"The aim when I opened Bistro Provence was to do exactly what I would have done if I had opened a restaurant in Marseille. I think that Bistro Provence is doing just that by maintaining that authenticity on a daily basis and really giving diners that true French culinary experience."
Michael likes to combine both the kitchen and front of house as he feels it is important to have a liaison with his customers. He also feels well settled in Leith with his wife and baby daughter, and while Marseilles may be a few hundred miles away on paper, in reality its right here in Leith.
---
Visit
Bistro Provence
88 Commercial Street
Edinburgh
EH6 6LX
0131 344 4295