Blythe Duff
---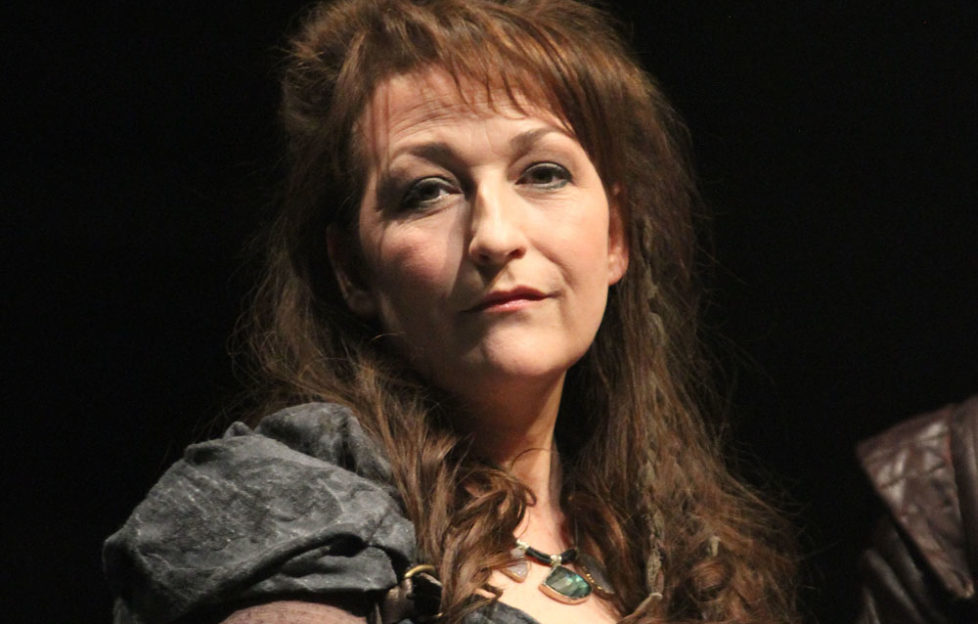 Blythe Duff as Isabella in The James Plays
The opulent decor of Glasgow's Malmaison hotel is not a venue one would associate with Taggart, the tough, gritty crime drama set in the city for 28 years.
But it's where actress Blythe Duff, aka DI Jackie Reid, the longest running character of this internationally renowned TV series, suggests we meet. It makes sense. It's a Monday afternoon and all's quiet in the Veuve Clicquot  lounge – definitely a plus as there aren't many places where Blythe Duff, who starred in the show for 21 years, can go in Glasgow without being stopped. 
Not that this down-to-earth actress minds. But there's an interview to do, and one gets the impression that whatever Blythe Duff does, she does with the utmost integrity and focus.
Born in East Kilbride in 1962, she began her career aged 18 with a youth opportunities theatre company based at the Glasgow Arts Centre. She cut her acting teeth performing in prisons, schools and retirement homes. 
Undeterred by three knockbacks from the Royal Conservatoire of Scotland, formerly the Royal Scottish Academy of Music and Drama, who told her to go away and get more experience, she spent her summers with the Scottish Youth Theatre – of which she is now a patron and which gave her her first professional job in 1983.
She worked in theatre for seven years and with Scottish Opera before she landed the television role that would define her forever.
"I will always be known as Jackie Reid, but that's fine. I liked the character. She was straightforward, unfussy and a big part of my life. I had a good amount of input on set and I guarded the character ferociously – although there were times when I'd get requests like, 'could she smile a wee bit more and could she wear a bit more pink?'".
Although Blythe says she doesn't miss Taggart, she looks back with great fondness on those years.
"I met an actress recently who was recalling coming up to film Taggart and she remembered it as a very positive experience, which it was. It provided a lot of people with a lot of jobs – actors, runners, writers, directors, the technical crew.
"Taggart was the first series to continue without its main character."
"You got actors coming back to direct and write the shows. It was a true cottage industry and there was a fantastic team spirit, which was something Mark McManus (Jim Taggart) set out from the start. We managed to continue that after his death. Taggart was the first series to continue without its main character  – it was a test for TV and we continued the brand successfully."
Blythe is currently tackling one of the greatest challenges of her career – The James Plays, starring alongside fellow TV detective Sofie Grabol from The Killing at the Festival Theatre, Edinburgh.
Co-produced by The National Theatre of Scotland, The James Plays is a trilogy examining three generations of Stewart kings who ruled Scotland in the 15th century.
Blythe appears in all three plays, which are written by Rona Munro and directed by Laurie Sansom.
She says, "It a huge undertaking but one I'm incredibly excited about. It's by far the biggest acting ask of my career and it will be interesting working alongside Sofie – two detectives fighting it out on stage!
"It's fascinating to look back at such an important period in Scottish history in an accessible way.
Blythe is very proud to be Scottish.
"I admire the resilience, humour and integrity of the people. We don't take ourselves too seriously, although we are very serious about what we do and I'm proud that I've been able to earn my living here." 
Her holiday home on the Isle of Bute is testament to how much she loves her mother country. Not for Blythe a villa in the Tuscan Hills or the French Riviera.
"Bute is like Scotland in miniature," she says. "It's got lochs, castles, incredible views and you can see right over to Arran. We have a boat there which gives us the luxury of looking at the island while we sail round it, as well as enjoying living on it. The walks are fantastic and of course, we have the West Highland Way on our doorstep.
"Myself, my husband Tom, and our two girls, Sarah and Katie, 21 and 19, are always keen to escape there and just chill. Even if it's only for a night, you feel as though it's been a week, it's so relaxing! Sheer bliss!"
---
Blythe's Facts
Born 1962 in East Kilbride, Glasgow
In real life Blythe married a former police officer, Tom Forrest
She starred in Taggart for 21 years from 1990 to 2011
Blythe was Chieftain of Bute Highland Games in 2009
She is an Ambassador of The Prince's Trust