Salad | The Bonnie Gardener
---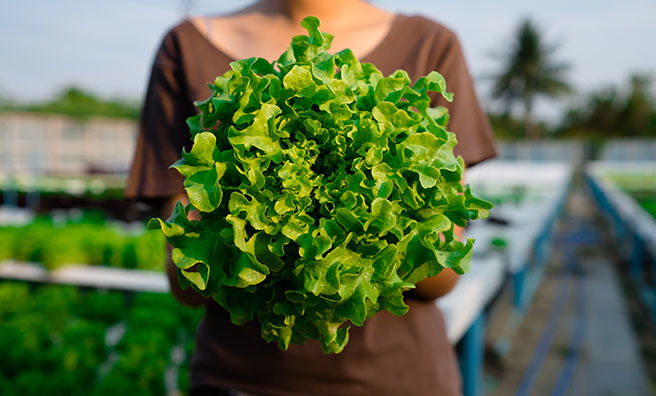 In our first gardening blog, Nicola explains how you can grow your own leafy sandwich-fillers and save a bundle at the supermarket
Weather wise, it's not been the best year for Scottish vegetable growers. April was one of the hottest on record, but the fact this was followed by a long and harsh cold snap in May and some serious rainfall in June resulted in far from ideal conditions for bringing on a fruitful veg patch.
Concerned about ending up with very little produce in my kitchen garden, I've opted to grow some trusty salad varieties which I know will give me a reliable crop.
Salad leaves look attractive, come in a huge variety of shapes, colours and textures, and growing from seed can save you a lot of money at the supermarket. As well as being expensive to buy, shop-bought salads are usually treated with pesticides and chlorine and can have a short lifespan in the fridge – so it's well worth getting your hands dirty and growing your own.
There's nothing more satisfying than eating your own produce
Salads don't like to be transplanted so should be sown directly into the soil or in a window box or pot. I tend to opt for window boxes, located close to the back door so that I can access them easily come dinner time and also keep a close eye out for the salad's biggest fan – the slug. My top tip for keeping these slimy pests at bay is to plant beer cans close by – they tend to go for the beer rather than the lettuce. Other gardeners swear by copper mesh, broken egg shells or even nematodes which are bred specifically to kill the slugs before they get to your much-loved produce.
To get started, simply fill your window box with a mix of potting compost and John Innes and sow seeds directly in a fairly sunny or partially shaded position. Seeds should be sown in short rows approximately 30cm (12in) apart after making a shallow trench about 1.5cm (1/2in) deep. When the first true leaves appear or when the seedlings are about 5cm tall thin them out so that the distance between each lettuce is around 25-30cm (12 in).
Be sure to keep the soil moist while your lettuces are growing as they don't like to go thirsty. This is particularly important when they are one or two weeks away from harvesting – dry soil will cause the plants to bolt and put all their energy into producing flowers rather than tasty leaves.
A good incentive to eat your way to five a day
For those who are less confident about growing veg from seed, cut and come again salad varieties are really straightforward to cultivate, and you are guaranteed a harvest 4-6 weeks after sowing. Again, a window box or small seed tray will do the trick – all you need to do is sow the seed in drills, and repeat the process every three to four weeks so that you have a constant supply.
Rocket leaves and spicy salad mixes are ideal options and taste delicious – harvest when the plants are about 5cm (2in) high. The more you cut these cut and come again varieties the more they'll be encouraged to grow – a good incentive to eat your way to five a day.
To get you started, here's a list of some of my favourite varieties – all of which should produce a good crop even in our cool Scottish climate.
Bijou

 – frilly with dark red leaves. Grow as a cut-and-come-again crop.

Cos, or romaine lettuces

– long, oval head of tightly packed crisp leaves. A perfect and traditional base for Caesar salads.

Lollo Rosso 

– A non-hearting loose-leaf lettuce with fringed and crinkled leaves that are tinged deep red at their ends, with a fairly tender, yet crisp texture.

Wild rocket

– serrated leaves and strong, peppery flavour – perfect with Italian dishes

Escarole

– A broad leaved kind of frisee, this has crunchy, mild green outer leaves and a pale heart. The flavour is slightly bitter and is good mixed with milder salad leaves.

Round Lettuce

– The traditional 'British lettuce' has soft mid-green outer leaves and a slightly crisper, paler heart.
I can assure you there's nothing more satisfying than going out to the back door and choosing the selection of leaves you want to serve on the dinner table. Simply cut, wash and serve on a plate with a drizzle of good quality virgin olive oil and some balsamic vinegar.  If you're growing your own tomatoes add them too for an added sweet bonus – delicious!
---
Top Tips
According to the RHS, three days ahead is the maximum you can plan for when it comes to weather. When planting out new seedlings try to choose a few days where it's guaranteed to be dry so that any fertilisers you use remain in the soil and help with early root and shoot development.
Lettuces are perfect fillers and won't interfere with crop rotation system. You can fit them in rows between other crops, such as runner beans, as long as they have enough light to grow.
There's no reason why you can't grow your own salad leaves all year round. In the winter, simply grow cut and come again varieties in trays in the window sill or plant out hardier varieties such as lambs lettuce, chard and spinach.
Slugs are big lettuce fans. Keep them at bay by planting beer cans into the ground – they like the beer more than they like the taste of lettuce.
Be experimental – buy varieties you can't get in the supermarket, as well as ones you know you like.
Lettuce is ready to cut when a firm heart has formed. Harvest lettuces by cutting rather than pulling.
In the early and late part of the season leaves take on average 2½ months to grow while in mid-summer the growing time can be anywhere between 6 and 8 weeks.