Book In For An Island Adventure!
---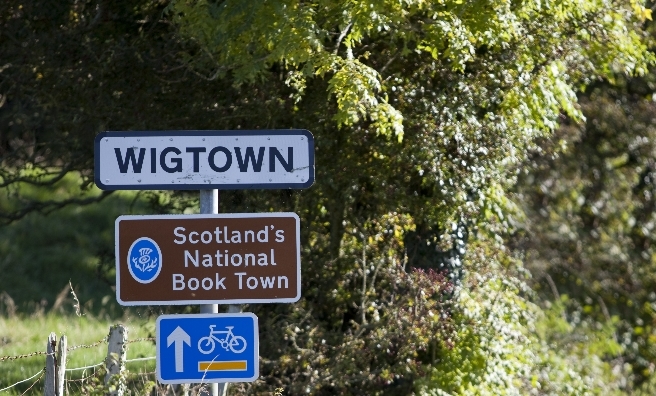 Welcome to Wigtown - and the 2016 Wigtown Book Festival
This year's Wigtown Book Festival, which runs from September 23 – October 2, features an island-inspired programme of author events, guided walks and, unusually for a literary celebration, a canoeing expedition!
Taking inspiration from island life, the 2016 Wigtown Book Festival will explore relationships with communities, and how island living has a large influence on daily lives of people globally including city dwellers.
"At its best, a festival is a kind of island of the mind, with its own proud, local identity but open to exciting exchanges with the rest of the world," said Artistic Director Adrian Turpin. "At the 2016 Wigtown Book Festival, we're setting sail for the Hebrides, searching for Utopia and considering the nation's relationship with Europe."
Hardeep Singh Kohli, Malcolm Rifkind, Michel Faber, Susan Calman, Prue Leith and a further 236 authors
The programme features guest director Hardeep Singh Kohli (who will create a pop-up dining experience and compere the ever-popular Wigtown's Got Talent on September 24), Malcolm Rifkind, Michel Faber, Susan Calman, Prue Leith and a further 236 authors in 281 events in Scotland's National Book Town.
New events making use of the unique surroundings include Location, Location, Location, which offers visitors the chance to visit local properties for sale, while Street Wisdom invites participants to use a walk through Wigtown to answer important life questions.
Explorer Jason Lewis will lead a canoeing expedition to an island in the Solway on September 27 and there are opportunities to go stargazing in a neolithic stone circle under some of the darkest skies in Europe on September 29/30.
A 12-hour marathon of filmed versions of Macbeth
The 2016 Wigtown Book Festival also features an enhanced film programme in a pop-up, 1950s-style cinema. This will include a 12-hour marathon of filmed versions of Macbeth and a special screening and discussion of The Safe House, a documentary charting the fortunes of Britain's public libraries from their Scottish origins to the present day.
Aspiring writers will have a chance to pitch work to leading literary agency Conville & Walsh on September 24 and a festival creative writing course is provided by authors Robert Twigger and Jason Webster of The Bridport Writing School on September 26.
Accessible to as wide and diverse and audience as possible
As part of the organisers priority of making Wigtown Book Festival accessible to as wide and diverse and audience as possible, the festival has an education programme that reaches more than 2,000 young people in Dumfries & Galloway and also provides free tickets to under 25s.
In addition, for the fourth year running, a prison outreach programme will bring over 10 events and workshops to residents of HMP Dumfries and, new for 2016, the festival is piloting live subtitles in the County Buildings to assist people with hearing impairment.
For programme details and to book tickets, click here.
---
Young Readers
The 2016 Children's Programme at Wigtown Book Festival celebrates the works of Roald Dahl and there will also be talks by much-loved children's authors such as Debi Gliori and Lari Don, as well new writers like Danny Scott.
Now in its fifth year, Wigtown: The Festival, the Young Adult programme features an array of entertaining, thought-provoking and creative free events aimed at 13-25 year olds.